Handcrafted Adjustable Beds
From a restful night's sleep to blissful relief from aches and pains, our luxurious adjustable beds offer many feel good benefits.
Elevating at the touch of a button, our adjustable beds are an amazing option for supporting your body whilst you sleep. Particularly good for those who struggle with back pain or poor circulation, an adjustable bed offers a variety of sleeping positions that you can adapt to suit you. Whether you are after a single, small double, double or king-size adjustable bed – we've got something for everyone. Versatile and luxurious, our handmade adjustable beds do not only allow for a better night's sleep, but they also can be personalised to suit your style.
Get comfortable at the touch of a button
Our cleverly handcrafted beds allow you to switch to a more comfortable position, whether lying, sitting, flexing your knees or putting your feet up.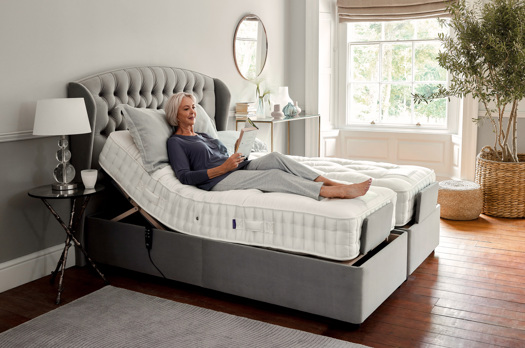 The option to sit or sleep in a raised position can improve circulation providing relief from back pain and arthritis.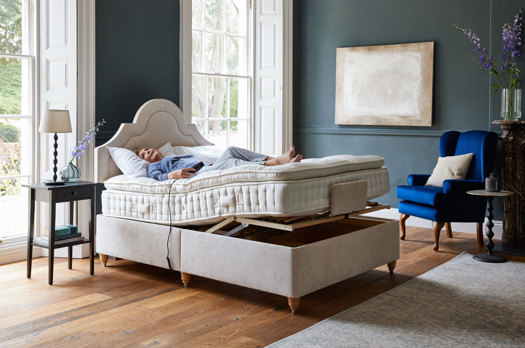 Elevate your legs and feet at the touch of a button to alleviate swelling or pressure in your legs, ankles or feet.
Choose from 4 sizes
Our adjustable beds come in different sizes, so it's easy to find one that's right for you.
Let's find your perfect bed
In our showroom, or over the telephone, whichever you prefer, our comfort specialists are here to help.
A range of finishing touches
Personalise your bed with our host of styling options and practical accessories.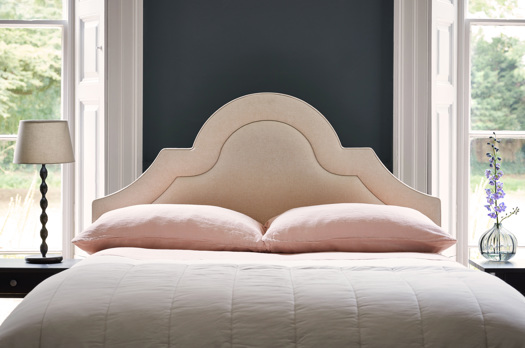 Headboards and fabrics
Choose from 7 stylish headboard and 14 luxurious fabrics.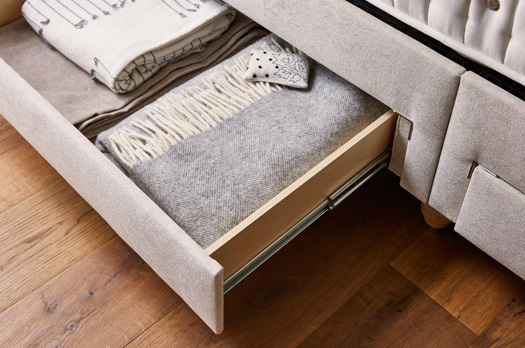 Bed accessories
Select from a range of handsets, drawers, legs, castors and more.
Order your brochure and swatches
Sit back and browse our beautiful handcrafted furniture. You'll find a free swatch card in there too.
Request a Brochure
Advice and Guides
Take a look at our advice and guidance on how to get the most from your adjustable bed.