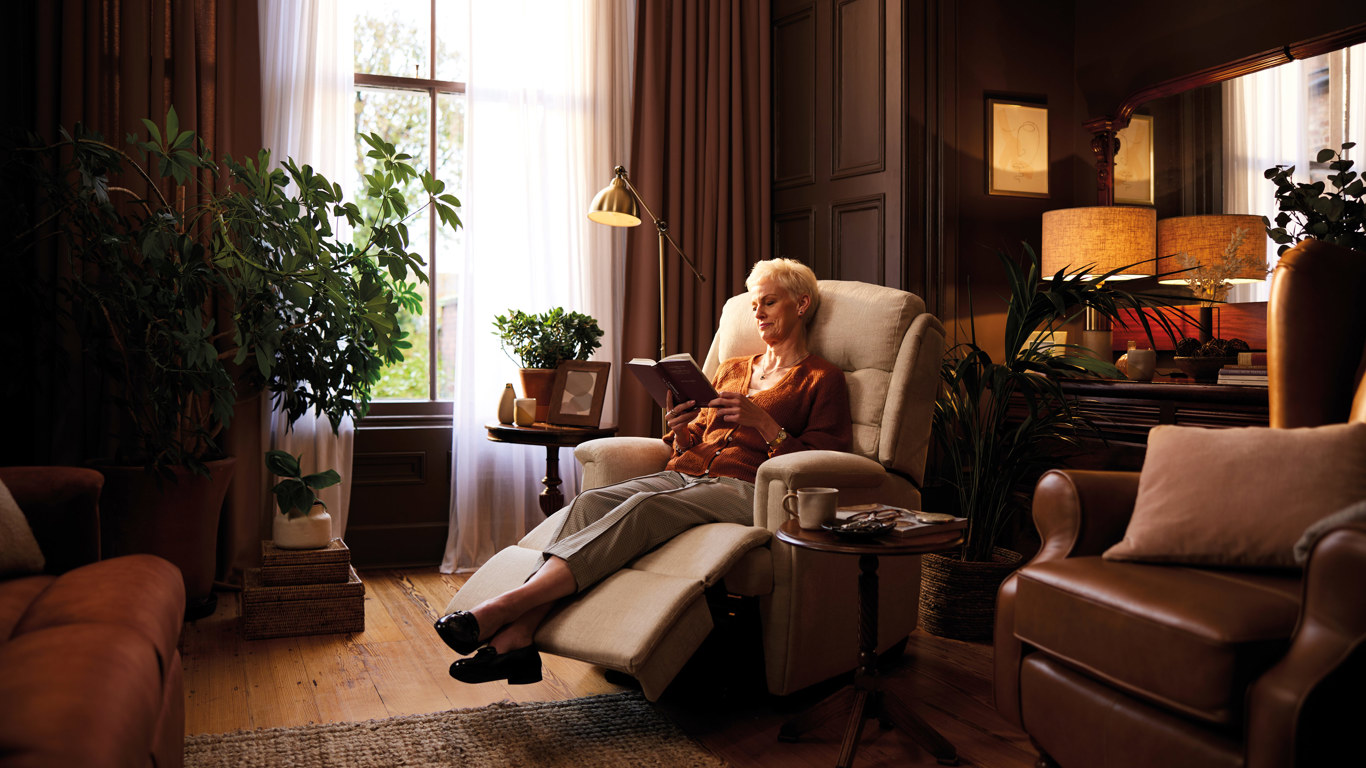 At HSL, we are proud to do things differently.
We believe that your furniture should make you feel good.
That's why all of our furniture is designed around you, to ensure key areas of your body are fully supported.
It's also why our furniture comes in different sizes to fit you.
Our experts use our Exclusive Chair Fitting Service to personalise your comfort, handcrafting a chair that not only looks good but also improves your wellbeing, through the way you sit, leading to a much happier, healthier life.
Feel good furniture looks good, too.
At HSL, we are passionate that nobody should have to compromise when it comes to comfort and style.
Every home is unique, and our comfort specialists are on hand by phone, in our showrooms or on a home visit to help advise you on our array of customisation options.
With elegant and sleek designs, and a wealth of luxurious fabrics and leathers, our furniture is perfectly tailored to both you and your style.
Feel good furniture is designed to fit, and built to last.    
We engage with leading experts on posture and wellbeing to ensure that our award winning designs are always at the cutting edge of research. Our independent Occupational Therapist, Julie Jennings Dip COT HCPC, thoroughly evaluates all of our ranges as well as providing training for our Comfort Specialists. Our mission is to continually innovate and improve our designs to maximise comfort and overall wellbeing.
A lot has changed over our 54 years of furniture-making, but one thing which always remains is the timeless quality of our furniture. Since it began, HSL has proudly thrived on traditional British craftsmanship using only the best quality ingredients to make up our furniture.
Our service is always feel good.
We pride ourselves on our excellent service and traditional values.
We understand the need to touch, feel and experience when considering new furniture for your home. We offer friendly, expert advice to ensure that your purchase is truly right for your body, living room and lifestyle. In fact, we encourage you to take as much time as you like to enjoy a warm cup of tea or read a book in one of our chairs or sofas.
Our customer care teams are based in the same building as our factory, ensuring efficient and knowledgeable assistance with any query at any time. Equally, our delivery and installation service is professional, timely and reliable. But don't just take it from us, we welcome you to have a browse of our Trustpilot reviews. 
We are a proud family business who have been helping people feel good in their furniture for over 50 years. We are always led by our traditional values, and importantly our mission to improve wellbeing through expert advice and well-designed, properly fitted furniture.
That's feel good furniture.