How to Choose the Best Sofa for You
As one of the most important pieces of furniture in the living room, there really is nothing more satisfying than relaxing into a comfy sofa. If you're looking into buying a new sofa, then we're here to help you make the best decision for you. A high-quality sofa will last for years - so you want to make sure that you're choosing the best sofa for you and your style. Here at HSL, we believe that feel good furniture is for everyone and that no one should have to choose between comfort and style. To help you out, we've put together this sofa buying guide to help get you inspired. We're here to support you every step of the way and we'd love you to come into one of our showrooms or book a home visit, so that we can aid your decision making with friendly, expert advice to provide the ultimate feel-good experience.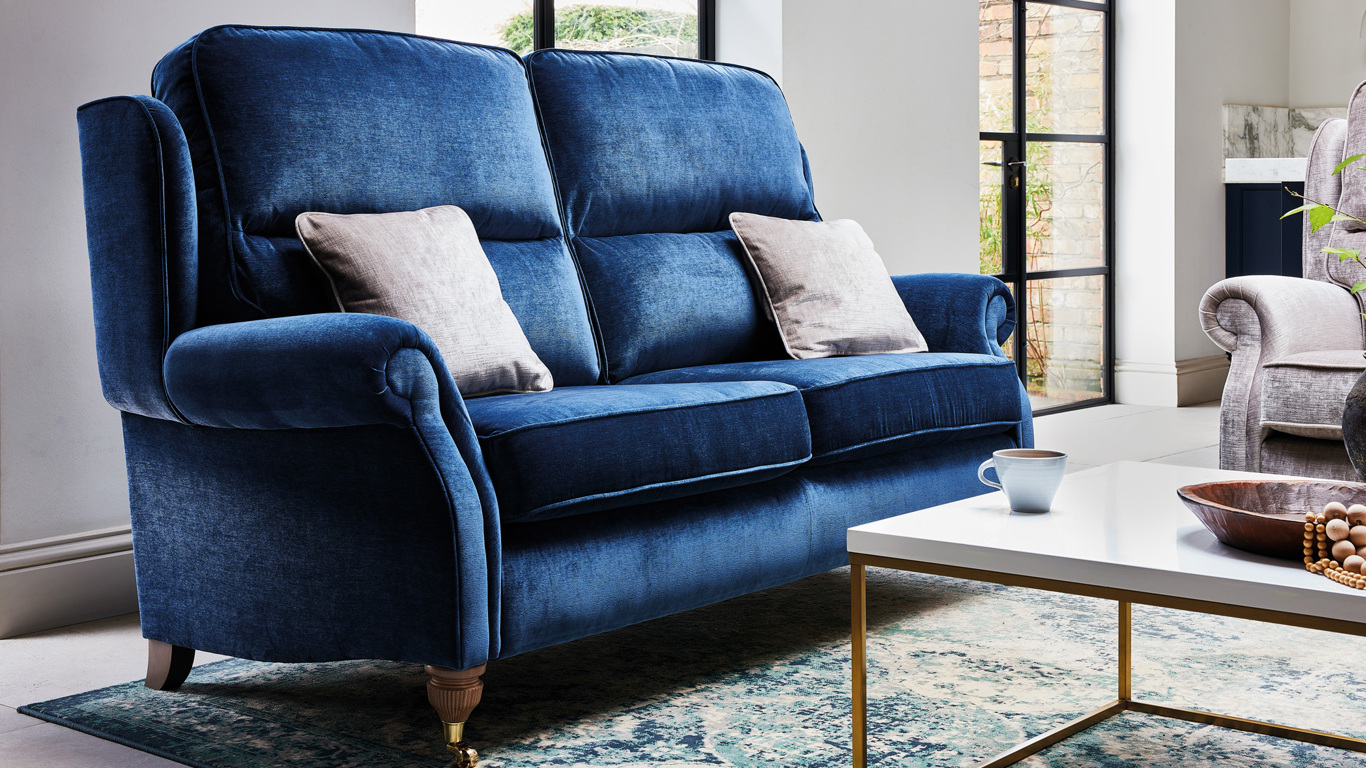 What is the best sofa? 
Of course, all sofas do the same thing. Therefore, it's all about your priorities and what you feel is right for you. At HSL, we put all the care and attention into creating a range of sofas that are comfortable, stylish and supportive. When looking at how to choose a sofa, you should consider how you fit into the sofa. Ensuring you have the best fit for you will provide exceptional comfort and support in terms of both posture and health. We believe that when you buy a sofa, it's personal. We recognise that everyone has their own unique style, which is why we tailor our service to the customer. Our job is to listen to the customer and share our knowledge and expert advice so that you can make an informed and confident decision. At HSL, we have three main styles of sofa available in 2, 2.5, 3-seater or corner models: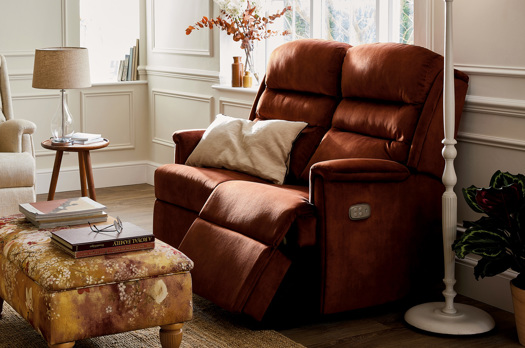 Reclining sofas 
For added comfort and ultimate relaxation, all of our reclining sofas have supportive yet soft cushioning lumbar support. Featuring elegant styling, these models come in a choice of fabrics to complement your aesthetic. Available in manual, electric and rechargeable styles, these sofas are designed to support you and encourage good posture when sitting. You can find the most comfortable position at the touch of a button or pull of a catch.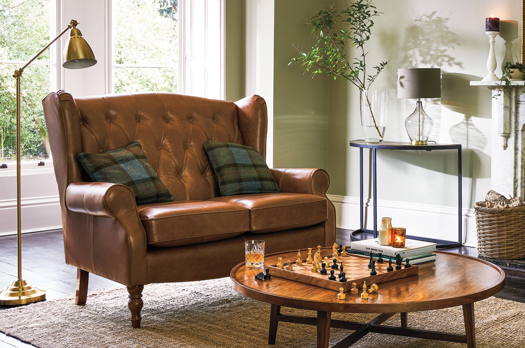 Legged sofas
Raised off the ground by elegant wooden legs, our legged sofas offer both support and style. Elegant and classic, these sofas have been crafted with a beautiful balance of style and comfort in mind. Providing a truly cosy sit, we've got a range of fabrics available to suit every style.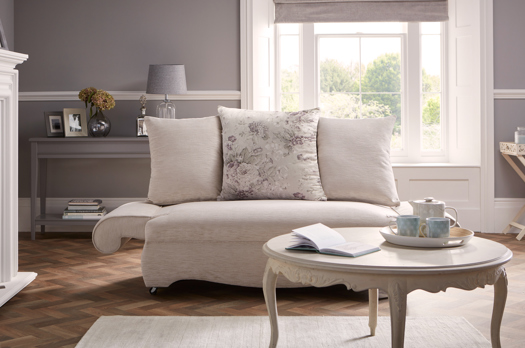 Drop-arm sofas 
From comfy sofa to elegant day bed, our drop-arms sofas offer sumptuous padding, removeable cushions and all the support you would expect from a HSL sofa. With the ability to let both arms drop down, you can stretch out fully for total relaxation and turn your sofa into chaise longue or occasional bed. With an easy-to-use design that doesn't require much physical effort, these sofas also can look just like a regular sofa to fit in with your surrounding décor.
What type of sofa fabric is the best? 
Again, the best material will depend on the function of the sofa. A leather sofa will be firm, easy to clean, and it will look sophisticated and luxurious. Fabric however tends to be cosier, more comfortable and tends to be cheaper than leather. If you know people in your home are prone to accidents, then leather will be a better choice. However, if you're buying a sofa to sit at the end of your bed then a printed fabric piece would be a stunning option. Most importantly, it comes down to personal style preference. We know that feel good furniture should look good to. Fabrics are usually available in a wider range of colours and patterns, sometimes making them easier to match with your existing décor. However, you can also count on a sleek leather sofa to add a touch of elegance and sophistication to your living space. So, again, the decision is – it's up to you!  
How do I choose the correct height sofa?
Here at HSL, we make sure that sensible seat heights, easy-grip armrests and strong, stable designs make all of our pieces very easy to love. To sit comfortably, your body and thighs should be in an 'L' position, with your feet touching the floor. This will take the pressure off of your back and knees, so that your muscles can relax. We've spent 54 years getting to know our customer and our craft, an each piece in our ranges has been thoroughly tested and evaluated by our independent health expert and Occupational Therapist – Julie Jennings. To help you find the best sofa to fit you, we'll carry out an exclusive chair fitting service to ensure that each point of your body is supported to maximise your overall comfort and wellbeing.  
Top sofa styling tips 
Although style is ultimately up to you, if you need a little inspiration then we've got a few quick tips to help you make the most of your space & the sofa you choose.  
If you've got a limited amount of space, then a low-back sofa will help to give the illusion of more room. Conversely, if you have high ceilings then a high back sofa is a great way to make use of the extra space. To add interest to an open-plan room, opt for a corner sofa or a drop-arm sofa to convert it into a chaise longue.  
To keep your sofa in the best condition possible, try to keep it out of direct sunlight to prevent fading and rotate the seat, back and scatter cushions to ensure even wear. Remember to avoid sitting on the arms of your sofa to prevent damage and give your cushions a re-fresh by plumping them regularly.  
Adding a throw or blanket over your sofa makes for a fabulous cosy touch, and it can be a great way to add colour and texture into your colour scheme. Updating your cushion selection is also an easy way to give your sofa a new feel to keep adding interest to your living space. Having a light feature on each side of your sofa will help to frame the space and creating an inviting ambiance, and the addition of a rug will help to tie the whole thing together. If you really want to go the extra mile, consider having a footstool or ottoman. Some even come with storage features, making them the perfect choice for stowing away magazines, throws and spare cushions.   
And that's our sofa buying guide! When it comes to buying a sofa, we're here to help you find the best sofa to suit both you and your style preferences. Come into one of our showrooms or book a personalised home visit so that our Comfort Specialists can provide you with an exclusive fitting service to provide the ultimate feel-good experience.  
Order your brochure and swatches
Sit back and browse our beautiful handcrafted furniture. You'll find a free swatch card in there too.
Request a Brochure