History and Heritage
We are a proud family business who have been helping people feel good in their furniture for over 50 years.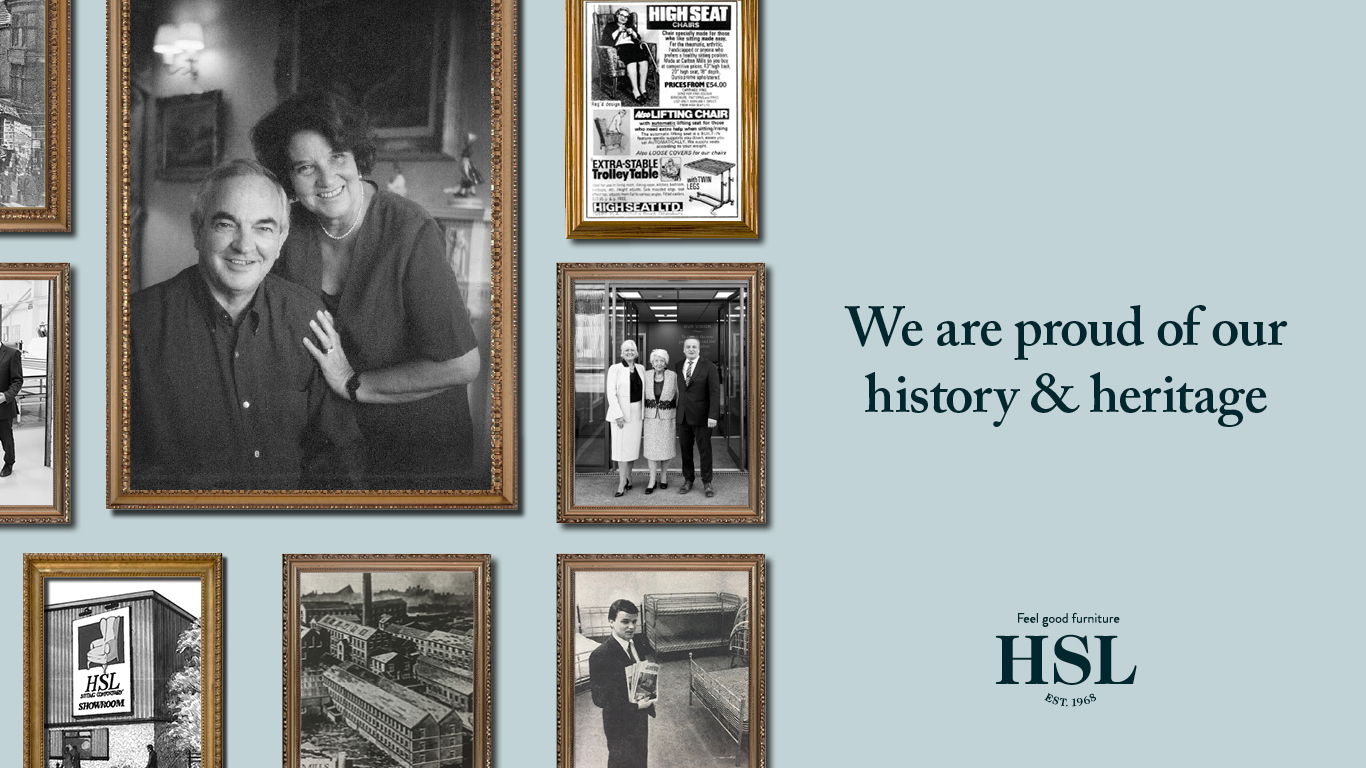 History and Heritage
First generation owners Jeffrey and Patricia Burrows set up HSL in 1968 with the simple aim to 'produce comfortable, quality furniture'. In order to make their vision a reality, the couple drew on the joinery and textile skills of local craftsmen and women in Dewsbury, a town famous for its heritage of fine furniture making
For 40 years, HSL operated as a mail-order business with a factory-showroom in Dewsbury. In 1995, Jeffrey and Patricia opened their Letchworth showroom, the first of their retail stores. Remaining in the same location as it does today, the showroom showcased a wide selection of furniture, welcoming customers with a warm smile and a cup of tea.
Quality craftsmanship, unrivalled comfort and excellent service were the early foundations of the feel good furniture we know today.
Now owned by second generation William and Debra Burrows, HSL has evolved into a wellbeing furniture brand. With continual product innovation, the development of our Exclusive Chair Fitting service and stores nationwide, we may look like a very different business to what we were over 50 years ago. In reality, our history and heritage still shapes so much of what we do, and our aim is just as simple as it was at the very beginning. We want to improve the way that people sit, in turn helping them to lead a happier and healthier life.
Our head office and factory are located just around the corner from where the business began over 50 years ago, and we now employ over 500 people. Over the years we have built up a loyal, longstanding workforce, with many of our craftsmen and women coming straight from school and staying with us until retirement.
Importantly, family remains at the very heart of HSL.  Many of our apprentices are honing their craft with the help of their own parents, uncles and siblings. Third generation Leanne, Ben and Lydia all play a passionate and active role in the business too.
William Burrows, our Chairman, is dedicated to continuing the legacy his parents left behind through innovation, investing in people, and building on the quality of our furniture that we continue to handcraft today.
It feels good to stay true to our roots.