How to Choose the Best Adjustable Bed for You 
An adjustable bed is a fantastic investment for anyone who's looking for a comfortable, restful night's sleep. In comparison to a regular bed, an adjustable bed contours to your hips, shoulders and heels, whilst reducing pressure on key areas of your body – like the spine. This will enable you to maintain a 'neutral' position as you sleep, helping to improve your overall wellbeing. We have a range of beautiful, handcrafted adjustable beds available that feature various optional accessories and extras. To discover more about why you'll love our range of HSL beds, keep on reading our adjustable bed buying guide…
Why buy an adjustable bed?
When it comes to the question of 'how to choose a bed', our adjustable beds are a great choice as they provide numerous health and wellbeing benefits. Approved by our Occupational Therapist, Julie Jennings Dip COT HCPC, our luxurious adjustable beds will smoothly contour to your body and help to support your spine - giving you a comfortable, restful night's sleep by relieving key pressure points on your body.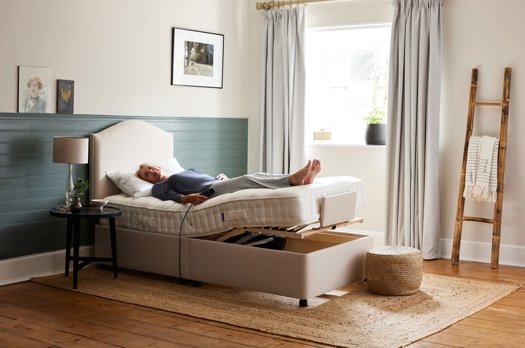 Improved comfort, posture and wellbeing 
Adjustable beds help you to find that ideal sleeping position, essential for a comfortable night's sleep. If you have limited mobility, adjustable beds (also known as recliner beds) can be raised and lowered to assist you getting in and out of bed with minimal discomfort. Adjusting your bed to distribute your weight will also help to decompress the spine and reduce pressure on your back. Here at HSL, we are flexible and personalised. As we believe feel-good furniture is for everyone, we offer each customer a service to suit them. Whether they are young or old, interested in style or wellbeing, we're there at every touchpoint of the customer journey to ensure we can answer any questions. By creating the very best furniture for you, we can ensure that we provide physiological wellbeing benefits - by helping to reduce aches, pains, niggles and knots - but also emotional wellbeing benefits, by helping to support a happier, healthier lifestyle and greater independence in the home.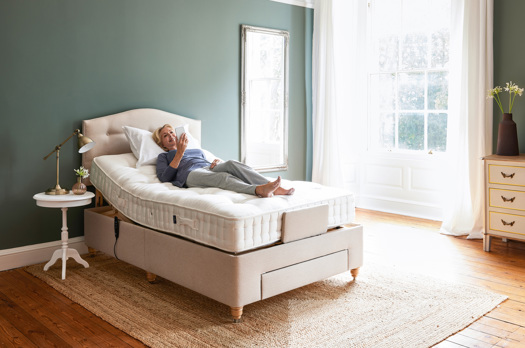 Better breathing and less snoring 
As you sleep, your tongue and the soft tissues in your throat relax. When you lie flat on a regular bed, this narrows your airways and can cause snoring. An adjustable bed frame improves your breathing and can benefit those with asthma, as you can elevate your upper body. This will improve your air flow and clear your nasal passage to relieve sinus pressure.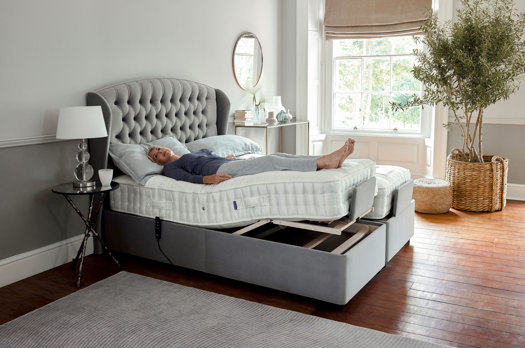 Reduced swelling and improved circulation
Swelling caused by poor circulation of blood flow in the legs can be improved by elevating your legs as you sleep. With the touch of a button, an adjustable bed can raise your legs to improve circulation and reduce swelling as you sleep peacefully.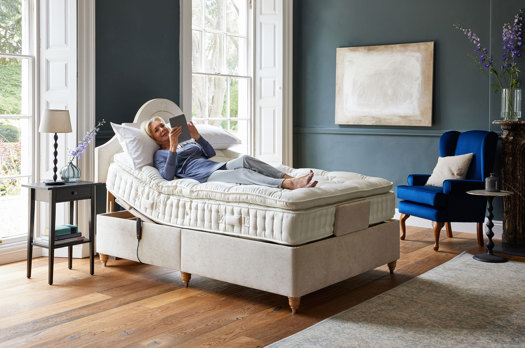 Enhancing your lifestyle
At HSL, we are always aiming for ways to enhance your health and wellbeing. Having an adjustable bed will help to increase the quality of your sleep by contouring to the natural shape of your body to relieve any unwanted pressure, allowing you to fall asleep quicker and experience greater comfort. Adjusting your frame before bedtime will also improve your experience of watching tv or reading in bed, as it will prevent straining your back or shoulders – leading to a blissful sleep. Offering a wide range of benefits for people of all ages, our versatile and luxurious handmade adjustable beds not only look stylish but will also provide you with the ultimate feeling of relaxation.
Key features of an adjustable bed
Each of our feel-good adjustable beds incorporate modern technology and come with a series of key features – all of which help to provide increased comfort for its user. 
Electronic remote: Ensuring you can adjust your sleeping or sitting position at the simple touch of a button. 
Motorised action: Allowing your legs and torso to be lifted or lowered independently of each other. 
Specifically designed mattresses: To reduce pressure and perspiration, while ensuring maximum comfort and posture alignment. 
Range of height-adjustable castors: Great for users of varying heights and weights. 
Handmade in the UK. 
Available with a range of accessories: Including headboards, drawers, and wireless handsets. 
How to choose the best mattresses for adjustable beds? 
The answer to this question is simple, an adjustable bed frame needs a very specific mattress as they need to move with the base of the bed when it moves. Here at HSL, our adjustable beds come with a sumptuous range of exclusive, handmade mattresses that have been crafted from the finest of natural fibres to give a stylish and luxurious finish.  
Which size adjustable bed is best?
Just like normal beds, adjustable beds also come in a range of sizes. At HSL, we have adjustable beds ranging from 3ft-5ft, and you can tailor your bed to suit you and your requirements. With a range of stylish headboards and finishing touches to complete the look, we believe that feel good furniture should be good for your wellbeing, but it should look good too. Everyone had a unique style, which is why we've made sure to offer a variety of choice to cater for each and every customer. 
Why choose HSL? 
So, why choose HSL? As well as offering you excellent style and quality, our Comfort Specialists are all extensively trained to help us provide the right feel good furniture for you. Our beds are not created on a production line – they're all made by hand in West Yorkshire. 
We have devoted 54 years to getting to know our customer and our craft. We know that we cannot assume what makes different people feel good. Over the years, we have listened to our customers and endeavoured to develop beautiful ranges which suit their bodies and lifestyles. Our in-house design team are constantly improving their approach and pushing boundaries to achieve this. 
As well as our using our own knowledge, we engage with an array of experts on wellbeing to ensure that we can offer trusted cutting-edge design and expertise to our customers.  
For furniture to really feel good, it needs to be good for our planet. We are continually innovating and working with our partners to design for a future where our furniture is fully sustainable. Our fully recyclable mattress is an exciting first step on this journey.  
Innovative design and expertise feel good to us, and these core values ensure that our customers will feel even better.  
Delivery & safety
Your bed will be delivered and assembled by a small team of trained staff who will ensure that it is working correctly. Once assembled, the basic assembly and fittings should not be changed. If any operational problems occur, please contact HSL. Choose the position for the bed carefully and make sure that you have sufficient space to get in and out easily. Whilst the bed is on 'easy-glide' castors, it may not be convenient for you to move it later. When you receive your bed, we suggest that you take time to familiarise yourself with the functions of the buttons on the handset. 
It's also important to remember to:  
Not move your bed without unplugging the mains lead

 

Make sure all wiring is free and not trapped 

 

Don't sit on the raised footrest or headrest 

 

Don't let children play on or operate the bed alone 

 

Try to leave the bed in a closed position 

 

Keep hands and feet clear of the mechanism 

 

Keep liquids well away & immediately remove any spillages to avoid contact with the electrics 

 

Ensure no pets are in or around the bed when in operation 

 
Our adjustable bed mattresses are heavy, so always use 2 people to handle the product. Take care when lifting to avoid injury and damage to the mattress. Remember to use the handles to rotate the mattress, and after unwrapping it for the first time try and leave it in a well-ventilated room for a few hours.  
And that's how to choose the best adjustable bed for you. If you'd like to speak to a trained Comfort Specialist about our adjustable beds, simply pop into your local HSL showroom and we'll be happy to assist you. Alternatively, you can book a free Home Visit. If you'd like to browse our full range of adjustable beds, check out our collection here.  
Order your brochure and swatches
Sit back and browse our beautiful handcrafted furniture. You'll find a free swatch card in there too.
Request a Brochure