Recliners
Few chairs are as inviting as a reclining chair, designed to offer luxury and relaxation in equal measure, supporting both your physical and mental wellbeing.
Bring your living room to life and put your feet up in style with a new fabric or leather recliner chair. Both comfortable and functional, discover our great range of recliner chairs that are available in a variety of classic and modern options. Specifically designed to support your neck, back and hips, our reclining chairs have been carefully designed to improve your posture. Our Exclusive Chair Fitting Service carried out by our Comfort Specialists will ensure that each point of the body is supported to maximise comfort and overall wellbeing. As the back folds down and the leg rests lift up, a recliner chair is a great choice for helping you to relax and rest.  
Designed to soothe body and mind
The gentle recline action allows you to effortlessly move from a comfy upright sitting position to either raising your feet for extra relaxation, or to being fully or partially reclined, supporting your entire body from head to toe. Read more in our Recliners guide.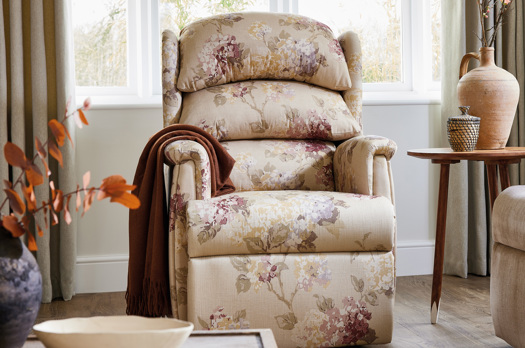 Back and seat cushions are crafted to support your head, neck, shoulders and back.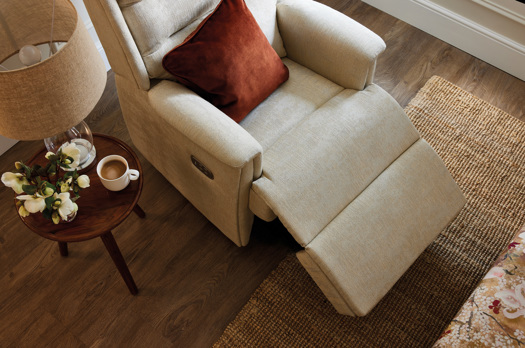 Effortlessly recline at the touch of a button.
Find your style
With nine recliner chairs in the range, choose from manual control or touch-button power recliners.
Classic Recliners
Add a touch of timeless elegance to your décor with one of our classically styled recliner chairs.
Contemporary Recliners
Our contemporary styled recliner chairs are crafted with simple, clean lines to a add a feel of understated luxury to your décor.
Choose from a wealth of fabrics
Our comfort specialists are here to guide you through your options.
Order your brochure and swatches
Sit back and browse our beautiful handcrafted furniture. You'll find a free swatch card in there too.
Request a Brochure