Your mattress buying guide
At HSL, we understand the importance of a good night's sleep for your mental and physical wellbeing. We also know that we are all unique, with our own preferred sleeping positions which are comfortable for us. Therefore, together with expert mattress makers Hypnos, we have developed the ideal sleep solution to offer blissful support however you like to sleep, so you can begin your days feeling well-rested.
We are proud to introduce the Contour Sleep Collection in partnership with Hypnos. This collaboration combines the freedom of a HSL adjustable bed with the flexibility of a beautifully handcrafted Hypnos
mattress, creating a collection designed to offer personalised postural support to the contours of your body as you sleep – however you sleep.

Together with our experts, we have created The Contour Sleep Guide as a handbook to guide you through choosing the best adjustable bed and mattress combination set for your ideal night's sleep. Here you can find a selection of tips and things to consider while you are thinking about purchasing an adjustable bed and mattress.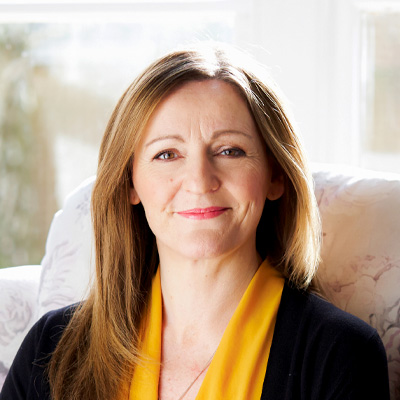 Meet our Occupational Therapist
Julie Jennings Dip COT, HCPC
Occupational Therapist and Health Expert
"Getting a good night's sleep should be an essential part of our daily health and wellbeing routine. It helps to declutter the mind and restore the body's natural equilibrium. Having the right bed, mattress and environment will optimise this process to ensure you sleep soundly and wake feeling refreshed and energised."
Meet Hypnos' Sleep Expert
Natalie Pennicotte-Collier MSC, MBCT-i
Sleep Expert and Clinical Therapist
"Sleep is the cornerstone to health and wellbeing at every age. By better understanding our unique sleep needs, we can create a personal rest and recovery routine with a bed that adjusts to relieve any aches and pains. The Contour Sleep Collection cradles the body where support is needed, thus improving your posture and sleep quality. Better quality sleep means a better day ahead."
Why is sleep posture important for wellbeing?
On average, we typically spend around a third of our lives sleeping and for those individuals with medical conditions, this figure could be much higher. Therefore your postural health when sleeping can have a significant impact on both your physical and mental wellbeing. A good sleep posture helps to relax the spine and muscles whilst also enabling the mind to rest and regenerate.
Having the right adjustable bed, mattress and sleeping environment are all factors that can affect your posture and sleep quality. By improving these factors, you can change your sleeping habits ensuring you get as good a night's sleep as possible, so you wake up feeling refreshed and energised.
Adjustable beds are the perfect way to make your sleeping environment versatile, by allowing you to position yourself in the most comfortable position possible to improve your sleep. They can also help with joint or swelling relief, by allowing you to elevate affected areas to help relieve pressure.
What to consider when finding your perfect adjustable bed
In order to find the best sleep solution for you, it can be helpful to consider three questions…
1. Which size and style of bed is for you?
When choosing the perfect adjustable bed for you, it is important to consider what will best suit you and your lifestyle. For this, you may wish to consider factors such as the space available in your home, if you are sleeping alone or with a partner and even what features or functionality you require.
For example, if your partner wishes to adjust their sleeping position separately to you, you may consider a 5ft adjustable bed with two single mattresses where you can alter your positions individually to suit your own personal comfort.
If you only have a limited amount of space in your home, you may prefer a 3ft or 4ft adjustable bed to ensure that it is not too large for your space and that you have adequate room to freely move in and out of bed.
Please ask our Comfort Specialists for advice on which bed will suit you and your lifestyle the best.
2. How do you sleep?
When considering which mattress to add to your chosen adjustable bed base, it can be helpful to think about how you sleep. Understanding which position you tend to sleep in, whether it be on your back, side, front, sitting or with legs raised, can be helpful when selecting the best mattress for you. We recommend experiencing our luxurious contouring Hypnos mattresses in your preferred position, to provide an experience which mirrors how you will sleep at home.
We know that we tend to shuffle around in our sleep, therefore we have taken care to ensure that all of our mattresses are crafted to
expertly cradle the body as it moves.
3. Is your body supported in your preferred position?
Once you have considered your preferred sleeping position, the next thing to think about is your postural alignment, or how well your body is supported from tip to toe. We all move in our sleep and so we should be seeking overall support and comfort from our mattress. However, it can be helpful to consider the support of some key pressure points along the body in particular to create your ideal night's sleep.
Key areas to consider
Whilst all of our high-quality mattresses are designed to contour to your body, these are just some of the key areas that you may want to consider.
Think about the head and ears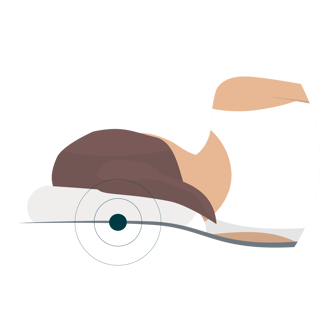 For back, side and sitting sleepers, your head should be resting gently onto the pillow with weight evenly distributed. This also applies to side sleepers; by checking that the ear is against the pillow without causing any major gaps between the neck and pillow. If you are a front sleeper, then you should skip to the section around elbow and ribs.
Check the shoulder alignment
For this, we should see natural alignment between the head and the centre of the shoulder blades without any significant bending or twisting.
Consider the elbow and ribs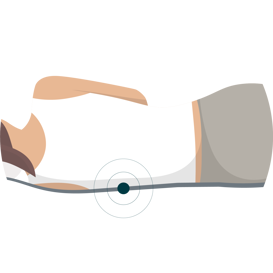 The elbow should be fully rested and supported by the mattress. For those who move around in their sleep, elbows can be one of the most vulnerable parts of the body so it is important to make sure that they are fully cushioned in several sleeping positions. You may want to
try a couple of sleeping positions to see if your elbow is supported by the mattress.
For those who are front sleepers, the rib cage should be fully supported ensuring that there are no gaps where the body does not meet the mattress.
Ensure the thigh is supported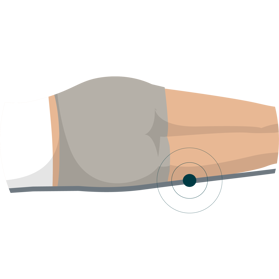 For back sleepers and those who sleep slightly raised, both the middle of the lower back, the buttock and the thigh should all be cradled by the mattress, making sure that there are no gaps in the lumbar region. For side sleepers you will want to ensure that your thigh and hip are resting into the mattress gently. By having this section of your body fully supported, it takes the pressure off other areas of the skeletal system, making it easier for your muscles and joints to relax.
Think about the calf and knee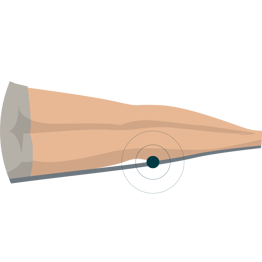 Depending on your preferred sleeping position, make sure that the calf or knee are resting comfortably on the mattress without being forced. This will allow for pressure relief within the joints and eliminates discomfort in the legs whilst sleeping.
Consider the placement of heels and toes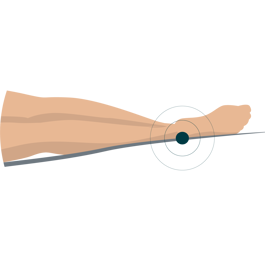 The feet are a delicate part of the body when sleeping, and it is important to ensure that they are properly supported. For back, side and upright sleepers, your ankles should be resting on the mattress without dangling off the end of the bed. Front sleepers may want to check that their toes are positioned on the bed and that the foot is lying flat. By supporting the ankles and toes, it can increase circulation and improve any discomfort you may be feeling in your legs.
Order your brochure and swatches
Sit back and browse our beautiful handcrafted furniture. You'll find a free swatch card in there too.
Request a Brochure