How to Choose the Best Armchair for You
Nothing quite beats the feeling of sinking into a comforting and cosy armchair. An armchair is characterised as a small, single-seater chair with armrests and side supports, but here at HSL an armchair is so much more than that. With the help of our Comfort Specialists, you can find a comfortable, stylish armchair that will lend a touch of sophistication to your living room whilst helping to improve your overall wellbeing by providing you with total support as you rest. With various styles available, discover our cosy armchairs buying guide to help you find your perfect fit. We truly believe that there is no 'one size fits all' when it comes to the perfect armchair – so call in at one of our showrooms or schedule a personalised home visit to ensure you can find the best armchair to suit your specific needs.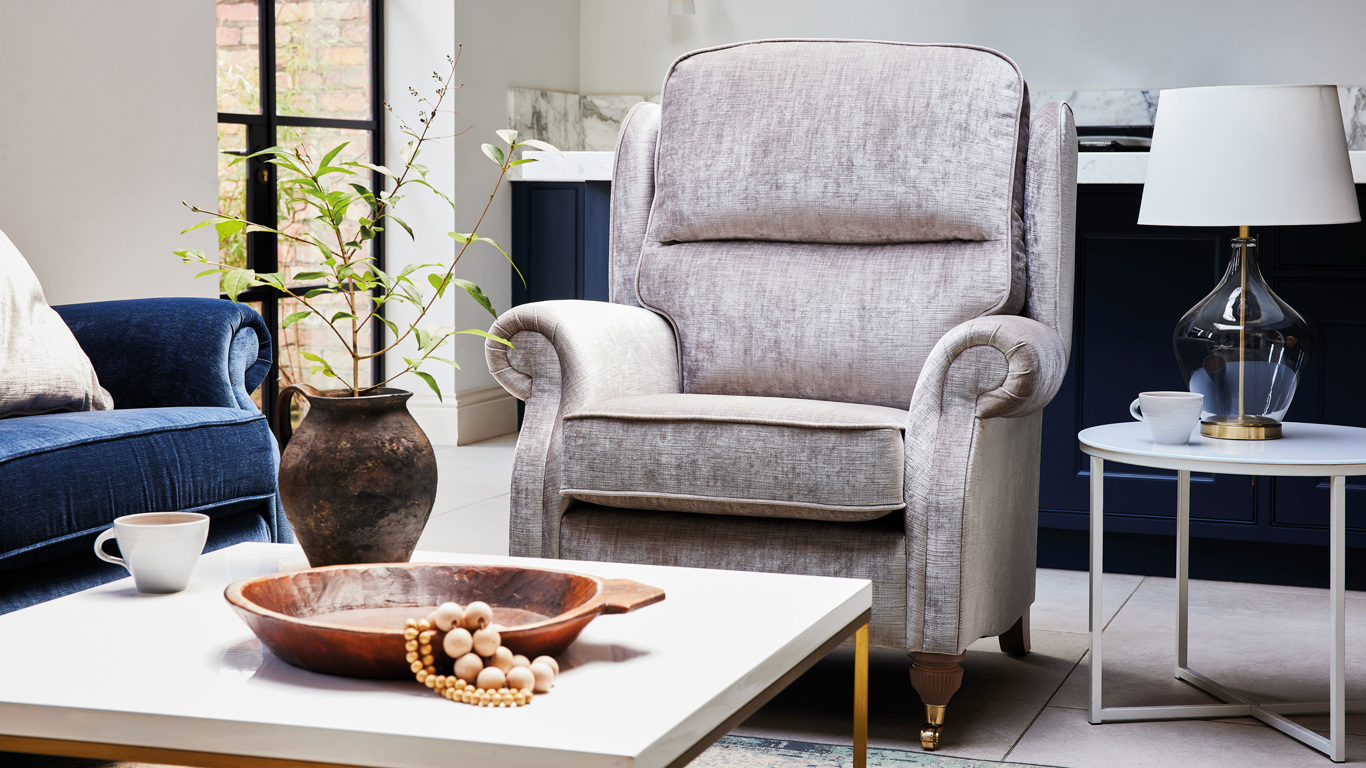 Why buy an armchair? 
The first question you should be asking yourself is, why do I feel like I need to buy an armchair? Well, let us tell you: 
Support: Especially if you suffer with back pain, armchairs are a great option as they provide superior lumbar support which is great if you're spending a lot of time sitting down. 
Accent piece: Not only are armchairs extremely comfortable, they're also a great way to add a pop of personality or complement you existing aesthetic for a cohesive look. 
Conveniently compact: Particularly if you've got less space, armchairs come in different shapes and sizes so you can find one to perfectly fit your space.  
Things to think about when looking for the best armchair
Whether you're looking for a small, comfortable armchair or the best armchair for back pain – there are things to consider, including:  
Style: What fabric and colour do you want? What armchair style will fit best with your living space?  
Comfort: This should be a major priority, particularly if you're going to be sat in your chair for a long period of time. Is the chair comfortable? Is it made of quality materials?  
Size: Make sure you choose a size that will fit your body as well as the space you have in your living room. Can you lounge comfortably?   
Purpose: Do you need a high backrest armchair for bad back pain? Do you need sturdy armrests to ease sitting down and standing up?  
Are armchairs good for small spaces?
When it comes to armchair styling, a small armchair is a great way to utilise a compact area. If you're looking to create a space for rest and recuperation, a supportive HSL armchair with ergonomic design and pressure-relieving padding makes for the perfect accompaniment to your décor, whilst also improving your wellbeing, too. 
What is the most comfortable armchair seating position?
Here at HSL, sensible seat heights, easy-grip arm rests and strong, stable designs make our chairs very easy to love. To sit most comfortably, your body and thighs should be in an 'L' position – with your feet reaching the floor without too much pressure placed on them. This takes the pressure off your back and knees, allowing muscles to relax.
When you visit a showroom or book a home visit, our Comfort Specialists will take the time to conduct an Exclusive Chair Fitting Service to make sure you get the right chair for you. 
Our Comfort Specialists will check that: 
The height and width of the chair is right for you. 
The chair provides good lumbar support in all positions. 
Your head is supported. 
The armrests are at a height that enables you to sit correctly and relax your shoulders. 
We only choose the best quality wood, foams, webbing and springs to support you sitting comfortably. Even the depth and width of the seat cushions are calculated for maximum comfort and support. 
Why are supportive chairs important? 
Good posture chairs are a great investment to make as they are designed with your posture at the forefront and are therefore a fantastic option for those that want to give their back the best support. No matter your age, sitting is an integral part of all of our lives. Correcting and maintaining good posture is essential to ensuring that your body can rest in a comfortable position, so that you can take care of your body in the best way possible. We believe that feel-good furniture means furniture that is good for your wellbeing, which is why all of our pieces are specifically designed to support your neck, back and hips.  
How to style a supportive armchair
Choosing a comfortable armchair to coordinate with the rest of your living space is important, as feel-good furniture should look good to. Many people believe that they have to choose between furniture that is stylish, and furniture which supports the body properly. At HSL we believe that you can have both. No one should have to compromise when it comes to comfort and style. So, here are some of our styling tips:  
Consider your colour palette: Choose a colour that fits the same aesthetic as the rest of the room if you want to keep things simple. Or use your armchair as an opportunity to introduce a pop of colour into the space to make a statement. 
Avoid clashing patterns: If you already have patterned cushions or curtains, avoid clashing with a different armchair pattern. Instead, choose an armchair in a plain fabric for a more harmonious look. 
Think about symmetry: How you arrange your living room furniture can make all the difference. Try not to tuck your armchair into a corner, but rather place it opposite your sofa and add a coffee table between the two to create a symmetrical effect. 
Create a reading nook: If you do want to keep your armchair separate, then turn a corner into a dedicated spot for reading and relaxing by placing a small side table and lamp next to it. 
Where to buy the best comfortable armchair for you?
At HSL, we've heard first-hand about how our feel-good furniture 'changes lives'. Our skilled craftspeople have years of experience creating high-quality furniture, and our understanding of how to support your body as you sit is second to none. 
We have a rich fabric story, with a wealth of luxurious fabrics to choose from. These include designer, classic and contemporary styles. We are continually refreshing our collections and fabrics to ensure that they are up to date, stylish and fresh – as we know that it feels good to find furniture that is perfectly suited to you and your style.  
We are passionate about continually improving our designs to maximise both wellbeing benefits and style. No one should have to compromise when it comes to feeling good and looking good. We have devoted 54 years to getting to know our customer and our craft. We know that we cannot assume what makes different people feel good. Over the years, we have listened to our customers and endeavoured to develop beautiful ranges which suit their bodies, lifestyles and living rooms. Our in-house design team are constantly improving their approach and pushing boundaries to achieve this. 
The 3 best armchairs for good posture
To help you decide which may be the most comfortable armchair for you that will help to improve your posture, we've gathered our favourite supportive chairs.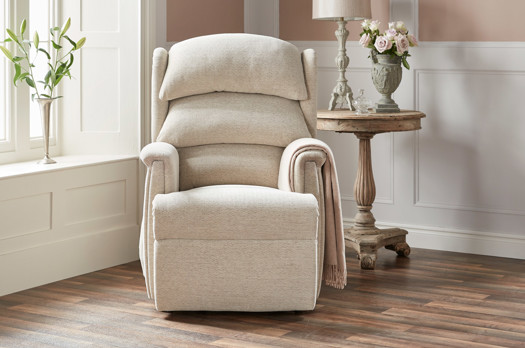 Aysgarth Armchair
The Aysgarth Armchair features deep padded back cushions ton contour your spine and maintain posture. A true sanctuary for relaxation, this cosy armchair is not only good for your wellbeing, but it looks good too. Here at HSL, we believe that no one should have to compromise when it comes to comfort and style.
View chair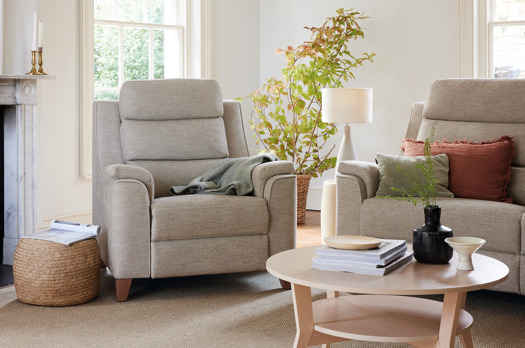 Bramham Armchair
The support we all need – our  Bramham Armchair has a 3-tiered back cushion to give you some well-deserved comfort. The armchair is designed with care to make sure that your arms can be rested in a natural position, whilst keeping your feet touching the floor so you can feel completely relaxed.
View chair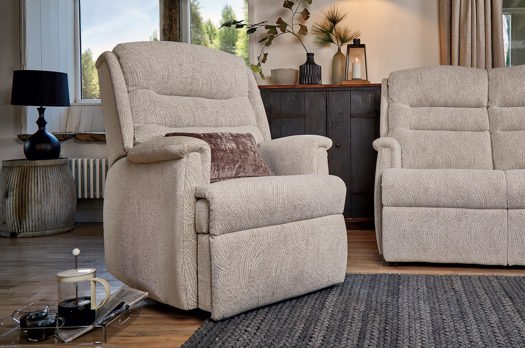 Ripley Armchair 
The definition of feel-good furniture. A reliable high-back chair for maximum support of the spine, the Ripley Armchair is one of the most supportive pieces you can get. Luxury fibre-filled back cushions deliver support and security around your spine to help keep good posture.
View chair
There you have it – our guide on how to find the best armchair for you. If you require more help and advice, you can contact us  here. Don't forget to visit one of our showrooms or book a home visit so our Comfort Specialists can help you discover the perfect chair from our stunning collection. HSL feel good furniture is designed around you – to not only look good, but to feel good as well. With various designs and materials available, we're all about making your furniture as unique as you.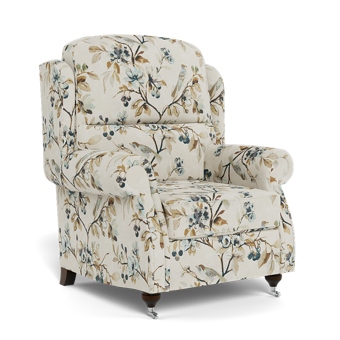 Browse our full range of armchairs
Choose from seven beautifully designed styles, each with their own features and options, available in 100s of fabrics and leather options.
View armchairs
Order your brochure and swatches
Sit back and browse our beautiful handcrafted furniture. You'll find a free swatch card in there too.
Request a Brochure