How to Choose the Best Fireside Chair for You
A beautiful addition to any living space, a fireside chair typically has a classic style with a supportive high back and wooden legs. With various wood finishes and fabrics available, the choice is totally up to you. Here at HSL we believe that no one should compromise on comfort or stylish good looks – which is why we offer both in every piece that we design. Classically styled and equally luxurious, our selection of firesides chairs offers unrivalled support and a truly cosy sit.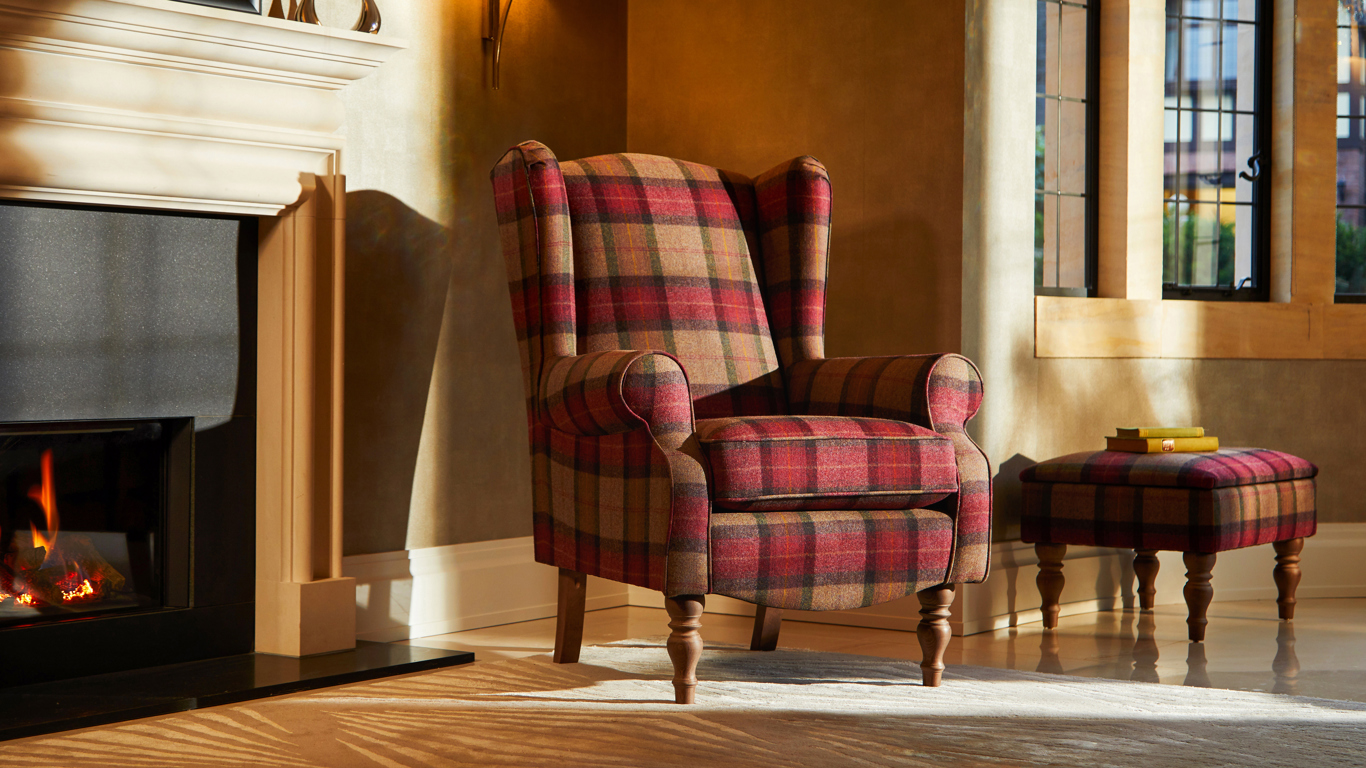 What is a fireside chair?
Originally designed in the 17th century, the fireside chair was first designed to allow the sitter to feel the full benefits of the heat from the fireplace. They signal that your home is a cosy, comfortable place where you can sit back and relax. Sometimes also called a high back or a wing back chair, it's fairly self-explanatory that these chairs are often designed with a high back and supportive armrests. However, fireside chairs are a versatile piece of furniture that can work in various areas of the home – not just in front of the fireplace. They can also be used to create a cosy reading nook or to add interest to a larger bedroom or walk-in-wardrobe as an accent chair.  
What are the wellbeing benefits of a fireside chair? 
Designed with a comfort in mind, fireside chairs are known for being typically supportive of the upper back. At HSL they come in various styles and fabrics, and you can choose to add extra comfort with cascading back cushions if needed. As well as supporting the head, neck and shoulders, they also support right down to the lumbar (lower spine) and are suitable for people with a range of health issues – including back pain, sore joints, arthritis and swollen legs or feet. Ergonomically designed (in other words, designed for comfort) our fireside chairs are a great choice for those who want to improve their posture.  
What types of fireside chairs are available at HSL?
At HSL, we have 8 types of fireside chairs available: 
Here at HSL we have a rich fabric story, with a wealth of luxurious fabrics to choose from. We believe that no one should have to compromise when it comes to feeling good and looking good. Although feel good furniture is for everyone, we also understand that everyone is different. This is why we offer each customer a bespoke service to suit them with an exclusive chair fitting. Simply come into one of our showrooms or book a home visit so one of our comfort specialists can answer any questions or queries you may have. 
How to maintain a fireside chair
Fireside chairs are often upholstered – meaning that they have soft padding and cushioning covered with fabric for comfort, longevity and functionality. They are easy to maintain as long if you follow a few simple steps:  
Keep the chair out of the sun
Keep the chair away from radiators 
Regularly dust it  
Deep clean the chair once or twice a year, but always avoid strong chemicals to prevent damage to the fabric.  
Why are HSL fireside chairs different? 
At HSL, we are all about making your furniture buying journey a simple one. Our job is to listen to our customers and then share our knowledge and expert advice in a language that you understand, so that you can make the best, confident and informed decision for you. We have spent 54 years getting to know our customer and our craft, and we also collaborate with an array of experts on wellbeing to ensure that we are offering trusted design expertise to our customers.  
Each piece of furniture has been thoroughly tested and evaluated by our independent health expert and Occupational Therapist, Julie Jennings. She's been instrumental in helping us to create products that promote good posture, the correct seating position and supportive transfer into and out of a chair. We know that innovative design and expertise feels good to us and ensures that our customers will feel even better.  
And that's our fireside chair buying guide. Take a look at our full range of Fireside Chairs and then book an at home visit or come into one of our showrooms to find the perfect fitting chair for you. It feels good to find furniture that is perfectly suited to you and your style, and HSL is a great place to start.  
Browse our full range of fireside chairs
Choose from eight beautifully designed styles, each with their own features and options, available in 100s of fabrics and leather options.
View our fireside chairs
Order your brochure and swatches
Sit back and browse our beautiful handcrafted furniture. You'll find a free swatch card in there too.
Request a Brochure