How to Choose the Best Reclining Chair for You
So, what is a recliner chair? Reclining chairs usually have a backrest that tilts backwards while the front raises to become a raised footrest. They're specifically designed to maximise comfort and relaxation, and they help to improve your wellbeing by supporting your back and legs. Specifically designed to fit you, here at HSL, every reclining chair is uniquely made to help improve your posture and support you. We believe in investing time in our customers, as we ultimately want to ensure that we can help you to find the right furniture for you. To help you out, we've put together this handy buying guide to help you understand a little more about our stunning selection of modern recliner chairs.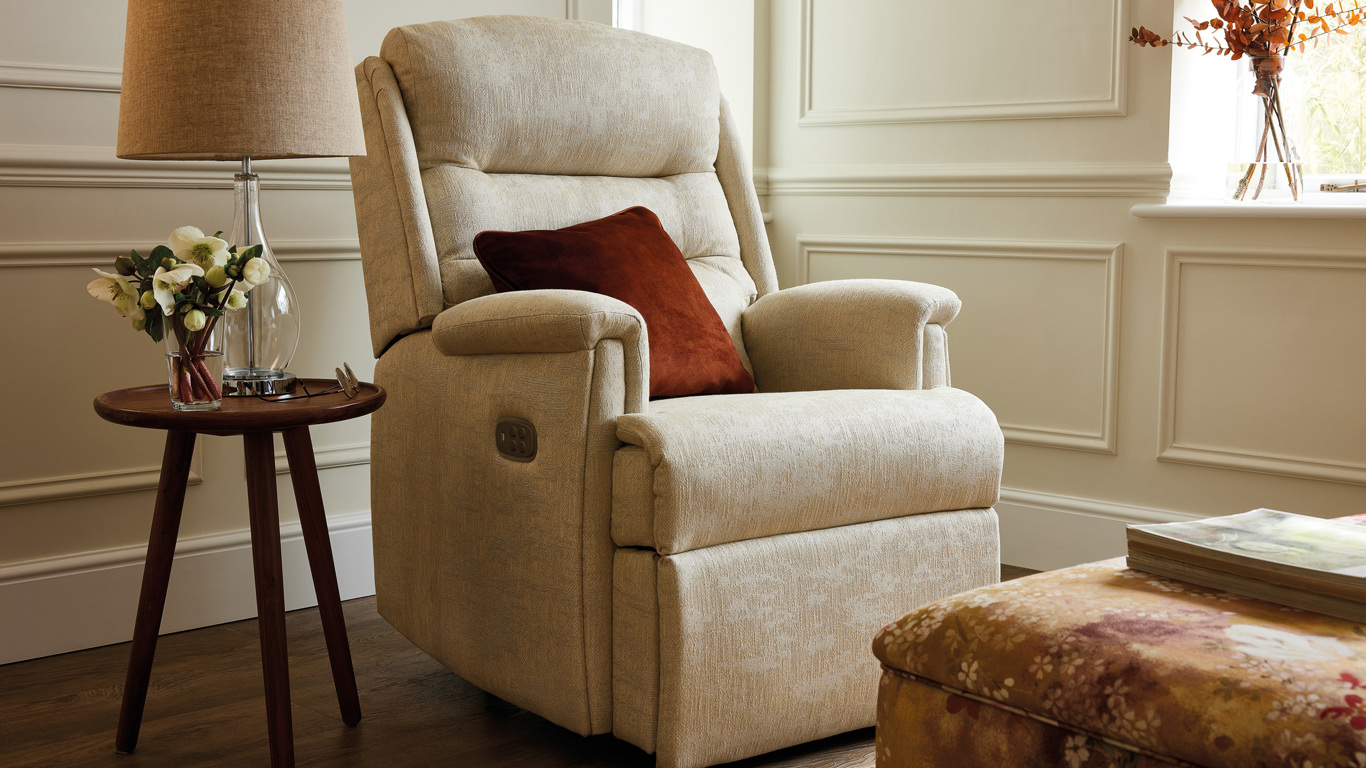 What are the benefits of a recliner chair?
We believe that feel good furniture is furniture that is good for your wellbeing - which is exactly why we love our reclining chairs so much. Beneficial for both your mental and physical health, our recliners help to relieve aching muscles and stiff joints by promoting good circulation. They help to alleviate stress by offering the utmost comfort and support, by making sure that your spine is rested, your back is supported, and your legs are elevated. Offering excellent lumbar support, they have the ability to reduce back pain with regular use. Perfect for those that may need assistance getting into and out of chairs, the allow you to do so with ease using just the touch of a button.  
What different types of recliners are available at HSL?
Here at HSL, we have two main types of recliner chairs available – the manual and the power recliners.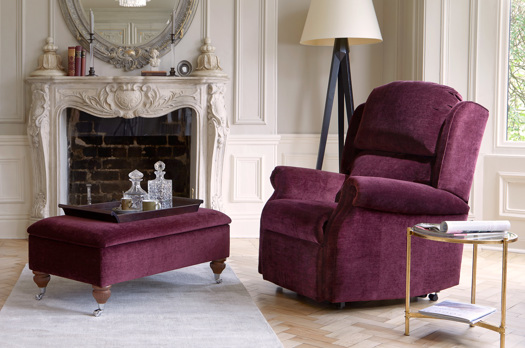 Manual recliners
The more traditional model, our manual recliners, are operated by pulling on a catch to allow the backrest to recline smoothly whilst the footrest rises up to support the legs. This comfortable reclining chair is the slightly cheaper option that provide generous seating and is one of our most popular and stylish designs to date.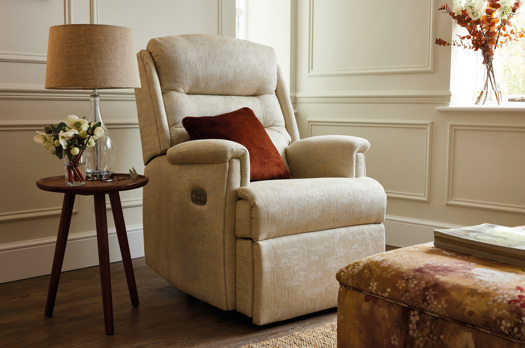 Power recliners 
Our more modern recliner chairs are our power reclining chairs. With the touch of a button, the backrest on your electric reclining chair will gently recline as the footrest rises with no extra effort required. Whenever you choose, another touch of a button will bring your chair back to the original position with no pulling required. We have even introduced a rechargeable power recliner, which you can reposition anywhere in your house when fully charged.
Whichever style you choose, we recognise that everyone has their own unique style, and we believe that no one should have to compromise when it comes to comfort and style. For this reason, we have a range of designs and fabrics available – so that you can choose the option that best suits you and your home.
Will my new recliner fit in my home? 
This is an important question, as not only should your recliner fit you but also the space you have in your home. We suggest that you measure both the room and recliner dimensions to enable you to visualise how much space you will have and where you could position your new luxury recliner chair. It's worth noting that your recliner chair needs to be far enough away from the wall for the reclining action. Not to worry though, our comfort specialists will be there to help you every step of the way. You can either pop into one of our showrooms or book a home visit, so that we can aid you with our friendly and expert advice. We enjoy making sure that each and every one of our customers feel supported in their decision making, and we'll always go the extra mile to provide a feel-good experience. As that's what feel-good furniture is all about.  
What colour recliner should I choose?
Now this is totally up to you. We believe that feel good furniture should also look good too, and no one should have to compromise on style or comfort. Everyone's got their own style preferences, which is why we offer a variety of choices to cater for each customer. Whether you want a boldly patterned fabric recliner or a leather recliner chair – the choice is yours. Think about whether you want your recliner to match your current furniture or if you want it to stand out and contrast your current aesthetic as an accent piece. Our customers are even able to personalise details such as button-back detailing, leg type and colour. We are continually refreshing our collections and fabrics to ensure that they are up to date, as we know how important it is to find furniture that suits you and your style.   
Why choose HSL? 
So, why should you trust that HSL has the best reclining chairs on offer? We've devoted 54 years to getting to know our customer and our craft. Over the years, we've listened to our customers and endeavoured to create furniture that suits them. As well as using our own knowledge, we collaborate with an array of experts on wellbeing to ensure we can offer trusted cutting-edge designs and expertise to our customers. Each piece of furniture has been thoroughly tested and evaluated by our independent health expert and Occupational Therapist, Julie Jennings. She has been instrumental in training our Comfort Specialists to understand good posture, the correct seating position and supportive transfer into and out of our chairs. Innovative designs and expertise feel good to us and ensure that our customers feel their best as well. Crafted with passion and care, we only use the best materials from our trusted suppliers to craft our furniture which is why we offer a 25-year frame guarantee. We believe that you should have the peace of mind that you are buying once and buying right.  
And that's our reclining chairs buying guide. Browse our full selection of the best reclining chairs here and don't forget to pop into one of our showrooms or book a home visit to have our Comfort Specialists find the perfect fit for you. If you are looking for more advice, check out our blog here.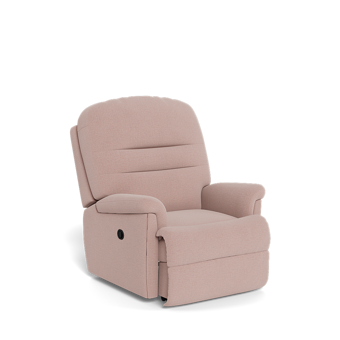 Browse our full range of recliner chairs
Choose from seven beautifully designed styles, each with their own features and options, available in 100s of fabrics and leather options.
View recliners
Order your brochure and swatches
Sit back and browse our beautiful handcrafted furniture. You'll find a free swatch card in there too.
Request a Brochure