Our Riser Recliner Buying Guide
What is a riser recliner and how do I know how to choose the best riser recliner chair for me? Not to worry, HSL is here to help. A riser recliner chair is a motorised armchair that will recline and rise to help you into and out of your seat at the touch of a button. Available in both single and dual-motor designs, these luxury chairs recline into a relaxing position, so you can experience ultimate comfort as you rest. Here as HSL, our riser recliners are designed to support you and your wellbeing. To help you find the best riser armchair for you, we've put together this handy buying guide. It feels good to find furniture that is perfectly suited to you and your style, and we're here to help you find just that.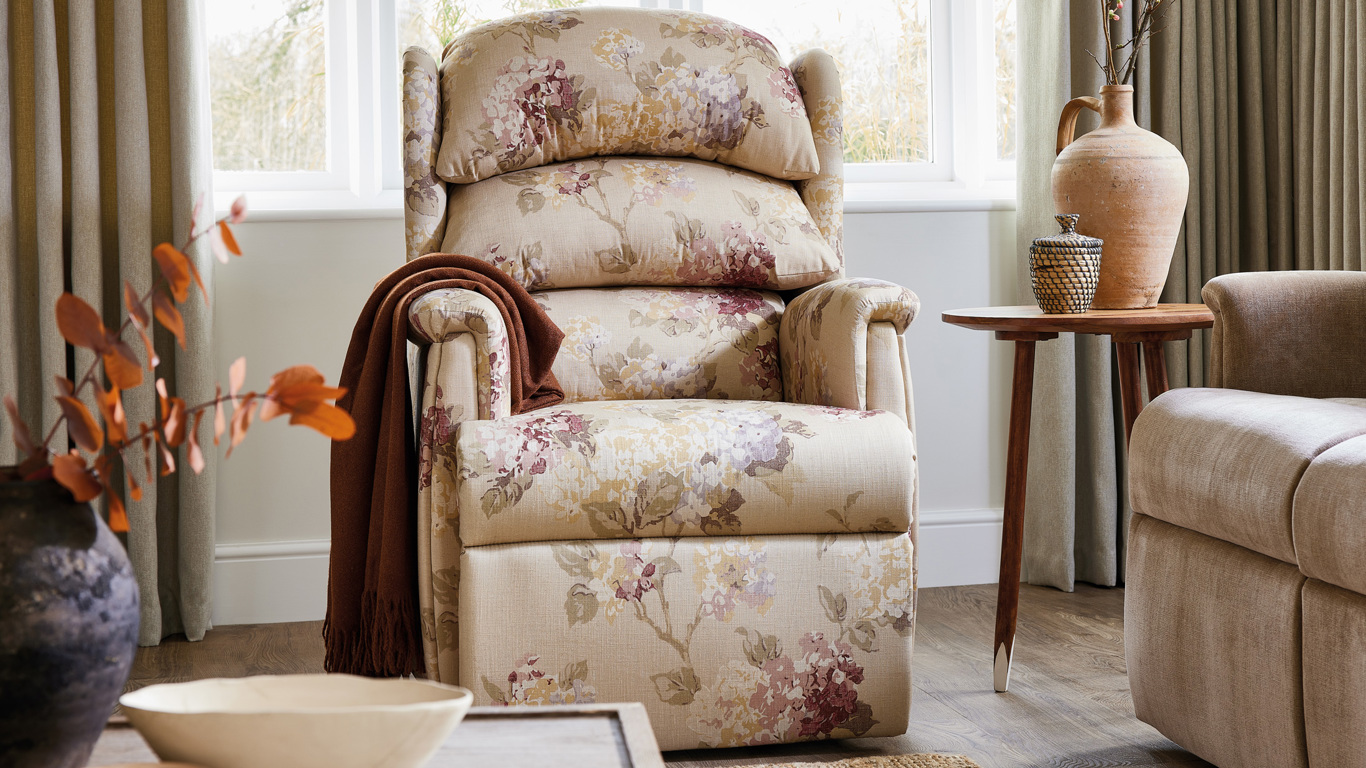 Single or dual motor riser recliner? 
The first question to ask is, what's the difference between these models? We'll tell you. A single motor riser recliner is an ideal choice for those looking for a more basic rise recliner. If your chair only has one motor, that means when the chair reclines that the backrest and footplate move together. Single motor chairs also do not fully recline, they only go back 45 degrees. 
A dual motor riser recliner has, as the name suggests, two motors. One controls the footrest and the other controls the backrest. This will give you more flexibility, as the leg rest can be elevated or lowered independently from the backrest and the chair can also recline fully.  
How can I ensure I get the right fit for me? 
When we are children, we have our feet measured to ensure that our shoes are the right size, so that they are comfortable. At HSL, we take the same approach to our furniture. Our exclusive chair fitting service ensures that each point of the body is supported to maximise comfort and overall wellbeing.  
This can improve posture and offer a whole host of physiological wellbeing benefits through reducing aches, pains, niggles and knots that can happen when you're not sitting properly. It can also lead to emotional wellbeing benefits, such as a happier and more fulfilled active lifestyle and greater independence in the home.  
It's our job to listen to you and share our knowledge and expert advice, so that you can make a confident and informed decision. So pop along to one of our showrooms or book a personalised home consultation, so that we can find the best riser recliner for you that will leave you feeling supported, comfortable and cared for.  
Fabric or leather riser recliner chairs? 
And so, we enter into the age-old fabric or leather debate… On one hand you have the easier maintenance of leather, but on the other, you have the total variety of colours and patterns that come with fabric. 
Essentially, the decision comes down to personal preference and nothing more. Leather will be easier to clean than fabric, making it a great choice if you have pets or overly enthusiastic grandchildren. Also, thanks to its unique qualities, leather naturally ages very well, getting softer over the years without looking worn out. 
Alternatively, as well as generally being more affordable, fabric tends to be warmer and cosier. There are also many innovative fabrics and products that can help protect fabrics from staining. Whichever style you chose is up to you, as we believe that no one should have to compromise when it comes to comfort and style. We recognise that everyone has their own unique style, which is why we've made sure to offer a variety of choices to cater for each and every customer.  
Styles of back
There are different back styles available for riser recliner chairs, and your choice will depend on what you find the most comfortable and your style preference.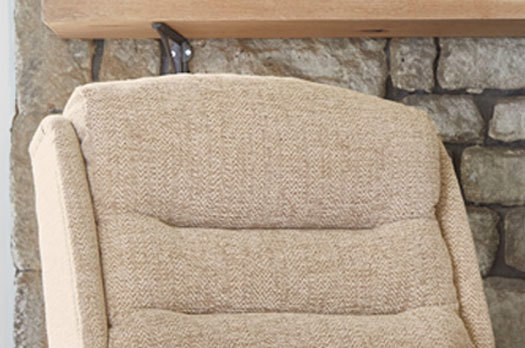 Orthopaedic back 
This roll style back is made up of three or more sections that are built into the back. This design gives reasonably firm support and is particularly good if you suffer from back pain. Its specific shape will mirror the contours of your spine's natural position, encouraging good posture.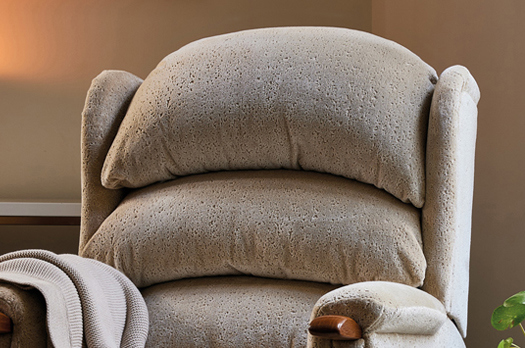 Waterfall back 
Typically made up of 3 separate pillows cascading down the back of the chair, the waterfall back is supportive for your neck, back and hips. Generally softer than the button back style, the waterfall is flexible and soft.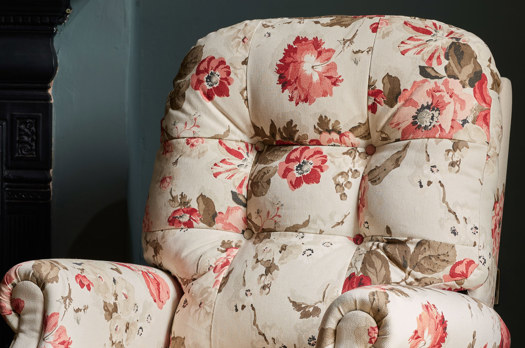 Button back 
This traditional style will provide reasonably firm support and has a classic look.
Financial advice
If needed, you could ask about financial support from your local authority, if a Riser Recliner chair is necessary to help you live better or to alleviate specific medical conditions. Different local bodies will inevitably have different rules about what they can pay for, but it's certainly worth contacting your local council and booking a meeting to see if funding is available. 
If you're buying a Riser Recliner from us at HSL and you have a specific medical condition, then you'll automatically qualify for VAT exemption. Some of the ailments which would enable you to qualify for a VAT free Riser Recliner are arthritis, high blood pressure, heart disease or circulatory problems. If you have a condition and you're not sure if you qualify for a VAT free product then simply speak to a Comfort Specialist at one of our showrooms nationwide or book a free home visit for further information. 
Riser recliner safety tips
Keep liquids well away from the electronic elements of the chair. Any spills should be immediately cleaned, and the chair should be removed from the power supply.  
Ensure the wire is uncoiled and if you need to move the chair, only do so when it's in an upright position and it's unplugged.  
Don't sit on the footrest or let children operate the chair alone. 
Always return the chair to the seated position when it's not in use  
Certain electric models come with a battery back-up in the rear of the motor. It's for emergency use if there's a power failure to return the chair to a seating position in the event of a power cut. It has a lifespan of 6 months, but it will only operate a limited number of times until the battery will need to be changed.  
What happens if my riser recliner becomes non-operational?
Check the chair is plugged into the mains. If it's operating slowly, this may indicate the batter back-up system is being used. 
Check the mains is connected to the transformer and the transformer is plugged into the back of the chair. 
Check the socket is working by testing another appliance.  
If plugged into an extension cable, plug into the mains to rule out a faulty extension. 
Try unplugging the chair for 30 minutes to allow the chair to reset.  
If your handset is flashing, reset by keeping it ON, unplug from the wall and take the long lead out of the transformer. Leave for two minutes and then plug everything back in, press and hold the reset button. 
What sets HSL apart from other specialist chair companies? 
We are a proud family business who have been helping people feel good in their furniture for over 50 years. We are a business which cares about our people's wellbeing. We care about their happiness, health, mental and financial wellbeing. Our feel-good furniture is designed to fit and built to last.  
A lot has changed in our 54 years of artisan craftsmanship, but one thing which always remains is the timeless quality of our furniture. We only use the best quality ingredients in our furniture making. We source local materials where possible. We have close and longstanding relationships with our suppliers, allowing us to ensure that only the finest materials make up our furniture.  
While we embrace change and innovation, we also know that nothing can compare to the traditional British craftsmanship on which HSL has thrived since its earliest days. That's why our furniture has a 25-year frame guarantee. If for some reason our quality does not live up to our high standards, it is only right that we do everything in our power to resolve this.  
It feels good to have the peace of mind that you are buying once and buying right.  
And that's our guide to finding the best riser recliner chair for you. We hope this guide has been helpful, but don't forget to visit one of our showrooms or book a home visit so that we can help to find the perfect riser chair to fit you and your style. If you are looking for more advice, check out our blog and don't forget to take a look at our stunning riser recliner chairs selection right here. 
Browse our full range of riser recliners
Choose from seven beautifully designed styles, each with their own features and options, available in 100s of fabrics and leather options.
Riser Recliners
Order your brochure and swatches
Sit back and browse our beautiful handcrafted furniture. You'll find a free swatch card in there too.
Request a Brochure