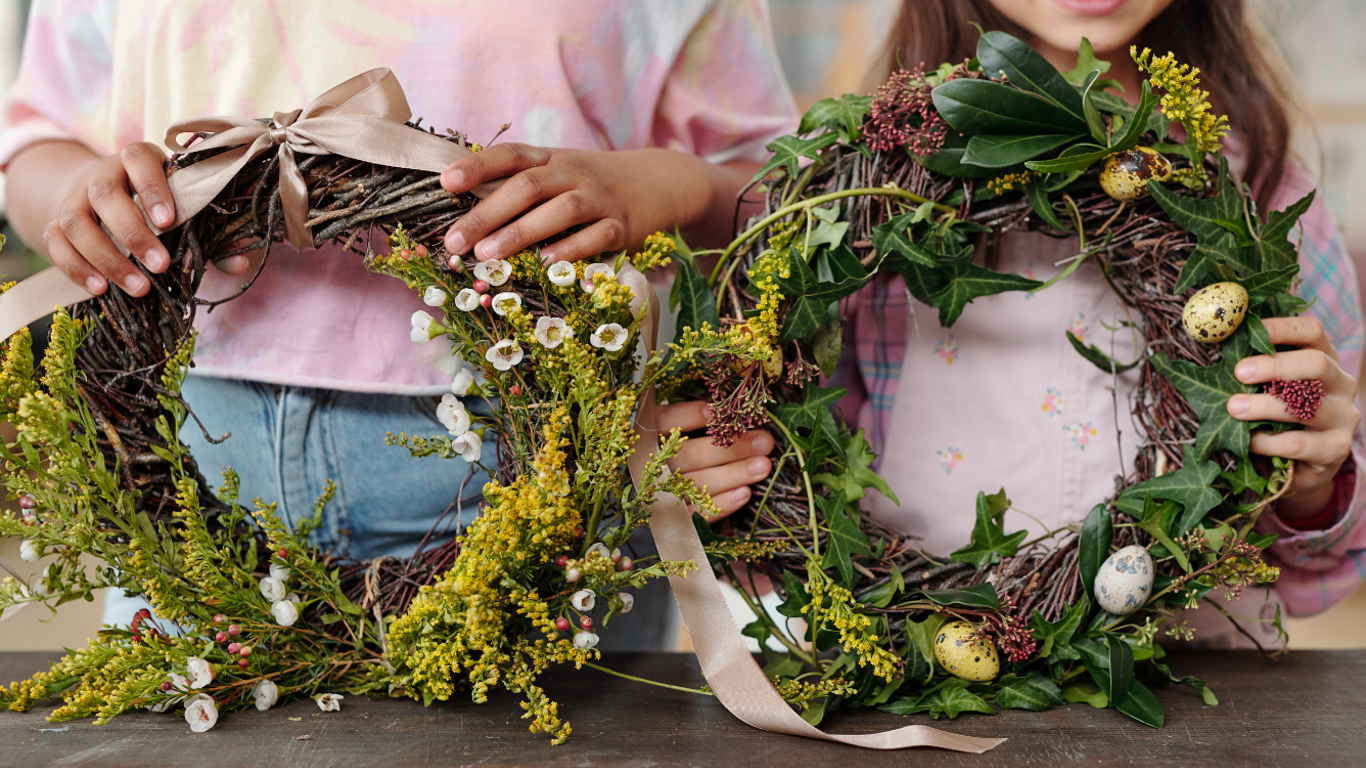 If you'd like to try your hand at one of these beautiful wreaths, we have created a style that could be started by simply going for a walk. With minimal tools required, your front door decoration could be closer than you think.
You'll need
Copper wreath ring (from a florist or garden centre) or pliable twigs twisted into a circle (such as elder or willow)
Garden wire
Secateurs or strong scissors
Glue gun or very strong craft glue
A strip of pretty fabric or ribbon
Decorations
Anything you can find in the hedgerow or garden like:
Plants going to seed
Ivy
Twigs covered in lichen
Berries
Feathers
Flowers 
Creating
Step 1: Loop your flexy ivy around your ring or ringed twigs, keep going until you've covered the base. Pull it through so that it looks natural, but forms a stable base. Keep adding more of your foliage (ivy, lichen and honesty) to the frame, layering and overlapping it until you reach your desired aesthetic.
Step 2: Prepare your pine cones and seed pods by wrapping or piercing the base with wire, leaving enough wire at the end to attach to your wreath – better too much than not enough, you can always cut any loose ends afterwards.
Step 3: Start adding your other decorations. Loop the wire trail on your pine cones and seed pods under the foliage so that you can't see the wire. Use the glue gun or strong craft glue to attach the berries and feathers. You could try laying it out first to see where you like it before attaching it permanently. But don't worry, nature isn't perfectly symmetrical, so a bit of mismatch is always lovely.
Step 4: Leave the wreath to settle and the glue to dry. Once it feels secure, wrap the strip of fabric or ribbon around the top, tie and then hang in your chosen location.
Most of the decorations used should last a few weeks at least. If the berries dry up, they may fall off, and this gives you the chance to revamp it a little and glue on some new berries or plants you find in an afternoon walk.