Making your coronation cross stitch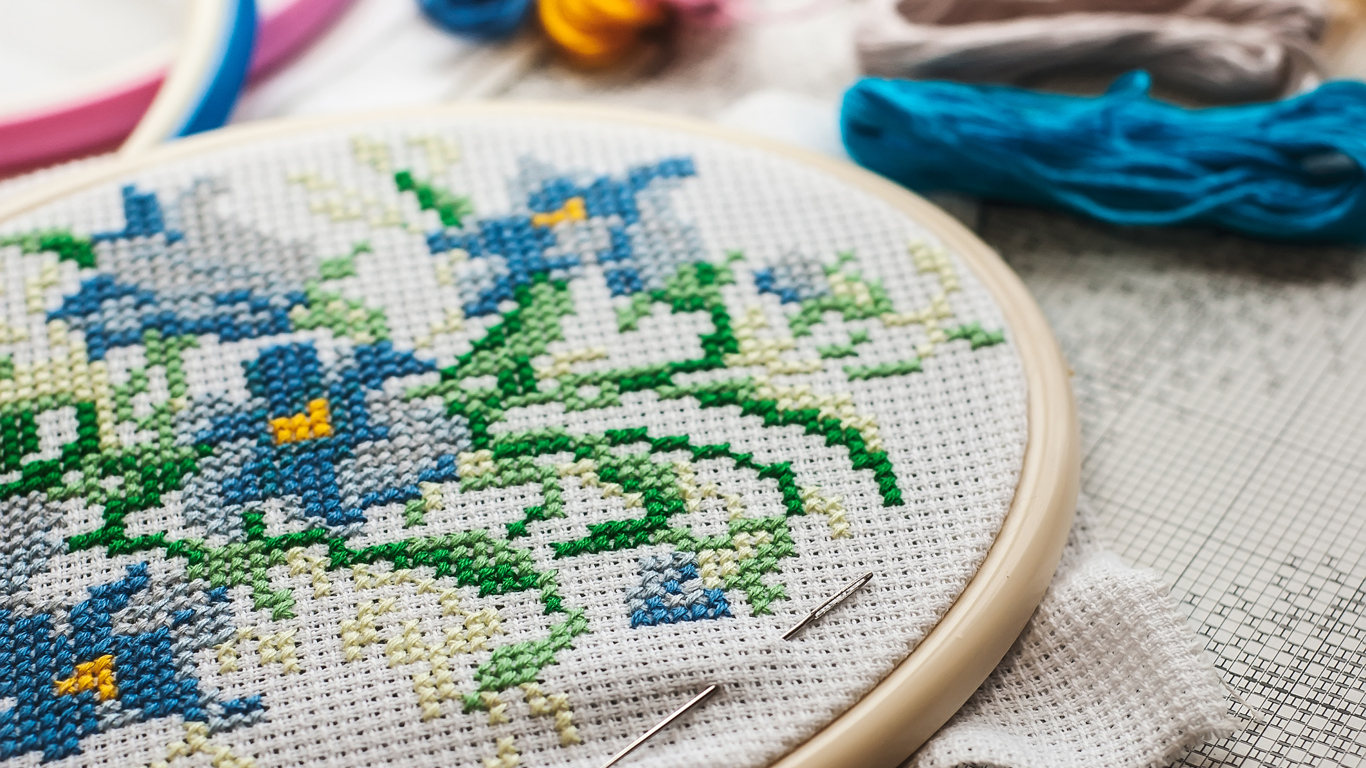 Have you ever tried your hand at making a cross stitch piece? If not, the coronation could be the ideal time to pick up a needle and give it a go. We'll walk you through some of the basics of what you need to get started and give you some inspiration for what could be included in your commemorative item.
What is cross stitch?
Cross stitch is often considered to be one of the easiest forms of hand-threaded embroidery and it's been around for centuries, even as far back as the 6th century BC! It comprises multiple x-shaped stitches on fabric to create a picture or quote. Designs are often sold as kits but you also have the freedom to create your own by purchasing basic supplies and letting your imagination take over.
What supplies do you need?
To get yourself started, you'll need some good fabric - Aida or linen are most commonly used. They're known to fray, so it's a good idea to
either hem the edges or use a hoop or frame to keep the fabric tight enough to work with. You'll then need to choose the appropriate
kind of needle and thread. The usual type of thread is 6-strand embroidery floss which you'll be able to pick up in most good arts and
crafts shops. Cross stitch projects use tapestry point needles and a common rule to follow is that the higher the number, the smaller the
holes are between the weave. So, for example, a size 11 count piece of fabric would have bigger holes than a size 14 count fabric. Keep that in mind when you pick your needle size.
Ideas for your coronation design
Depending on your confidence, there are a number of designs you could go for. If you're just a beginner, we'd recommend following an
established, purchased pattern. If, however, you are more practised, then perhaps you could sketch some designs yourself before
picking up the needle and thread. Maybe try some text in your design - something simple like; "The coronation of King Charles, Westminster Abbey, 6th May 2023". Or, you could make references to the national
anthem - "God save the king", or "happy and glorious". Space the text out around the fabric so that you can stitch pictures onto it too. Royal objects you could recreate in thread are a crown (of course), a simple version of the abbey or even a Jack Russell Terrier (the King's dog breed of choice). And, when it comes to colours, consider using golds and dark purples to bring a regal feeling to the whole design.
No matter what you decide to do with your cross stitch pattern, we've no doubt that it'll be something you look back on fondly; helping to commemorate this special event.