Celebrating 50 Years of Stressless
Across the North Sea, and on Norway's west coast lies the small town of Sykkylven, the birthplace of an extremely comfortable swivel chair, Stressless®. In 1971 a new standard was set in comfort and functionality when a revolutionary recliner was designed. Stressless® was created to bring its user precious 'me-time' and enhance wellbeing in our non-stop, busy world. It was inspired in equal parts by the area's skilled craftspeople and from the surrounding nature itself. 50 years later, Norway's largest furniture exporter remains in the fjord and offers handcrafted, exclusive comfort. An important milestone in any business' history and heritage, 50 years marks the commitment and dedication the company has put into each aspect of the furniture's creation. Our exclusive collection of Stressless® chairs came about from a shared passion for style, comfort and quality craftsmanship. Like ourselves, they have a prestigious history of understanding the science of comfort and movement whilst seated. In celebration of 50 years of Stressless®, learn more about their heritage below, with a little snapshot of what our customers have said about them and the service they received: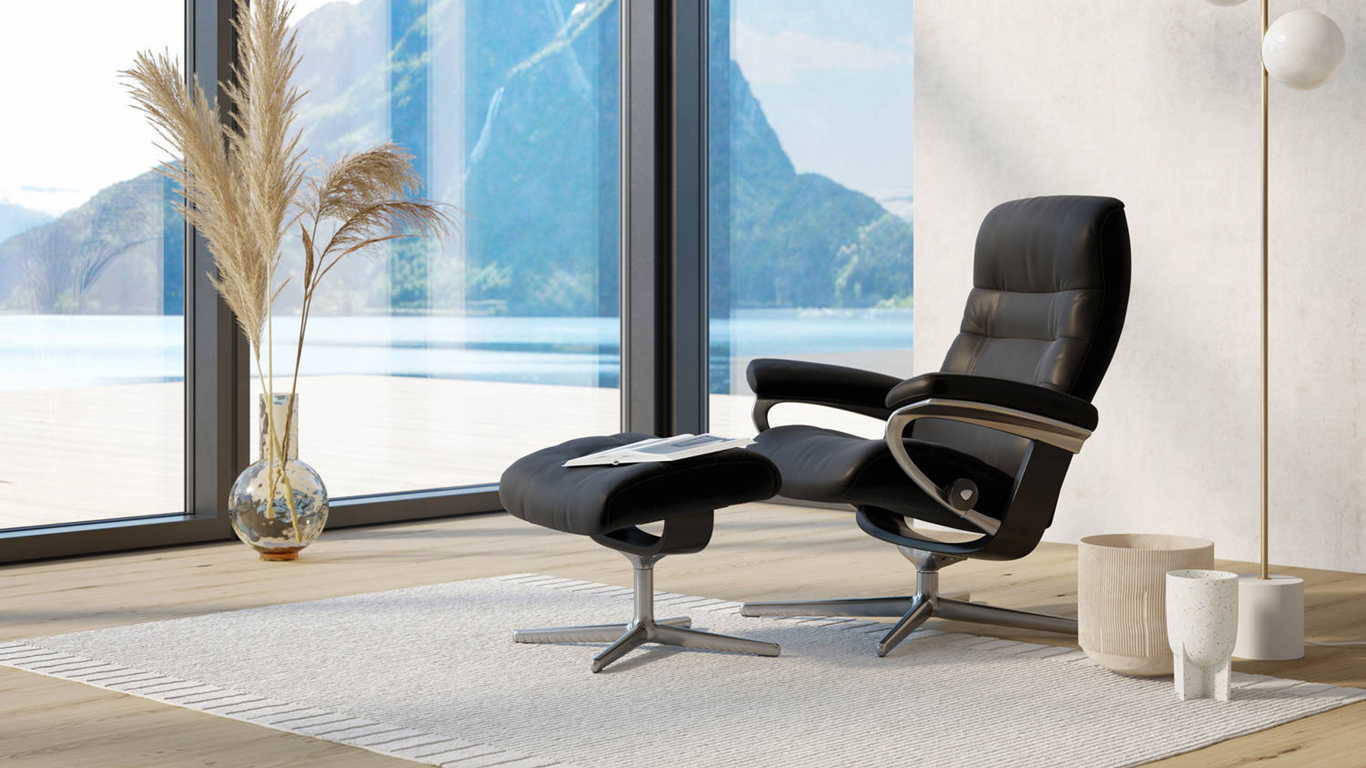 Exceptional comfort
At HSL we pride ourselves on finding sizes to fit you and our exclusive collection of Stressless® chairs provides optimal comfort and support.  With 50 years of experience in delivering exceptional comfort, Stressless® chairs are inspired in equal parts by nature and a tradition of skilled craftsmanship, and are available in three distinct sizes and various styles to suit you.
"Needing a new comfortable chair we decided to visit HSL in Blackpool and we can highly recommend this store. Vanessa the assistant was most helpful and the chairs come in 3 sizes to suit individual needs. Now looking forward to the day we receive our new Stressless armchair which is being made especially for us in the leather we have chosen."
– Mrs James
Craftsmanship
We believe nothing beats the trained eye and skilled hands of experienced craftsmen and women. Stressless® share our passion for quality, combining the experiences and craftsmanship passed down through generations, hand in hand with advanced technology, creating the perfect balance of human touch and an incredible degree of precision.
"My wife bought a Stressless chair and footstool from the Shrewsbury store. So wonderfully comfortable, we bought another. Excellent attentive service from Helen, from making sure the chair size was right for me to processing the order and delivery."
– Mike Bosman
Sustainability
In 2019 we launched a bold ambition called Mission Zero; to create an environmentally sustainable business that was carbon neutral by 2025. As part of this commitment, we ensure that our partners share the same eco-friendly values. All of the power supplied to Stressless® factories in Norway is supplied by hydropower; a renewable energy source generated by a continuous water cycle. When you choose Stressless® furniture, you are not only investing in your comfort but also making a responsible and sustainable decision.
"We recently purchased two Stressless Reclining Chairs from HSL Tolworth branch. We received excellent service from the store manager. The delivery service was efficient. The chairs were put in place, unpacked and all the packaging taken away to be reused or recycled. We are delighted with the quality and comfort of the chairs and the professional service we received from the store manager and delivery company.'
– W. B. Roberts
Intelligent design
As proud winners of the Queens Award for Enterprise in Innovation, at HSL we are always seeking to work alongside furniture designers with a shared drive for continual improvement. Celebrating 50 years of intelligent design, Stressless® convert the science of comfort and technological innovation into beautifully crafted, ergonomic furniture.
"Our appointment at HSL Henley yesterday was most efficient and enjoyable. I knew I wanted a Stressless armchair but did not know which style. Sonny was extremely helpful, knowledgeable and all was very relaxed. He was unfailingly polite and never hurried us, happy to let us ask so many questions and take our time trying out all that was available. I am delighted with my choice and look forward to the delivery."
– Susan Jeffrey
The Stressless® Gallery Collection – Exclusively at HSL
Under the surface of supple leather and beautifully soft fabric lies true engineering genius. The Stressless® Gallery Collection, exclusively at HSL, is expertly designed to bring you the best of Nordic design with the highest levels of quality and comfort.
To see the Stressless® chairs we have available, you can find the collection page here: Stressless®