Chairs for the Elderly: Your Buying Guide
As we get older, we spend an increasing amount of time sitting down, so it's important that our chair is comfortable and supports proper posture and circulation. At HSL, our chairs, sofas and beds are all part of our feel good furniture range, meaning that all of our customers – young and old – can benefit from having the right support. From reclining chairs to electric riser recliners, armchairs and fireside chairs, whether you're looking for yourself or someone else, how do you know which is best? The Comfort Specialists experts at HSL are here to help with our informative guide on chairs for the elderly.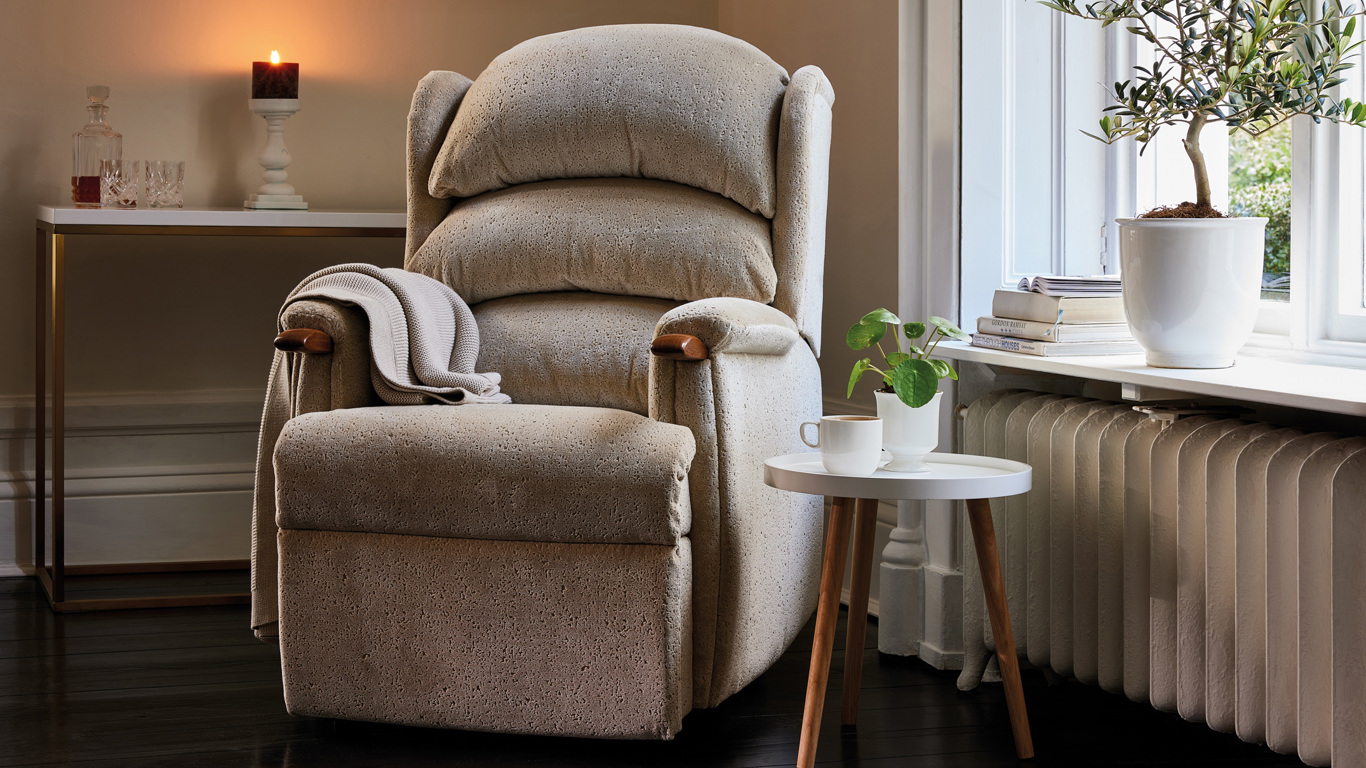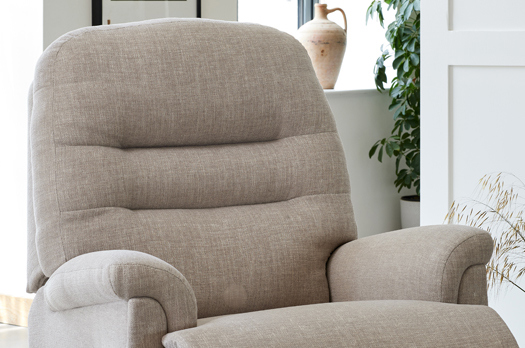 Catch Reclining chairs
The best reclining chairs for the elderly come with sumptuous padding and elevate your feet. Reclining chairs are hugely popular because they come with an ample amount of sumptuous padding – ensuring ultimate comfort when sitting. The ability to pull the catch and slip back into a reclining position with your feet elevated can complete the feeling of utter relaxation. As our bodies age, circulation issues can start to worsen. Occupational Therapist, Julie Jennings Dip COT HCPC, says that elevating your legs can help "with circulatory problems such as swollen ankles and feet, aching legs, as well as swollen and painful knees. The end of the footrest should stop at the Achilles arch – allowing the ankle and foot to move freely. This will encourage movement which is essential to aid circulation and reduce pressure from heels." If you suffer from poor circulation, we offer a whole range of stunning reclining chairs for the elderly; you can choose from the waterfall-backed Aysgarth, the striking Ripley, or the beautiful Burrows with its modern look and feel.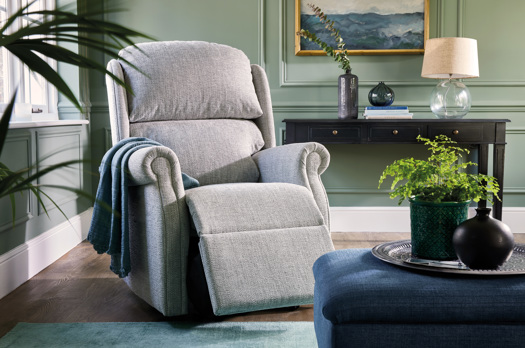 Electric recliner chairs
Our electric recliners enable you to sit comfortably and recline at the touch of a button. For some, the catch function on a recliner chair might be a little too fiddly, so we'd recommend opting for an electric-powered recliner. These have all the benefits of our recliners, but at the simple touch of a button. Electric chairs for the elderly are ideal to help those suffering from heart disease or arthritis, as you can elevate parts of your body to ease swelling and pain. Julie Jennings advises: "Seating that provides flexibility to allow someone to rest but also enables independent function is essential. Leg elevation would be necessary, and I recommend an integral leg raiser rather than an independent footstool." These ergonomically designed chairs are available in all the ranges listed with the catch recliners, as well as the Penrith – available in both standard power recliner and a handy rechargeable power recliner – meaning you can reposition the chair easily once it's fully charged.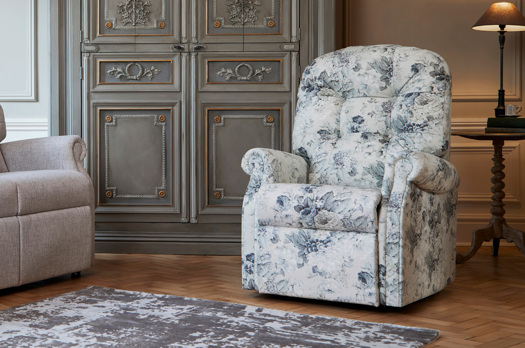 Riser recliner chairs
Riser recliner chairs Riser recliners are great chairs for seniors as they can recline and be raised up. Riser recliner chairs mean you can have the luxury of a reclining back and elevating footplate, but with the extra convenience of being able to raise up into a standing position. As we get older, gravity can make the ability to lift ourselves out of a seat more challenging. Riser recliners for the elderly can assist in safe standing and sitting, enabling more daily activity and less sedentary sitting. They can be a huge benefit to people who might tire quickly, and where pain is variable. For this reason, they are an especially good chair for older people. Find out more about our riser recliners in our comfort guide. Julie Jennings says that riser recliners are: "Great for people with widespread arthritic type pain and where a more bespoke positioning is required for comfort. They are also beneficial for people with respiratory, circulatory and abdominal problems. The chairs allow independence without removing the positive benefits of using essential core muscles and maintaining strength." Our relaxed range of armchairs all offer the riser recliner design – meaning you have a whole range of feel good furniture styles to choose from.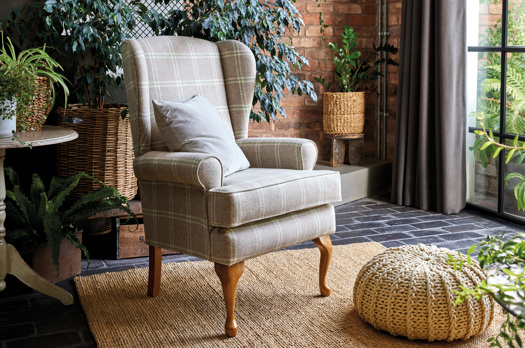 Fireside chairs
A specially designed fireside chair can promote proper posture. You might not immediately think of fireside chairs as an option for those who need extra support, but when they are made correctly, then they can provide ample comfort, support and encourage good posture. Learn more about the benefits in our fireside chairs guide. Sitting upright with the correct posture can help to minimise strain on our bodies and reduce pain. Bad posture or 'slumping' can compress the stomach, causing the tip of the breastbone to press down into the general area where food is processed and digested. This can, in turn, cause stomach pains and digestive difficulties. We offer a huge range of fireside chairs for seniors approved by our independent Occupational Therapist; from the classic Glenmore, to the striking upright Buckingham, and the '60s-inspired Carnaby to name just a few.
Comfort that doesn't compromise on style
Our comfortable and supportive chairs for old people don't compromise on style.
While it's important to find a comfortable chair or sofa that supports your needs, you also want it to look great too.
We pride ourselves on our British craftsmanship, and we have modern and traditional styles to suit all tastes. Each piece of our feel good furniture can also be upholstered in hundreds of different fabrics and leathers to match your décor. Our Comfort Specialists will guide you through our Exclusive Chair Fitting Service to ensure that it's the correct fit for you, because we believe that supportive, ergonomically designed chairs shouldn't have to compromise on style.
Don't just take our word for it. Trustpilot is filled with thousands of amazing reviews. Here's just one of the many:
"Visited the store in Guiseley, Leeds with my wife, Mum and Dad. Amazing experience from the moment we entered the showroom. Jennifer gave us a warm welcome, spent valuable time with us to answer questions, help us find the right chairs for my elderly parents without any pressure to buy – it just felt like she was there to guide us through finding the best available options. Would genuinely recommend this place."
Choosing chairs for seniors is a big decision, so we recommend popping into a local showroom or arranging a free home visit to "try before you buy". To find out more about our specialist chairs for the elderly, browse our chair and sofa collections today. You can also find more useful health and wellness articles on our blog.