Pet-Friendly Sofas That Are Practical and Stylish
With a total of 3.2 million households in the UK having acquired a pet since the start of 2020, according to the Pet Food Manufacturers' Association, it's fair to say that we love our furry friends. However, what we don't love is when they make a mess of our lovely furniture; we're talking, pet hair everywhere, claw scratches, muddy pawprints and general stains. If you're someone who can't bear the thought of banishing pets from the living room, read on for our expert advice on how to choose a pet-friendly sofa, plus how to remove pet hair and keep your furniture in tip-top condition.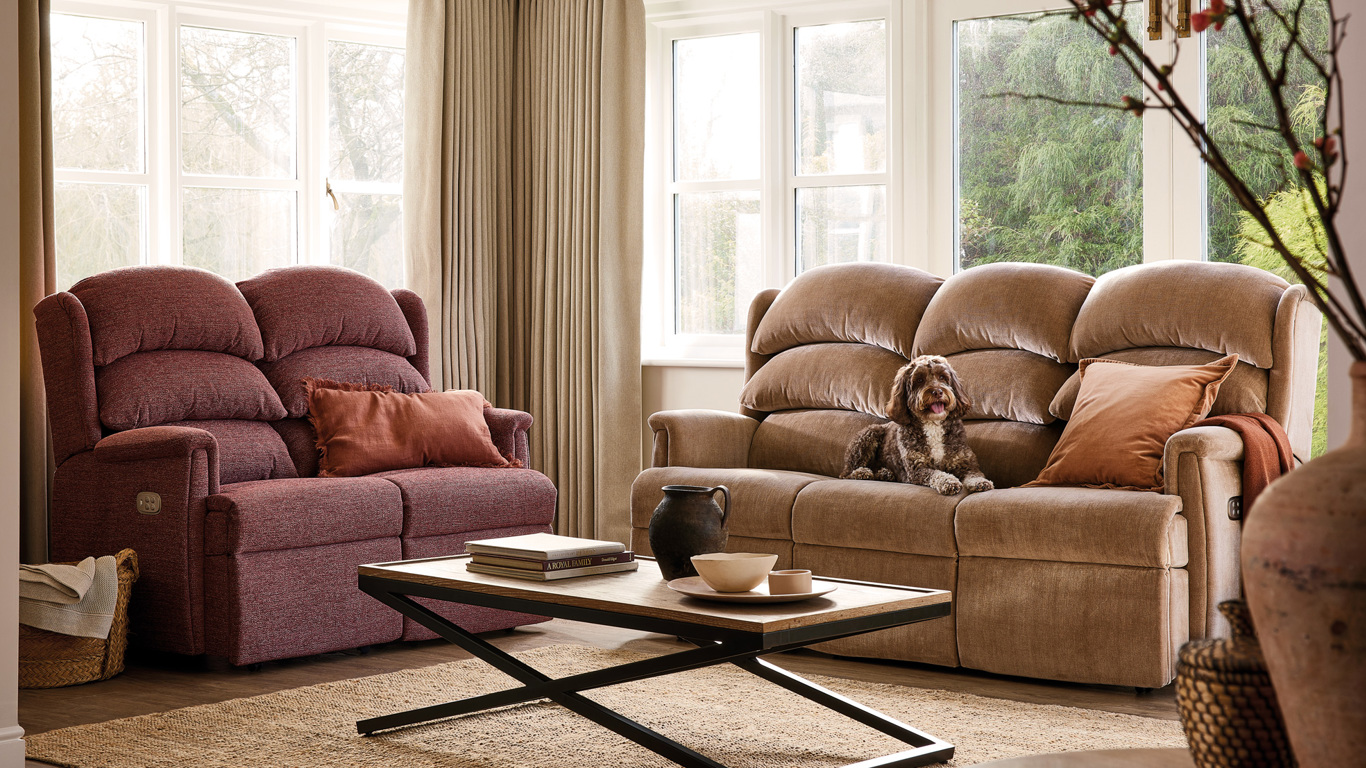 What to look for in a pet-friendly sofa
If you want your dog or cat to enjoy the finer things in life – i.e. snuggles on the sofa with you – then you'll need to invest in furniture that can withstand some general wear and tear. Here are some things to consider before you buy:
Durable fabrics
Whilst there's no such thing as claw-proof fabrics, there are materials that are more forgiving when it comes to our furry friends. Lots of pet owners opt for leather chairs and sofas, as they are easy to clean in the event of any unwanted accidents. Simply, find a damp cloth and leather-friendly cleaning spray and wipe it down.
The best way to avoid claw marks on your furniture is to trim your pet's claws regularly to reduce the chance of them snagging. You could also add a soft throw or blanket on your furniture to protect it.
Tightly woven fabrics
If you'd prefer a fabric sofa, then tightly woven fabrics are your best bet in a house with animals, as they are less likely to catch or snag on sharp claws. We'd suggest choosing a dark coloured or patterned fabric to make any marks less obvious.
However, fabric upholstery does tend to absorb smells more than leather, so you will have to keep on top of stains and cleaning to keep your furniture looking fresh.
Darker colours
It's no surprise that darker colours are more forgiving of any scuffs and stains caused by your furry friends. Patterned fabrics can also hide a multitude of marks! If you're a pet owner, we'd advise against buying a cream or white sofa, but a darker option can look just as stylish and be far more practical.
Browse a selection of our fabrics and leathers to find the one that's right for you. Don't forget, if you choose an Aquaclean fabric you can enjoy even more peace of mind, with built in antibacterial and stain release technology that allows you to clean household stains with just water.
Removing pet hair from furniture
One of the things we adore about animals is how soft and fluffy they are. However, this can quickly turn into a nightmare when they shed their hair all over your beautiful furniture. Here's how to remove pet hair quickly and easily:
Try damp rubber gloves – Dampen a pair of clean rubber gloves and run your hands over the fabric in different directions to attract pet hair. You'll be amazed at how much hair this technique picks up! Then rinse it off and repeat as needed. If your furniture is suede, use a dry rubber glove instead to avoid marking it
Use a vacuum cleaner – we recommend vacuuming your furniture at least once a month, whether you have pets or not. Pet owners may want to do this more often and remember to use the nozzle attachment to get into all the nooks and crannies where hair gathers. For stubborn pet hair, you may want to invest in a specialist pet hair vacuum like the Dyson Big Ball Animal 2
Make use of lint rollers – lint rollers aren't just reserved for clothes, they can be really effective at removing pet hair from upholstery – and they're cheap too. If you don't have one, don't worry. Simply get a paint roller and some tape (ideally duct tape), wrap the tape – sticky side out – around the roller and you're good to go!
Avoid stiff–fibre or metal brushes – whilst it can be tempting to give your furniture a good, hard scrub with a stiff-bristled brush to get rid of pet hair, this can damage the fabric. Instead, always use a soft brush and gently brush any hairs away. If you can't get rid of them, try using a vacuum cleaner instead
Avoid wet cleaning – never wet clean your furniture as this can cause the colours to 'bleed' or leave a permanent mark. If you need to remove a stain, you can try using a damp cloth, but always spot check a discreet area first to ensure that it doesn't leave a mark
If your furniture is looking particularly grubby, we'd recommend getting it cleaned by a specialist.
Cleaning muddy pawprints
So, your dog or cat has just run into the lounge and onto the sofa leaving a trail of filthy pawprints all over… Sound familiar?
When this happens, the first thing you should do is leave it. Yes, you read that correctly! Wait for any mud to dry or risk rubbing it into your furniture and causing permanent stains. Then, once dry, gently remove mud with a soft brush, apply a damp cloth and wipe away any remaining pawprints. You could also use a vacuum cleaner on a low setting to hoover up any remaining mud.
We recommend pet owners invest in a throw that you can put over your sofa to protect against marks. This can then be removed and cleaned in the washing machine. Easy-peasy.
We hope our advice on choosing a pet-friendly sofa and removing pet hair will help you and your pets to enjoy your home to the fullest.