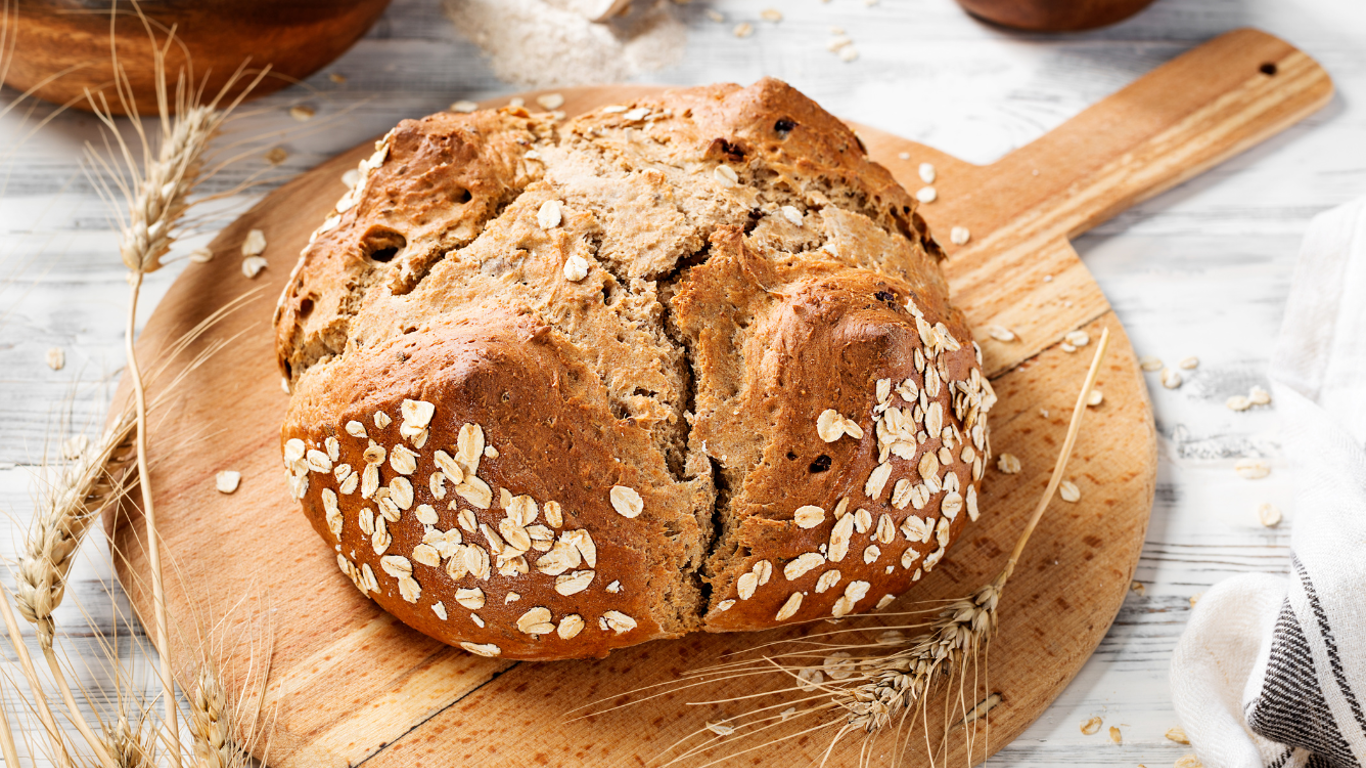 Soda bread has long been associated with its Irish roots. Whilst there's been research to suggest it actually originated further afield, there's no doubt following this soda bread recipe will be a great edition to any feast.
Ingredients
400g plain white flour
1 tsp salt
1 tsp bicarbonate of soda
300ml buttermilk (you can make your own by adding either 1tbsp lemon juice, 1 tbsp apple cider vinegar or 1 tbsp. white wine vinegar to milk and leave for 10 minutes). Alternatively, you could use 150ml milk & 150ml natural yoghurt.
Method
Step 1: Pre-heat the oven to 220 degrees, 200 degrees (fan)
Step 2: Lightly mix the dry ingredients. Mix the buttermilk and/or milk and/ or yoghurt into the dry ingredients. Flour your hands and shape into a round/ball, place on a baking sheet and flatten slightly.
Step 3: Make a cross with a sharp knife to help the bread cook evenly. Cook for approximately 25-35 minutes.
Step 4: The bread is cooked when you can tap the bottom of the loaf and you hear a hollow sound. Cool on a wire rack. It's best eaten on the day or freeze as soon as it has cooled completely.
Alternatives for flavoured soda bread
Why not try a flavoured version by adding the following to the dry ingredients?
Add 70g diced ready to eat chorizo and 70g of grated Manchego cheese
Stout (swap 70ml of milk for the stout), 70g of grated cheddar and 1tbps chopped thyme
Add 70g sun-dried tomatoes finely chopped with 70g feta cheese chopped into small cubes
Cook a finely sliced onion in olive oil with 1tsp of balsamic vinegar and 1tsp of demerara sugar for 20 minutes on a low heat
You can sprinkle the top of your soda bread with sesame seeds, pumpkin seeds, sunflower seeds or poppy seeds.