10 Top Tips to Bring Feng Shui into Your Living Room
Creating a home environment that is positive and uplifting will not only impress your guests, but it will also benefit your overall wellbeing. The way your interiors make you feel should not be underestimated – especially when it comes to the living room. So, what is feng shui? An ancient Chinese concept, feng shui focuses on human life being connected to, and flowing with, the environment around it. The practice focuses on the concept of 'Qi' – which is a type of force or energy that impacts our senses and can be manipulated to improve our quality of living. A big part of this manifests itself in how you arrange your furniture and homeware, to stimulate a sense of harmony with the natural world. To help you out, we've put together our top ten feng shui tips to turn your living room into a relaxing haven that will enhance your body, mind and spirit.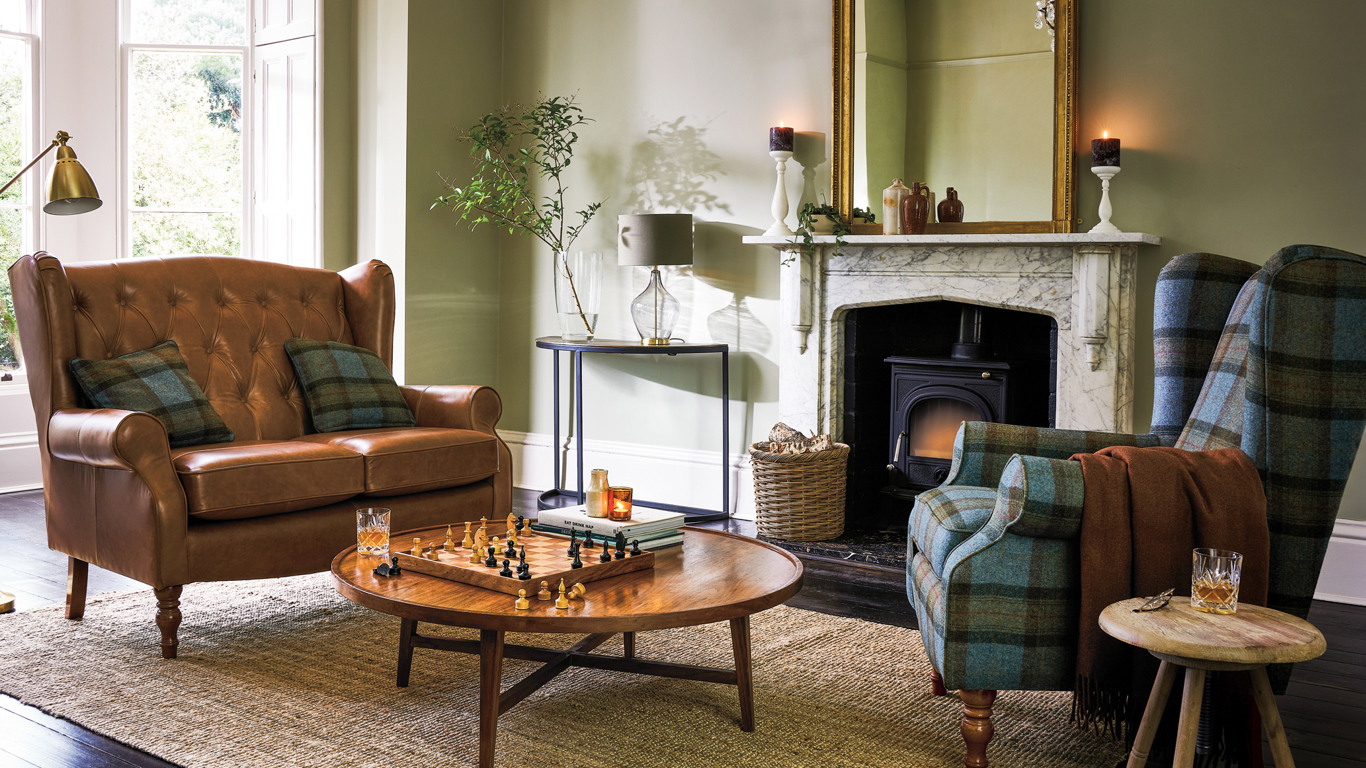 1. Intention
Everyone has a different purpose for their living room- so it is important that you decide what your living room will be used for. Although the space is typically seen as a place where people can gather, we all live differently. So, whether your living room will be a place to entertain your friends, work from home or relax every evening, your design should reflect this. 
Setting an intention for your living room will help you to make furniture and design choices – for example, if you want to encourage relaxation then go for a subtle design or if you plan to entertain, then opt for bright accessories. When deciding on the afore, it is essential that you make sure each person in the household agrees on the intention. Involving everyone in the design process will create a peaceful existence with your surroundings, as it will allow everyone to feel welcome and like they belong in the space.  
2. Five elements
Incorporating the traditional five elements of earth, wood, fire, metal and water into your interiors will create a feeling of harmonious balance. Use your choice of paint, furniture, accessories and flooring to include an aspect of each element throughout your living room. 
Feng shui encourages introducing elements into your interiors that will help to bring a sense of health and wellbeing to your living room by delivering a life force energy. Creating a restorative-feeling space will allow you to feel relaxed and will improve your quality of living, in addition to boosting productivity. 
3. Feng shui living room colours
Light colours are the safest go-to when it comes to designing your living room with feng shui in mind. However, go for the colour that feels best and most suited to you, as positive energy can only flow when you are happy in your environment. 
When it comes to colour choices – consider the five elements again. Yellow, gold and light brown are excellent for incorporating warm tones into your living room. Shades of green reflect the wood element, with reds and animal prints epitomising the fire element. As the name suggests, the metal element can be displayed through metallic colours like grey and silver, whereas blue tones will add the water element into your living room. Using more than one element in your colour palette is ideal for creating a flow of energy in your living room, whether it is through the choice of paint colour, or the accessories and furniture you choose. 
4. Declutter
Clutter or unnecessary belongings can prevent positive energy from entering and seamlessly moving through your living room. Overwhelming your space can have the same effect on your mood, so let go of or tidy away anything that you do not need or love. 
This will keep your living room feeling relaxed and organised, giving you a clear head and peace of mind. Storage solutions such as hidden shelving, wall shelves and bookcases are a great way to help with clearing away essentials such as books, tv wires and remotes. 
5. Positioning of furniture
When it comes to creating a feng shui living room, furniture is key. However, before choosing your furniture pieces, it is important to decide where you will position them. The arrangement of your furniture will directly affect the sense of flow throughout your living room. It should be placed in a way that will allow people to walk through your living room with ease, avoiding any obstacles or safety hazards to reduce any negative energy. 
The main purpose of your living room seating should be to provide comfort for yourself and your guests. With feng shui living room layouts, the sofa is the most important piece of furniture and should always be given a commanding position. This will help to open the space up and will consequently encourage a flow of conversation. For a warm and welcoming feel, place your sofa to face the front door so that you can greet visitors as they enter. If you have a fireplace, placing seats around this focal point will create a harmonious space for people to gather around and communicate.  
6. Lighting
In terms of feng shui rules, lighting is often used to rectify 'problem areas' and create a sense of balanced energy. In a home where there is too much darkness, there may be too much 'yin' (passive, cool energy). Windows, skylights and lights that you can alter with a dial can help to provide more 'yang' (louder, brighter energy).  
Lamps are one of the easiest ways to introduce more 'yang' energy into certain areas of a room. However, you'll want to make sure that you don't make the room too bright. Your lounge lighting should not be too harsh, as the main principle of feng shui is to balance the chi energy in your home. Energy efficient bulbs are also a great way to keep your lighting choice natural and cost-effective.  
Top tip: Avoid lighting in sets of three. In Chinese culture, three candles are used for prayer and offering – so many people consider this layout to be inauspicious.  
7. Windows and doors
The shape, size and placement of your windows and doors are also a key part of feng shui home decorating. In ancient tradition, it has been understood that both good and bad energy can come into the home through the windows and doors. Consequently, it's important that your windows are in proper working order to allow fresh air to enter the space, and they should be free of external obstacles to provide a clear perspective.  
Avoid putting furniture back to the window as this can create a feeling of vulnerability. Feng shui also suggests that you keep all entryways into any room uncluttered, to keep the good energy flowing freely into your home.  
8. Mirrors
Mirrors will make a great addition to your Feng shui lounge. If you choose to furnish with mirrors, try hanging them an inch higher than usual to help lift mood and energy. Ideal for small living rooms, mirrors can help to draw the eyes up and they make the room seem bigger by reflecting any outdoor landscapes or bright walls.  
Avoid placing mirrors above sofas or chairs and in spaces that will reflect people entering through the door. The mirror can reflect good or bad energy, so be mindful of who you choose to be your guests. 
9. Plants
Another key aspect to feng shui home decorating is plants. As well as being aesthetically pleasing, adding a touch of nature into your living room is said to be nourishing for your personal energy.
Boston ferns, bamboo, golden pothos and jade plants are all great options to include in your living room, as they are believed to give off good energy. It is also theorised that the wood element in plants aids growth and inspires action, alongside honing qualities of compassion, kindness and flexibility.
As the living room is a space to celebrate friendship, family and relationships – having plants in there that reflect positive energy are ideal. Taking care of your plants and keeping them healthy can further bring luck into the home; however, if your plants start to deteriorate with no sign of revival, it is important that you remove them.
If you want to learn more about the best indoor plants and how to care for them, then check out our other helpful blogs.
10. Accessories
When it comes to accessories, this is your chance incorporate different colours and textures through furnishings such as cushions, blankets, rugs, throws, coasters and candles. Referring back to the five elements, try to include something to reflect each element. Flat, square shapes embrace the element of earth, rectangular shapes embody wood elements, triangular accessories mirror the element of fire, round shapes are great at reflecting metallic hues, and irregular wavy furnishings are the perfect way to add the water element into your living room. Having a true grasp of the five elements in your living room will create a balanced space and emulate the Feng Shui vibe. 
Top tip: If you wish to decorate with pieces of art in your living room, avoid anything emotionally charged that could risk impacting the energy and feng shui. Make sure the size of your art is appropriate for the size of your living space and avoid hanging any pieces too low as this could cause a low mood and negative energy.  
There we have our top 10 feng shui tips for your living room, to create an abundance of positive energy in your home. For more feel-good interior and wellbeing inspiration, head over to our blog. 
At HSL your comfort and wellbeing are our top priority. That's why we offer a range of practical and comfortable chairs, sofas and beds that have all been approved by our Occupational Therapist, Julie Jennings Dip COT HCPC, to support a healthy lifestyle.