How to Dry Flowers for The Perfect Home Decoration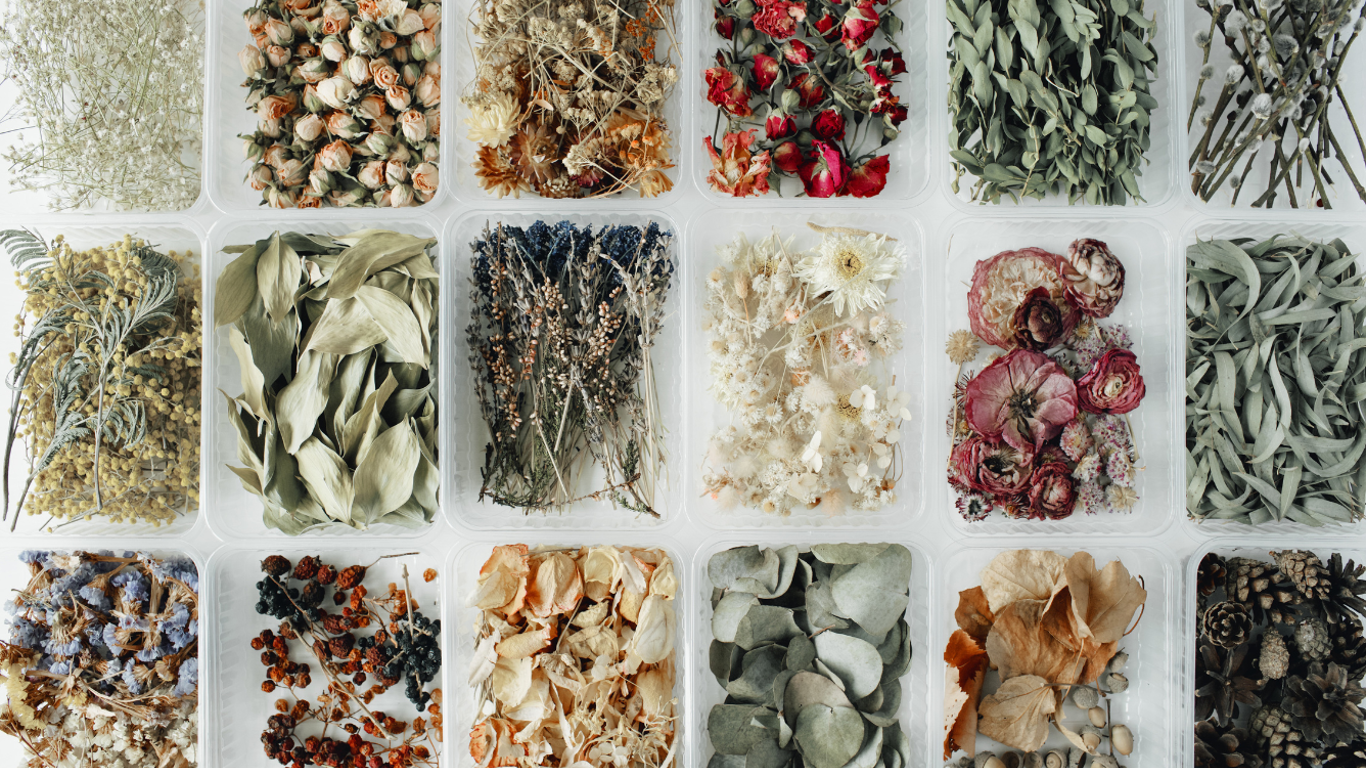 A lovely way to make your blooms last longer, learning how to dry flowers can save you money in the long run (as you won't have to keep repurchasing fresh bouquets), and it's also a wonderful wellbeing activity. A calming and creative process to help you relax, drying flowers can be a mindful activity on your own or a fun task with family and friends.  
Whether you want to preserve a sentimental bunch of valentine's flowers or a birthday bouquet, we have put together this simple guide to show you the best way to dry flowers. The perfect addition for your coffee table or to use as extra materials for resin or scrapbook making, read on to find out more about how to dry out flowers.  
How to dry out flowers:
Do you have a bouquet that you don't want to throw away? Why not create some environmentally friendly home décor?  
Drying out flowers is the process of slowly removing moisture from any florals that you want to preserve the colour and condition of, so that you can enjoy them for longer. There are many ways to dry flowers, as the method is dependent on the kind of flowers you wish to conserve.   
Before you begin the calming process of drying your flowers, take the time to pick out which ones you would like to dry. Remove all foliage from the main stems, such as large leaves or clusters of smaller ones, and then cut to desired length. Remove any buds that didn't open or any petals that have drooped. Once your flowers are prepared, follow one of the methods below.
How to air dry flowers:
The most common and straight forward way to dry your flowers is to let nature do all the work. Air drying your floral arrangement means you don't need to invest in any tools and can carry out the process in the most eco-friendly way. It is the most time-consuming way; however, it will allow you to take some time for yourself to sit and relax whilst you're waiting for the delightful results. Follow the steps below to carry out this method: 
Gather a small number of flowers into a bunch and tie the stems together. Make sure you choose the flowers of the same kind and length. It's best to use a string here to protect the flowers, as string will be easy to remove once your flowers have dried. 

 

Once tied together, hang the bouquet upside down in a cool dry place, such as an unused wardrobe, closet or dark room. Hang the bouquets off an old hanger or secure up high with a peg. Keeping the flowers upside down will mean they will hold their shape and remain upright whilst drying.

 

After 2-4 weeks check if the flowers are completely dry, and if so, secure with hairspray.

 
This method is the oldest and most trusted way of drying flowers and works best for small-to-large bouquets and sturdy flowers, such as roses or long-lasting lavender. It's the best way to dry flowers when you're creating home décor, as air drying is excellent for keeping your flowers looking natural and vibrant.  
How to dry flowers in a microwave:
If you opt for drying your flowers in the microwave, you'll need silica gel and a microwavable dish; the former you can usually find in any craft store. For safety purposes, always make sure you wear gloves whilst handling silica gel, as it can sometimes irritate the skin. 
Choose a microwavable dish you'll be happy to not use for food again.

 

Once you have a dish, fill the base with the silica gel.

 

Choose a collection of flowers to place on the base and space apart. Make sure you pick the same types of flowers as different species will take different times to dry - so you wouldn't want any to burn.

 

Now fill up the rest of the dish with the silica gel.

 

Keep the dish uncovered and place into the microwave for 30 second periods to keep safe and prevent burning. Once you are happy with how much the flowers have dried, cover the dish and leave the flowers in silica for 24 hours.

 

After 24 hours have passed, remove the flowers and lightly dust with a delicate brush.

 
This process works best with carnations, chrysanthemums, daisies, sunflowers, or tulips. 
How to dry flowers with silica gel:
This method is the best way to dry flowers to retain their colour, and it doesn't require a microwave. It can be used to dry any flowers, as long as you have a large container and enough gel to cover. 
Find an airtight container with a removable lid and fill the base with silica gel. Make sure to wear gloves to protect yourself.

 

Spread out the flowers on top of the gel, so they are separated. As a top tip, place larger flower heads face up, flat faced flowers face down, and long, thin flowers on their side.

 

Completely cover the flowers in silica and put the airtight lid on, or tightly cover with clingfilm before placing out of direct sunlight.

 

After 3-5 days, delicately take the flowers out. If you are happy enough with how dry they are, take a soft brush and dust them.

 

Make sure all gel is removed before you display the flowers or use them for crafts.

 
Using this silica gel method is best for drying delicate, single flowers. 
How long do dried flowers last?
Depending on the types of flowers you have chosen, dried flowers usually last from 1 to 3 years. How well you take care of them, as well as where you display your arrangements will also impact the amount of time they last – away from direct sunlight and avoiding humidity is usually preferable. 
How to display dried flowers:
Once you have successfully completed the drying process, there are number of beautiful and creative ways to present dried flowers. You can use your florals to elevate the amount of colour in your home, to bring a sense of nature indoors and to add more detail to your décor. 
Whether you dried a sentimental bouquet of flowers or preserved a single rose you couldn't bear to dispose of, there are plenty of ways to keep your florals on display: 
Preserve in resin.

 

Decorate a mantel piece.

 

Fill a vase with a floral arrangement.

 
Adorn a mirror.

 

Make a napkin ring.

 

Press in a clear frame.

 

Construct a scrapbook.

 

Use for gift wrapping.

 
Make sure to keep your dried flowers out of direct sunlight to maintain the best colour and vibrancy, and if you clean your flowers make sure to use a small brush to prevent any damage. 
How to store dried flowers:
If you opt to store your dried flowers, so you can bring them out for arts and crafts, there are a few top tips to consider to keep them looking their best: Once you have ensured your flowers have finished drying: 
Wrap in soft tissue paper and keep in a safe place.

 

Store in a cardboard box.

 
Label your bunches (or the boxes) so you can find them easily. 

 

Keep in a cool and dry environment – avoid anywhere the flowers could get damp or wet, as they could turn brown or mouldy. 

 
We hope our guide has inspired you to give drying flowers a go. Whether it's a hobby to improve your wellbeing or you just want to upgrade your home décor, these beautiful bouquets are a great way to add a pop of colour to your home, why not go one step further by making your own potpourri? For more wellbeing and home inspiration, head over to our blog, or if you want to browse our collections, don't hesitate to visit one of our showrooms or book a free home consultation.