Summer crafts with the grandkids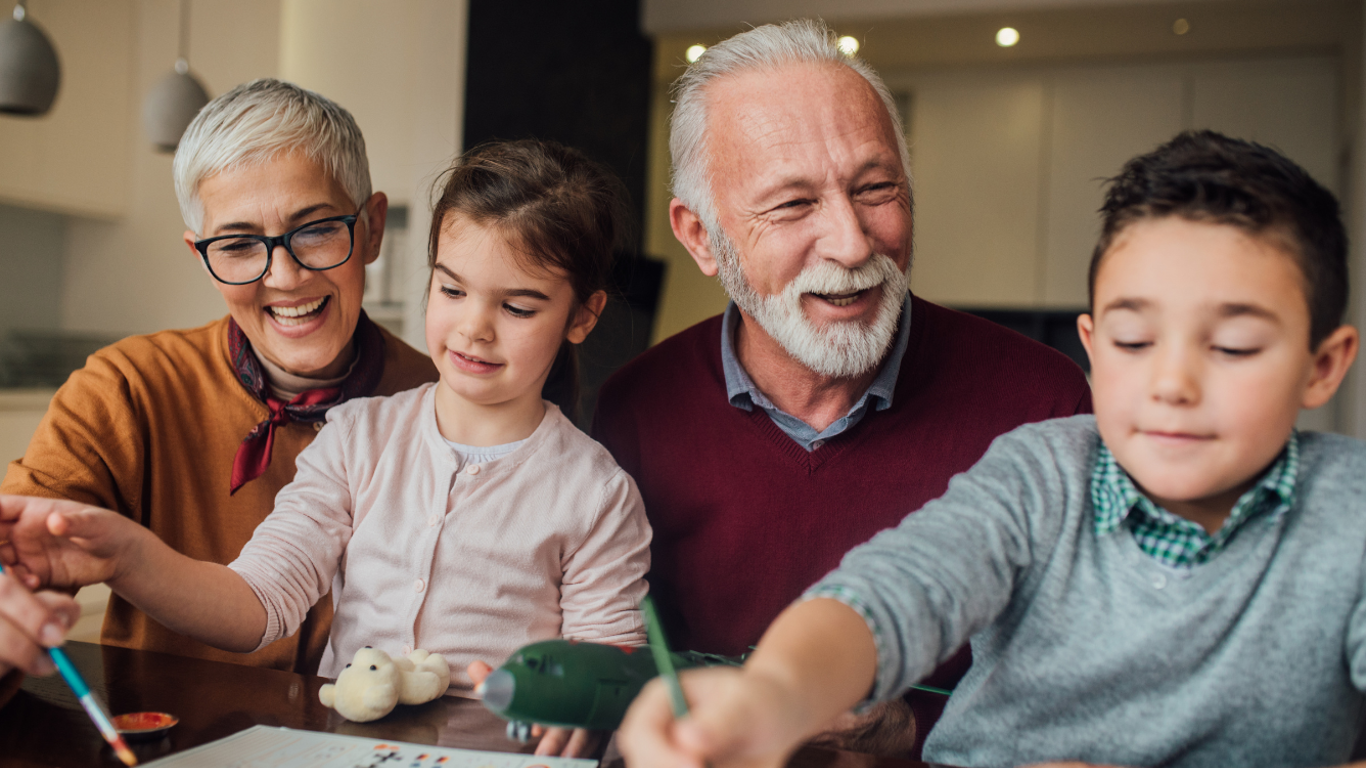 How have your summer holidays been going? If you're having children over for a visit soon and you fancy a bit of creative crafting time together, we're here to give you four simple crafts you can create together using easy-to-source supplies.
Sunshine plates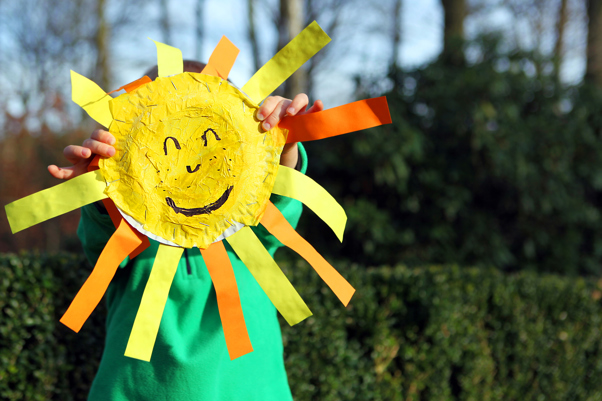 The British weather isn't always predictable, but you can have sunshine all year round with these bright and happy homemade crafts.
You'll need:
A paper plate
Yellow tissue paper cut into squares
Yellow and orange paper
PVA glue
A black marker pen
Instructions:
Turn your paper plate onto the reverse and cover it in PVA glue. Generously stick on the yellow tissue paper squares, adding any more PVA where needed. Allow to dry.
Cut the yellow and orange paper into long strips – these can be different lengths if you prefer. These will become the sunshine beams.
Turn the paper plate over (non-yellow side) and stick the sunshine beams around the edges of the plate with the glue. Allow to dry.
Turn the plate back around onto the yellow side and draw a lovely smiley sunshine face.
Ladybird pebbles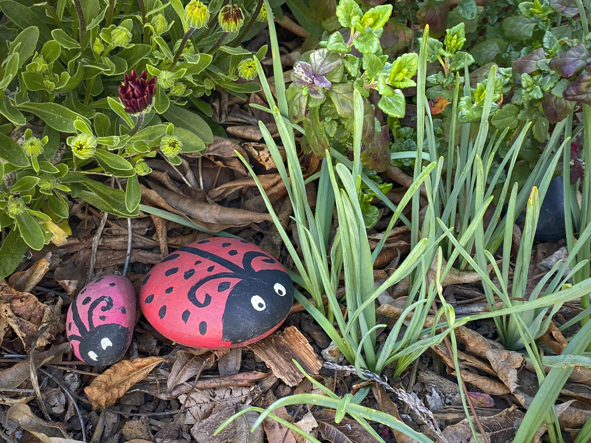 Painted pebbles are simple yet creative craft, perfect to display in your garden and here's how you make them.
You'll need:
A good-sized clean flat pebble
Red, black and white acrylic paint
A paintbrush
Varnish – spray varnish works particularly well
Instructions:
Begin by painting the top of your pebble red. Once it dries, give it another coat so that the colour is nice and strong. Allow to dry completely.
Use the black paint to draw a straight line directly down the middle of the pebble, and then a semi-circle at the end for the head. Add antenna where the line meets the semi-circle. Paint on the spots in symmetrical areas on either side of the middle line for the ladybird's famous spotted wings. Allow to dry completely.
Cover the whole painted area in varnish – the spray varnish works very well for this as it mitigates the risk of any of the paint smudging.
Allow to dry and then display in your garden for all to enjoy.
Fingerprint flowers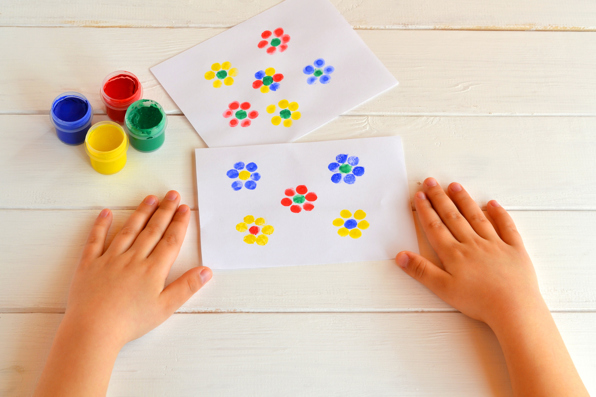 Not only will these be a beautifully bright way to bring some colour to your fridge door display, but they will also be a way to remember how small your grandchildren's fingers once were as they grow up!
You'll need:
White paper
Poster paints in a mixture of colours
A bowl of soapy water
Instructions:
Open your paint pots, or squeeze a small amount of each into tubs. Help your grandchild to stick the tips of their finger into the paint – not too much, and dab it onto the paper to create the flower centre spots.
Wash the finger in soapy water and dry.
Dab the finger into the next colour and decorate around the middle spot in the form of round petals. Then repeat the process until you have a page full of pretty colourful fingerprint flowers.
If you'd like to have a contrast in fingerprint sizes, why not make the centre spot with your finger, with your grandchild's prints around the edge. This way there will be a variety of sizes and will also be a lovely thing to look back at.
Toilet roll butterfly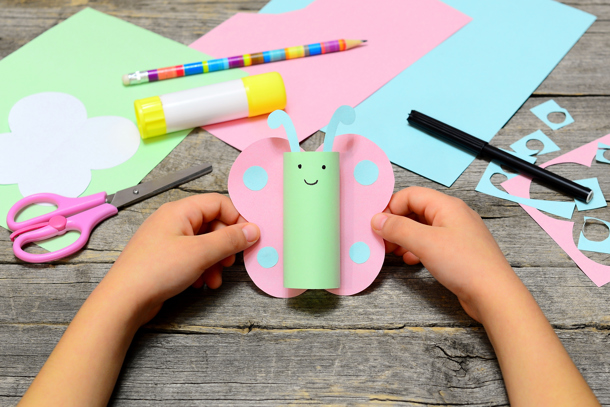 Have a look in your recycling bin and dig out a few empty toilet roll tubes to create these sweet butterfly crafts.
You'll need:
Toilet roll tube
Coloured paper
Scissors
Glue
Poster paint
Black marker pen
Instructions:
Cut a strip of coloured paper to cover your cardboard tube, attach with glue. Alternatively, you could paint it using poster paints.
Cut out the shape of the wings and decorate the front and back as brightly as you like. Don't forget to make the pattern symmetrical! You could either cut out and glue shapes onto it, or use the poster paints. Allow to dry.
Put a wide strip of glue down the middle of the wings and attach it to your decorated toilet roll.
Cut out antenna shapes and glue the ends to the inside of the tube. Finally, draw a smiley face on your toilet tube.
We hope you've enjoyed reading our simple how-to guides on child-friendly crafts. For more ideas of how you can entertain the grandchildren during the summer months – both indoors and out, have a look at our article, Top 10 activities to do with the family this summer.