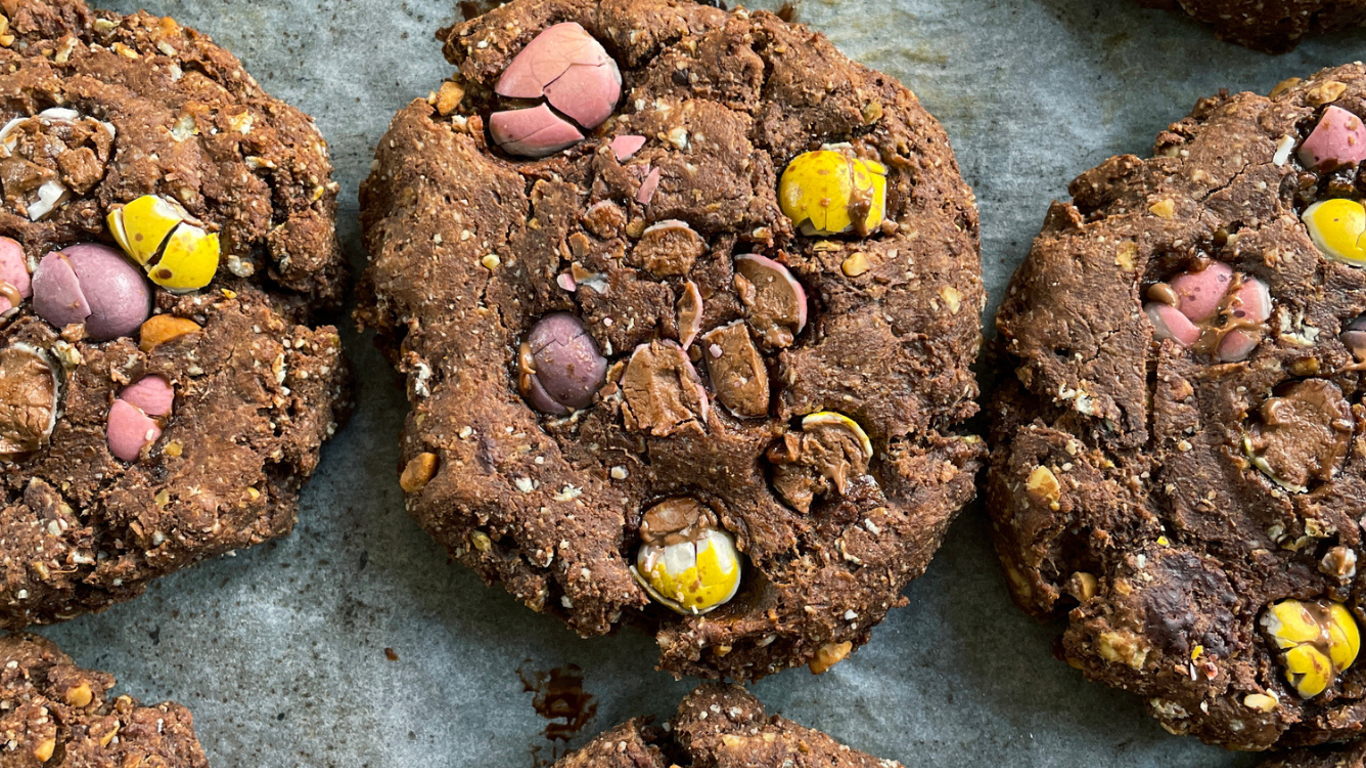 Create the perfect Easter treat this season with our mini egg cookie recipe, perfect for making with the grandchildren.
This recipe makes 20 cookies.
Ingredients:
175g butter, softened
200g light brown soft sugar
100g golden caster sugar
1 tbsp vanilla extract
1 large egg
250g plain flour
40g cocoa powder
½ tsp bicarbonate of soda
50g white chocolate, chopped into chunks
100g bar dark chocolate, chopped into chunks
100g mini chocolate eggs, lightly crushed with a rolling pin, leaving some larger pieces to decorate
Method:
Preheat your oven to 190C/170C fan/gas 5 and line two baking trays with baking paper.
Tip your butter, sugars and vanilla extract into a large mixing bowl. Beat the mixture until it appears pale and fluffy, then add the egg and beat again. Tip in the flour, bicarb and a pinch of salt, then use a spatula to mix together before adding the chocolate chunks and about half of the crushed mini eggs (set aside the larger pieces) and mix again until everything is combined.
Scoop golf-ball-sized mounds of cookie dough onto the baking sheets, making sure you leave plenty of space between each one. (You should fit 4-6 cookies on each, so you'll have to bake in batches to make the total 20 cookies.) Push the remaining mini egg pieces into the tops.
Bake for 15-18 mins, swapping the sheets around halfway through. For soft and chewy cookies, the cookies should be golden around the edges but still pale and soft in the middle. If you prefer a biscuit texture, you will need to bake them a little longer.
Remove from the oven and leave to cool for 10 mins before transferring to a wire rack, then bake the second batch. Continue until all the cookies are baked. Once done place your cookies on a beautiful plate for all to admire.
If you enjoyed our mini egg cookies then don't forget to take a look at our other recipes for more cooking inspiration.