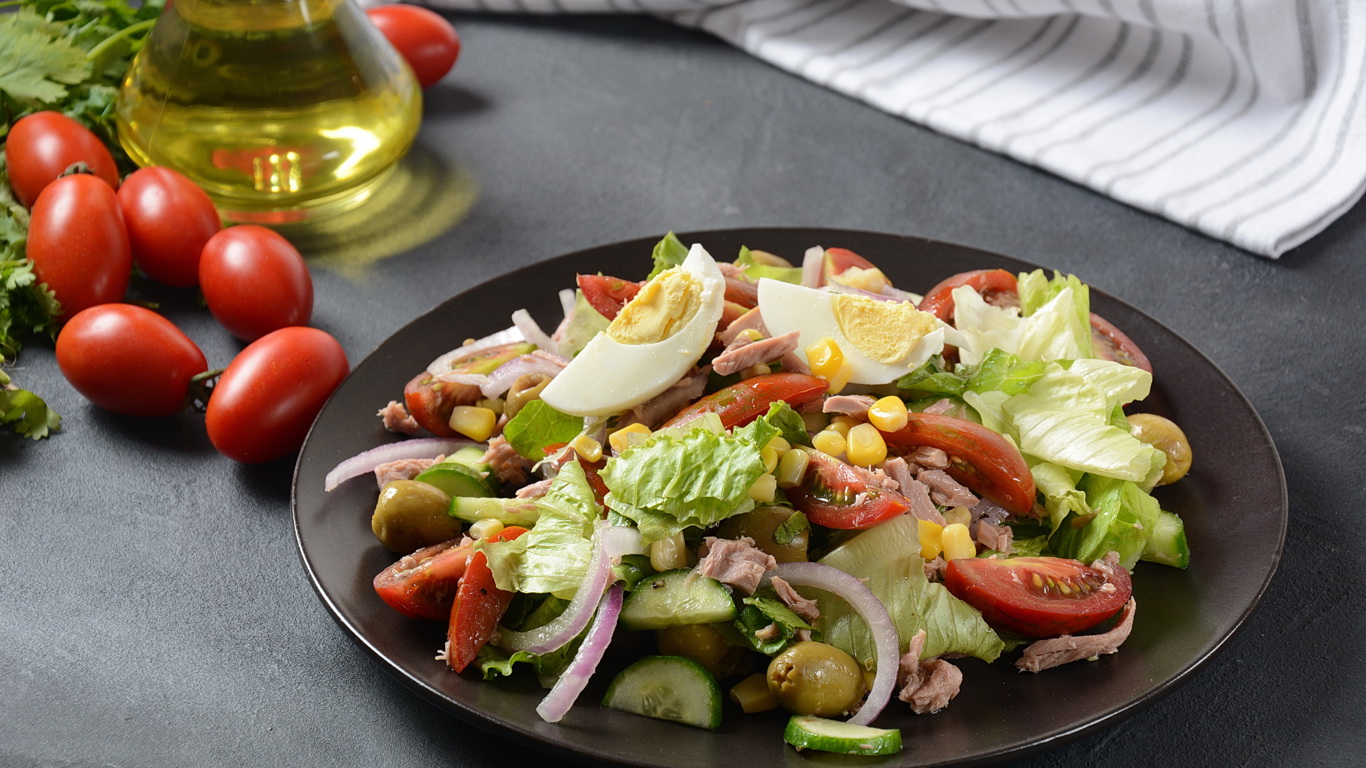 Salad Niçoise originally came from the beautifully sunny area of southern France, Nice. You'd traditionally serve it on a large plate or platter and it's known for including tomatoes, olives, boiled eggs and tuna. This recipe adds to the original delicious recipe, by including new potatoes and green beans – ideal for a nice and filling, but healthy evening meal on a hot day.
Ingredients
For the salad
Tuna (fresh steak or drained can)
4 Salad tomatoes, sliced into quarters
2 Eggs
6 new potatoes
100g fresh green beans
A handful of good quality black olives
A few fresh coriander sprigs
Pepper to taste
For the dressing
½ garlic clove, crushed
1 tbsp Dijon mustard
2 tbsp red wine vinegar
4 tbsp olive oil
Method
Step 1: Cook the eggs for 8 minutes (or less if you like a softer middle), allow to cool and then remove the shell. Slice into quarters.
Step 2: Cut the new potatoes in half and then boil in slightly salted water for 10-15 minutes until they're cooked through, but not mushy. Boil the fresh green beans in slightly salted water for 5 minutes. Drain both the potatoes and green beans and allow to cool completely.
Step 3: If you're using a fresh tuna steak, lightly drizzle with oil and then cook on a heated frying pan for 1-2 minutes on each side. Allow to cool and then gently pull apart with two forks.
Step 4:  Make the dressing by mixing all the ingredients and adding a pinch of salt to taste.
Step 5: Assemble your delicious salad by adding all the ingredients (other than the coriander and pepper) in a big bowl and then tossing it all in the dressing. Finally, dot around sprigs of coriander and a few twists of pepper to finish the effect.