Energising beetroot and halloumi salad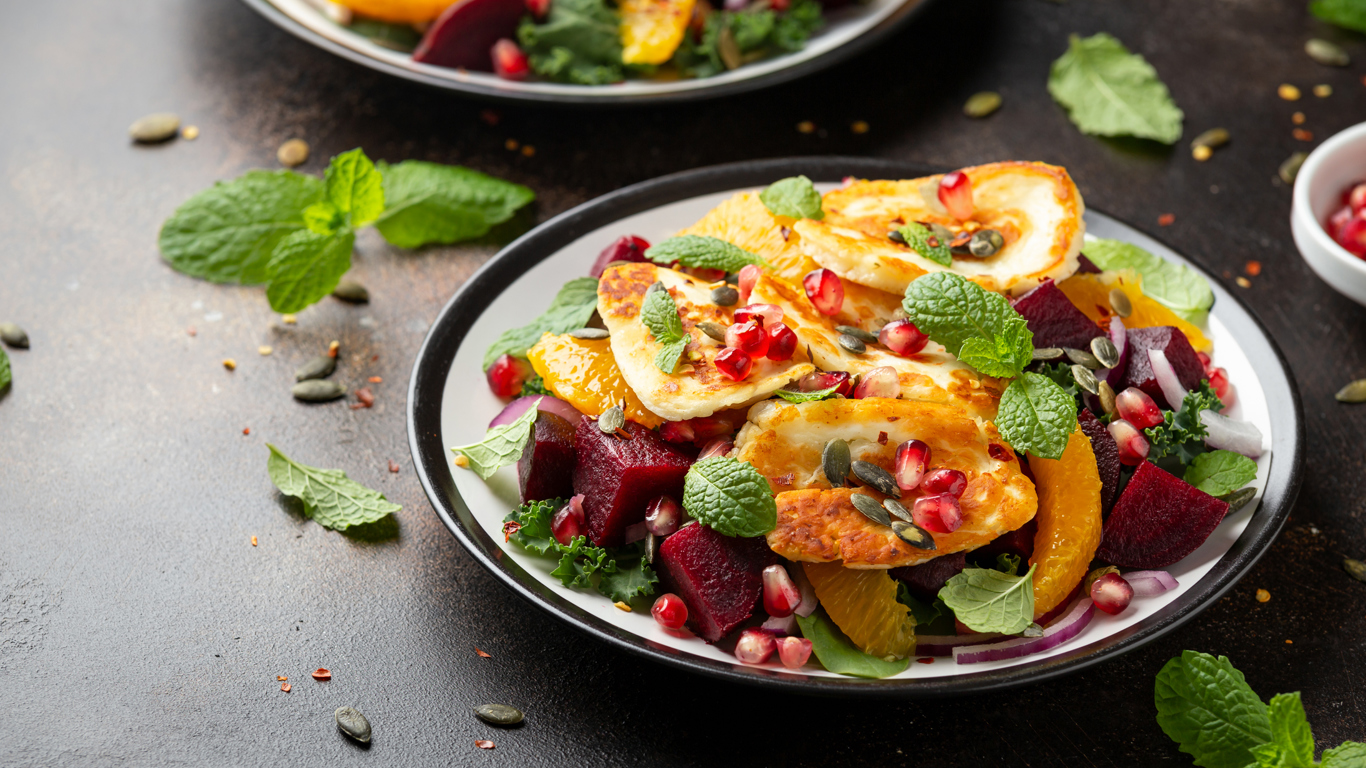 This beetroot and halloumi dish with pomegranate and pumpkin seeds makes the perfect summer salad for those wanting a quick and easy lunch. The moreish combination of flavours creates the perfect balance of sweet and savoury whilst still giving you three of your 5-a-day. Beetroot is also a great source of Vitamin C, helping to improve blood flow, lower blood pressure and increase overall body performance, making this salad perfect for a wellbeing boost. 
This recipe serves two people
Ingredients:
1 medium red onion, halved and thinly sliced
2 tbsp apple cider vinegar
2 oranges
4 handfuls rocket leaves
2 cooked beetroots, chopped
Drop rapeseed oil, for frying
80g thinly sliced halloumi
80g pomegranate seeds
2 tbsp pumpkin seeds
Handful mint leaves
A few sprigs dill, chopped
Method:
Place your sliced onion into a bowl and add the vinegar, ensuring that the onion has been fully coated.
Next, carefully slice the peel away from the orange and cut into segments. Make sure to segment the orange over the top of the bowl to catch any juice. Pile the rocket onto a plate and add the chopped beetroot and orange slices.
Add a small amount of oil to a non-stick frying pan and add the halloumi, cooking on each side until golden brown.
Stir the pomegranate into the onions and spoon the dressing over the rocket, beetroot and orange. Add the halloumi and scatter some pumpkin seeds, mint and dill over the top.
Now, all that's left to do is enjoy your salad while soaking up the sunshine in your garden.
If you enjoyed our beetroot and halloumi salad recipe, then don't forget to take a look at our other recipes for more cooking inspiration.