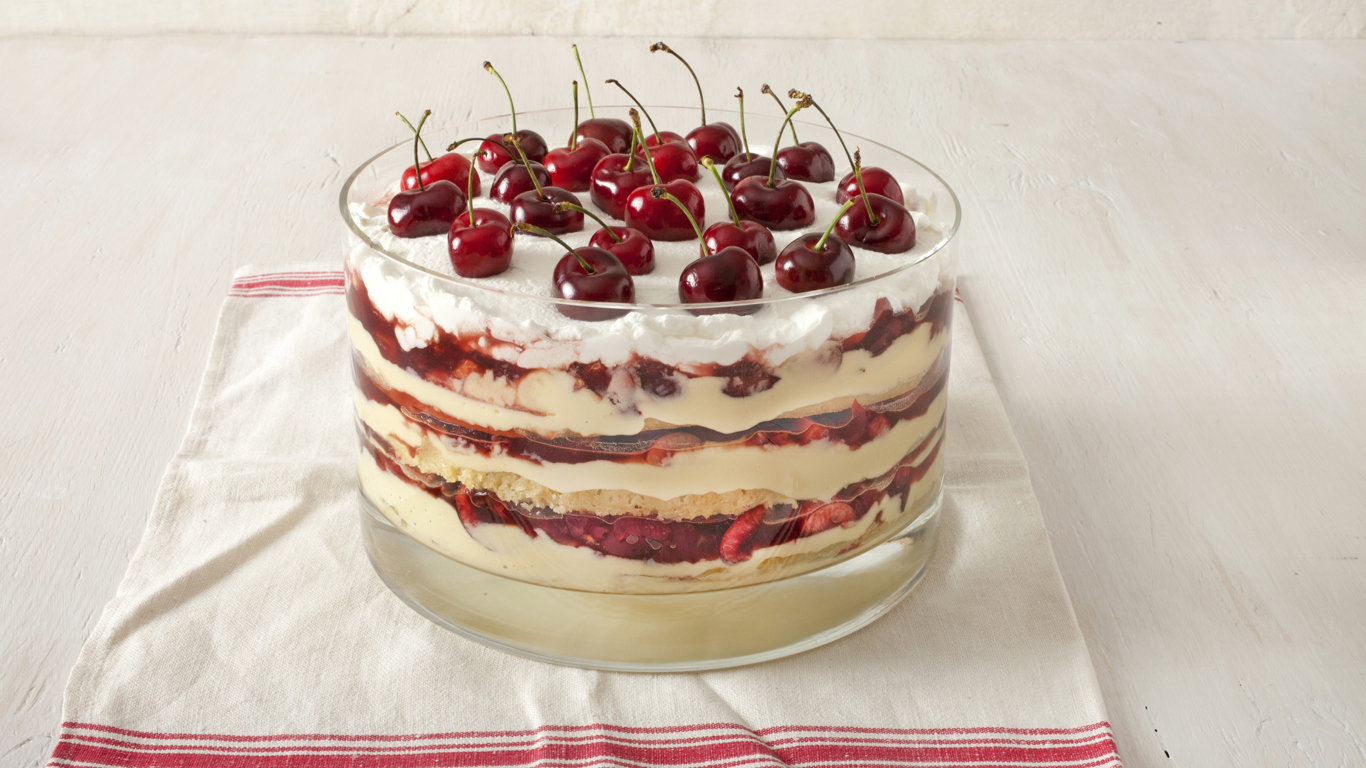 Treat your guests with this summertime cherry trifle, filled with decadent whipped cream, delicate almond amaretti biscuits and a rich kirsch, not forgetting the custard of course. This showstopping trifle is bound to wow any guests you may be expecting this summer.
Ingredients:
450g cherries (reserve a few for the top and stone the rest)
340g jar cherry jam or conserve
450g madeira cake (cut int 1cm-thick slices)
100ml kirsch
5 amaretti biscuits (broken)
300ml double cream (whipped lightly)
500g Custard
Method:
Start by tipping the stoned cherries into a pan along with half of the jam or conserve and cook over a medium heat for 5-10 mins until softened and saucy. Once done, remove from the heat and leave to cool slightly.
Spread half the slices of Madeira cake generously with the remaining cherry jam. Sandwich with the remaining cake slices, then cut in half.
Pour the kirsch into a shallow bowl and dip each sponge sandwich into the liqueur, then arrange in the base of the trifle dish (you will need a shallow, straight-sided, 20cm round glass dish about 5cm deep). Line the edges of the dish first to create a striped effect, then fill in the centre with the remaining sandwiches, pouring over any remaining liquid.
Next, spoon over the cherries and any juice left in the pan and scatter your broken amaretti biscuits over top. Then, pour over the custard and spread the whipped cream over the top.
Decorate with fresh whole cherries and chill for a few hours, or make it a day ahead and chill for up to 24 hours before serving.
If you enjoyed our summertime cherry trifle then don't forget to take a look at our other recipes for more cooking inspiration.