Small living room ideas: Maximise your space with these design tips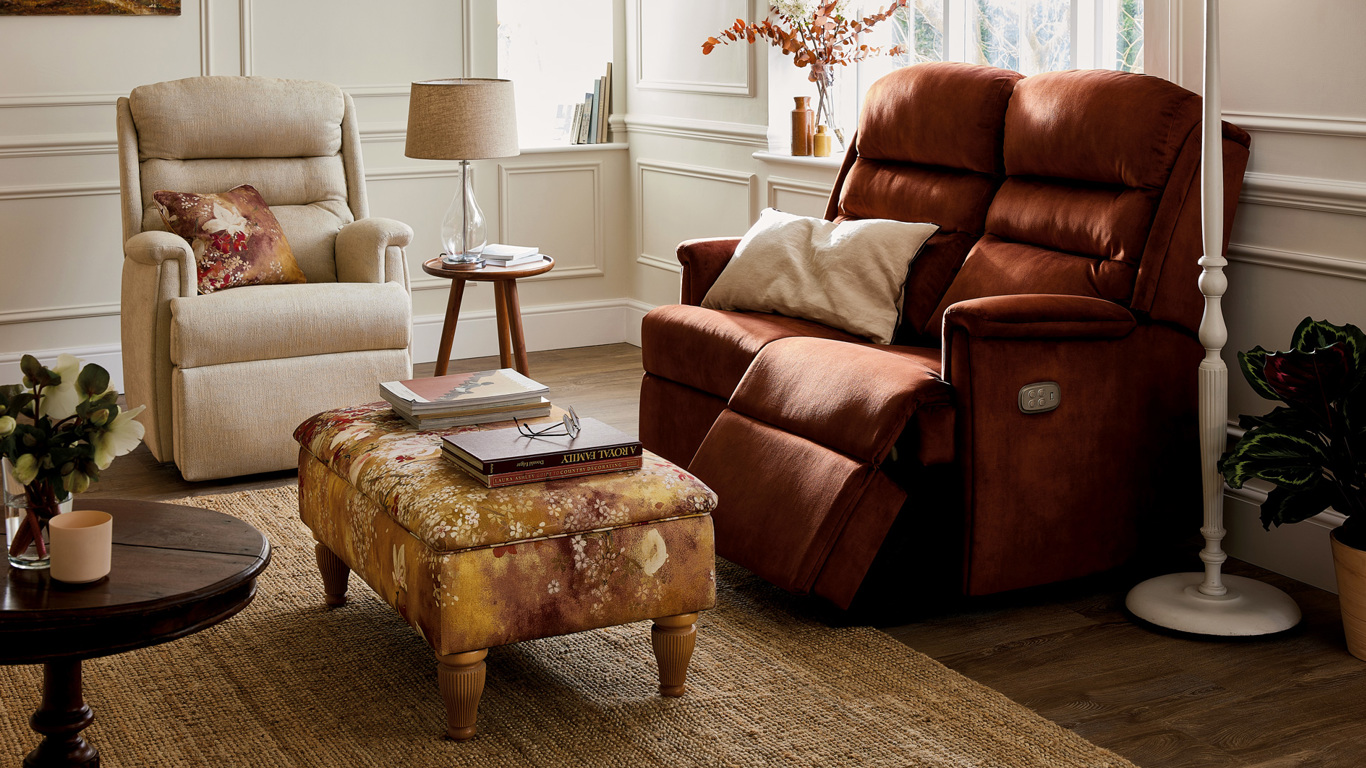 Small living room ideas are all about making the most of the space you have - using clever colour schemes and furniture placement to turn a cramped space into a functional, stylish haven. A well designed, small living room will ooze coziness and comfort, as no space is too small for a fabulous decorating scheme.  
To help you out, we've put together some of our favourite small living room decorating ideas – so you can get inspired to think outside of the box.  
1. Zoning
What's the best way to make a room feel bigger, you ask? Zoning. Clever furniture placement can create the illusion of space in a small room. One of the easiest ways to zone a room is with rugs. You can separate floor space by marking out different areas with different rugs, for example a white fluffy rug could signal a relaxation area, whilst a colourful patterned rug could indicate a creative reading corner. 
2. Multifunctional furniture 
One of the key elements of small living room design is to choose furniture that serves multiple purposes. Choose pieces with built-in storage, such as ottomans, as they're a game changer for small living rooms. Efficiently utilising your available space will give you more room for movement and other activities. Multifunctional furniture is also a great cost-effective choice, as you won't need to buy separate pieces of furniture where one can solve multiple functions. Having less furniture will also help to make the room feel less cluttered, keeping the space looking stylish and elegant. 
3. Go light and bright
Choose light paint colours to create the illusion of a large and airy space. Remove any heavy curtains and introduce light flooring. A neutral toned carpet or light wood will help to increase the feeling of openness. Pale blues, creamy whites and gentle pastels are all great options to reflect the natural light streaming in. Sheer curtains that are functional and lightweight will give the space an ethereal, bright quality, and you could even introduce a few well-placed houseplants to infuse life and energy into your small haven.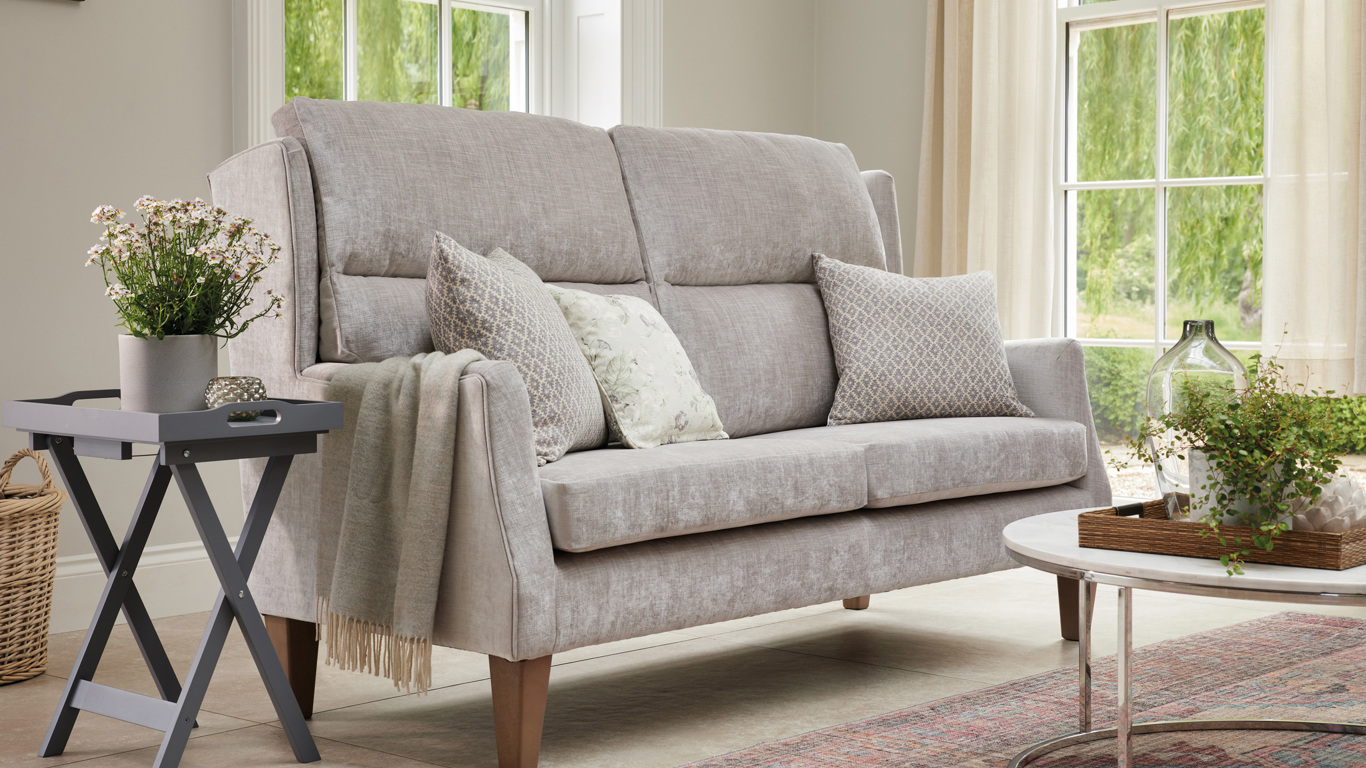 4. Create a focal point
A gallery wall, for example, is a great way to bring visual interest to a small space without feeling too cluttered. Use framed photos, prints or even pressed flowers to create a distraction from the size of the room. Having one focal point will allow the eye to rest in one space, making the room feel less busy.  
5. Utilise vertical space 
Vertical storage solutions, such as tall bookshelves, can help the room to feel more spacious. Make the most of your walls with floating selves, to free up floor space and keep the small living room clutter-free. Not only will this provide you with ample storage for books, décor and other items – but it will also help to draw the eye upward, creating a sense of height and spaciousness.  
6. Rethink your lighting 
When it comes to small living room ideas, strategic lighting will play a key role in transforming your space. Wall pendant lights can be a great way to save valuable floor or table space, and adjustable fixtures will allow you to direct light where it's needed. Using mirrors strategically will also help to reflect light, and you can use these different lighting elements to effortlessly achieve a cosy, well-lit atmosphere in your small living room.
7. Keep it cosy
Maybe surprisingly, making your small living room cosy and comfortable can make it feel more spacious and inviting. If bright and light colours aren't for you, then warm and soft tones for your walls, furniture and décor also work just as well. Neutral tones and inviting darker shades will help to spark an intimate atmosphere, and adding a variety of textures with pillows, blankets and luxurious upholstery will add visual interest. Choose appropriately sized furniture, such as a 2-seater sofa, and avoid blocking pathways with your furniture layout, to keep the room's layout open and unobstructed.  
8. Stay organised 
When you have limited square footage, it's important to optimise every available inch by staying organised. Shelves, cabinets and hidden storage furniture can all help to keep items out of sight, so your small living room feels less cluttered. When things are stored away and surfaces are clear, the eye can travel freely around the room – making it appear larger than it is. However, you can still display a few meaningful trinkets or art pieces without overwhelming the space to create a harmonious and personalised environment.  
9. Choose furniture with legs 
Furniture that's raised off the ground can help to bring a sense of light and space into even the smallest of rooms. When more floor is visible, the room appears bigger. Our stunning range of legged sofas offer a choice of both classic and contemporary styling, whilst providing excellent support for your neck, back and hips. With 2- and 2.5-seater sofas available, we have a wealth of fabrics and designs to choose from – so there's one to suit everyone's style preferences.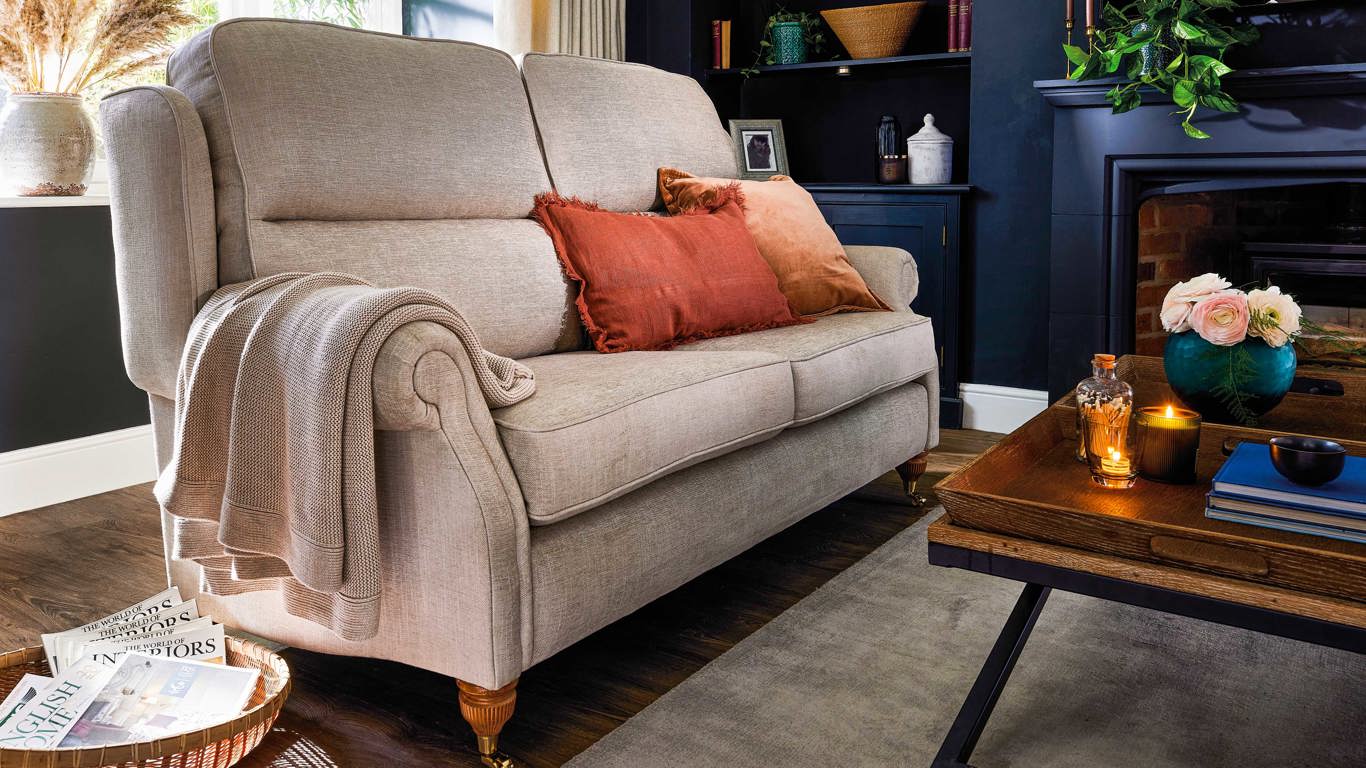 10. Soften with curved edges
Finally, using soft furnishings and furniture with curved edges can help to offset any harsh or sharp angles in a small living room space. Circular cushions and rugs, combined with curvy furniture, can help to make a small living room feel more inviting. Curvaceous furnishings provide a soft and easy flow, eliminating awkward corners to create an aesthetically pleasing finish.  
And those are our small living room design ideas. We hope we've inspired you to make the most of your small living room space, and if you want more style ideas then check out our style and lifestyle pieces. Don't forget to book a home visit or pop into one of our showrooms to speak with our Comfort Specialists to find the perfect furniture for you.