10 best seated exercises for total-body strength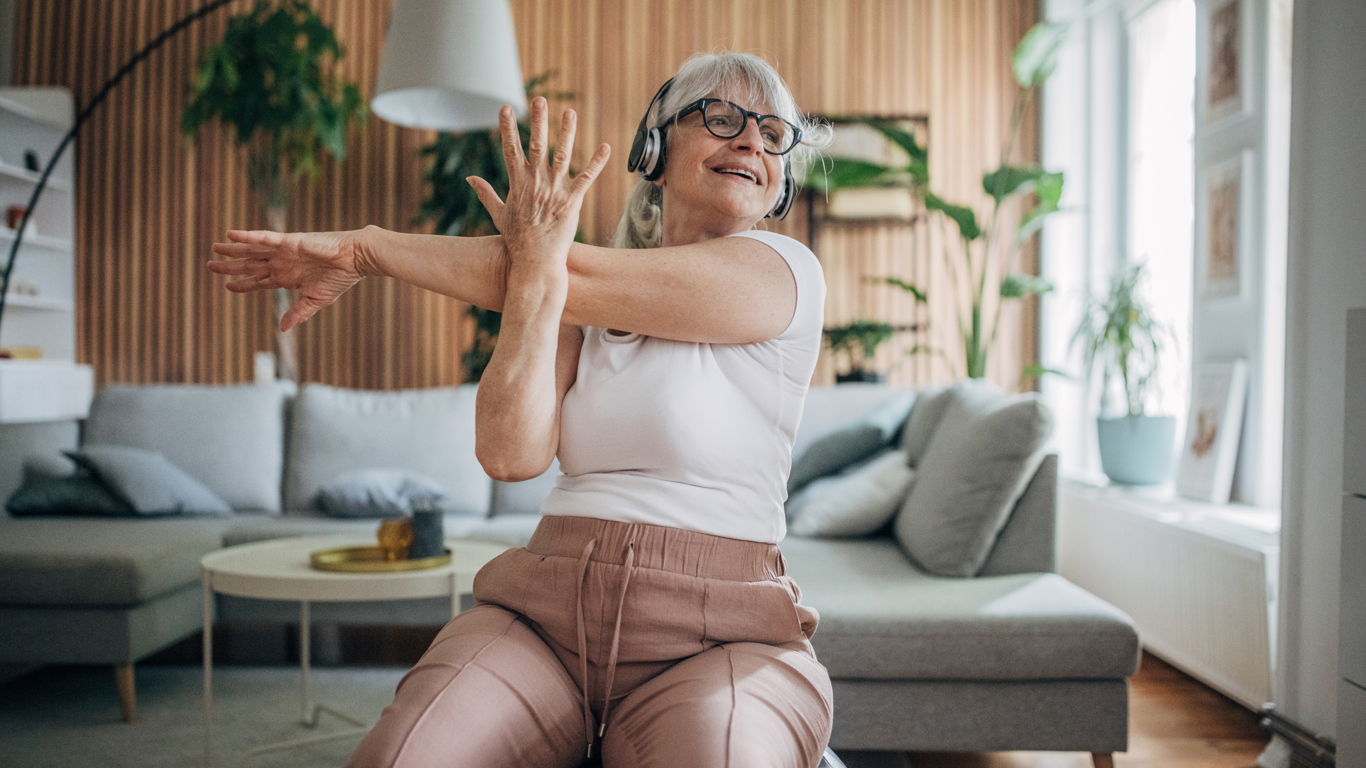 We're all aware that exercise is key to our overall health and wellness, however maintaining an active lifestyle can become challenging over time. Nevertheless, incorporating exercise into our daily routines is crucial, as it helps to relieve tension, improves muscle flexibility and strength, enhances blood circulation, and benefits mental health.  
Our Independent Occupational Therapist, Julie Jennings Dip COT HCPC, says that "if you spend long periods of time sitting, you can incorporate more activity into your life by carrying out chair exercises" as they will help to keep muscles, joints and bones strong, leading to improved posture, balance and cardiovascular health. 
We've put together a list of simple seated exercises that you can do from the comfort of your own home. Whether you find yourself sitting for extended periods or have a spare ten minutes while you're catching up on your favourite TV show, these chair-based exercises can make all the difference.  
Before you get started
Julie Jennings advises "as with all exercise, only do what you feel is comfortable and achievable." Make sure that if you have any health conditions you are managing, please discuss this first with your GP - there may be certain exercises to avoid or ones that are particularly recommended to help you.  
If mobility issues prevent you from completing these exercises, then Julie recommends performing each exercise using a shortened range of motion and limited repetitions.  
Gentle chest stretch
This first chair exercise is a great one to help relieve any aches or tension in your upper body, which in turn, will help improve your overall posture. 
Step 1: Sit upright, away from the back of the chair with a straight back. Roll your shoulders in circular motions to release tension.  
Step 2: Extend your arms out to the sides in a 'T' shape, then gently push your chest forward to feel a stretch.  
Step 3: Hold for 15 seconds and repeat five times.  
Hip marching
This chair workout targets your hips and thighs, working to improve flexibility. 
Step 1: Again, begin in an upright seated position with your feet flat on the floor.  
Step 2: Lift one leg off the ground with a bent knee (at a 90-degree angle). Then, carefully place it back on the floor.  
Step 3: Alternate your legs as if you're marching, aiming for five to ten lifts per leg.  
Torso twists
Aiding spine mobility, this armchair workout can help to improve blood circulation while engaging your core muscles.  
Step 1: Sit upright in your chair and don't lean back. Keep your eyes upward and straight ahead.  
Step 2: Cross your hands across your chest with bent elbows.  
Step 3: Exhale and then gently twist your torso to one side. Engage your core and always keep your back straight.  
Step 4: Inhale, slowly return to the centre and then repeat on the opposite side. Aim for six twists on both sides.  
Single-leg calf raises
Your calf muscles are important in aiding your balance, and this simple armchair exercise can help target those key muscles to keep them strong.  
Step 1: Sit upright with your legs in an 'L' shape, your feet on the floor and core engaged. 
Step 2: Lift one heel off the ground, but keep your toes firmly planted to the floor. Engage the calf muscle and lift the heel as high as possible. Then, lower it to the floor slowly until the whole foot is flat.  
Step 3: Repeat on the opposite leg. Aim for eight to ten calf raises per leg.  
Neck rotations
Typically, we hold a lot of tension in our necks. So, when it comes down to sit-down exercises that can relieve this tension, this one is easy to incorporate into your routine to help relax the muscles in your upper body. It's a great one for spine mobility to reduce stiffness and pain.  
Step 1: Sit tall in your chair, relax your shoulders, and look straight ahead.  
Step 2: Slowly turn your head to one side, keeping your shoulders level. Hold for a few seconds. Then, repeat on the opposite side. Repeat four times.  
Step 3: When your head is facing forwards again, tilt your head back until your chin is pointing to the sky. Hold for a few seconds. Then, drop your head down so your chin is almost touching your chest. Repeat this four times.  
Shoulder press
Another one of our favourite chair stretches, this one strengthens the shoulders, and it can be performed with bodyweight or light weights.  
Step 1: Sit up straight with your core engaged and both feet firmly on the floor.  
Step 2: If you're using weights, hold one in each hand. Lift your arms out to the side, bent, so they form a cactus position with your hands facing away from you and upwards.  
Step 3: Then, lift both arms above your head at the same time until they are straight before lowering them back to the cactus position you started in. Repeat ten times.  
Heel slides
Another excellent seated exercise, this one helps to mobilise both your glutes and hamstrings – which are important muscles for your lower leg strength and movement.  
Step 1: Begin seated in a relaxed, upright position with your feet flat on the floor. 
Step 2: From there, flex one foot with your toes pointing upwards but keeping your heel on the ground. 
Step 3: Then, slide the flexed foot away until the leg is fully extended. Reverse the movement to return the leg to the starting position. 
Step 4: Repeat eight times for each leg.  
Knee extensions
If you want to build up your strength and fitness levels, it's important to keep your joints supple and flexible.  
Step 1: Sit upright and slightly away from the back of the chair with a straight spine, and both feet flat on the floor. Hold the sides of the chair if this makes you feel more comfortable.  
Step 2: Keep both knees together with your feet on the floor, then straighten one leg out in front of you.  
Step 3: Hold your leg out for a few seconds, and slowly re-bend the leg until the foot is resting on the floor again. 
Step 4: Repeat on the other leg. Continue to do ten extensions on each leg.  
Ankle and wrist circles
Poor circulation in our ankles and wrists can affect our balance and overall mobility. Therefore, 'waking up' our extremities can help keep things ticking over.  
Step 1: Sit up straight with your back against the chair. Flex your fingers, opening and closing your fists a few times before rolling your wrists ten times in each direction. 
Step 2: Repeat with your feet. Flex and point your feet a few times as you curl and straighten your toes. Roll each ankle ten times inwards, and then ten times outwards.  
Seated backbend
If you have been experiencing tightness in your lower back, neck or chest, adding this stretch into your seated workouts can help relieve this.  
Step 1: Sit at the edge of the chair, suck in to secure your core, and keep your back upright to straighten the spine. Have both feet flat on the floor and keep your hips square. 
Step 2: Place both hands on the hips. Then, slowly arch the back inward and push the stomach outward, leaning backwards using only your upper body.  
Step 3: Keep this position until you start to feel a comfortable stretch (around 10-20 seconds). Release and return to your starting position. 
Step 4: Repeat three to five times, or for as long as it remains comfortable.  
We hope that you've enjoyed reading about our favourite seated exercises, and that they've inspired you to incorporate some movement into your seated down-time, so that you can reap the rewards. If you need help with choosing the perfect chair, sofa or bed for you, book a personalised home visit or pop into one of our showrooms.