How to Choose the Best Chair for Back Pain
Back pain, particularly in the lower back, is an increasingly common problem. If you find that you have pain or stiffness after sitting down for long periods of time, whilst out at work or simply when you're sat in front of the TV, then you'll most definitely benefit from an orthopaedic chair. It' is essential you take your time and choose the right chair to relieve your pains and strains. Orthopaedic chairs are specially designed to alleviate a variety of ailments including joint pain, backache, arthritic conditions and headaches – providing the support you need to sit comfortably. Here at HSL, we know a good orthopaedic chair when we see one – but we understand this isn't the case for everyone. So, if you're looking for a chair to help relieve back pain, read on and we'll help you understand exactly why you need one, what to look out for whilst making a purchase as well as a roundup of our favourite models right now.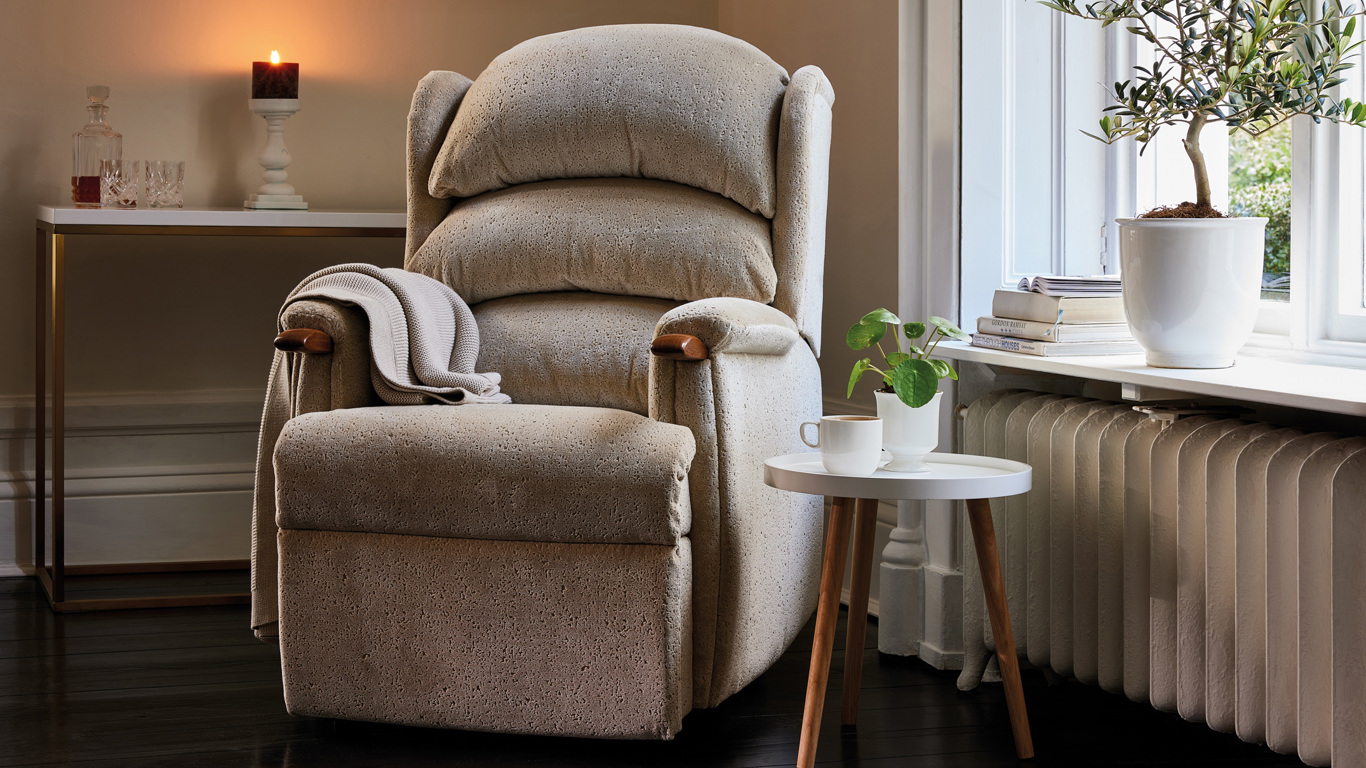 Let's start with what to look out for:
Neck, back, and hip support, and adjustability
First and foremost, you want to make sure that the chair you choose encourages good posture and provides support where you need it most. All orthopaedic and ergonomic chairs for back pain here at HSL are created differently and give varying levels of support to different parts of the body.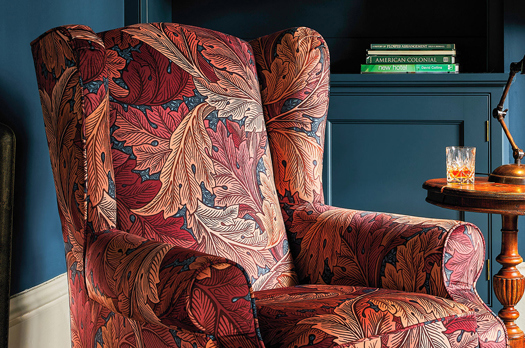 Neck support
When choosing your chair, it' is important to choose one with a padded, high back. This will help to keep your head in a neutral and stationary position, to avoid tilting and straining your neck. Encouraging proper neck and shoulder alignment will reduce any unwanted tension or stiffness in the upper body. When you lean back, you should feel that your head is fully supported, your eye line is level, and your shoulders are relaxed.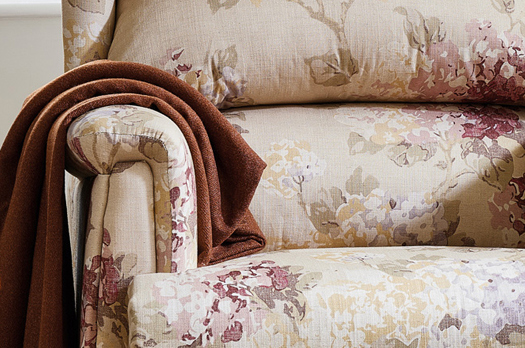 Back support
The best chairs for back pain will support your spine from the top of your back and neck right down to the lower (lumbar) region, to give holistic pain relief throughout your back. Look to see whether the chair supports the natural curvature of your spine, curving inwards lower down. This will realign your posture by preventing you from slouching or hunching over, which is essential when sitting for any length of time. The build of your chair must take pressure off your back to relieve existing pain and prevent future back pain. Back support is the essential element for those looking to arrive home and relax in comfort. Lumbar support is arguably the most important feature when searching for the best chairs for lower back pain. The chair must feature a perfect combination of cushioning and security for ample support to prevent slouching and straining the lower back.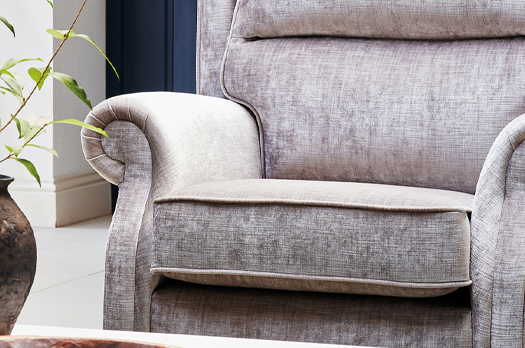 Hip support
To support your hips, your bottom should fit snuggly into the base of the chair and your lower back should be flush against the back of the seat. Cushioning should also provide hip support and ensure your knees are aligned with your hips to reduce any pressure in this region of your body. When you sit down, you should feel perfectly balanced. Top tip: Check to see if your chair is occupational therapist approved. This means it has been thoroughly tested and evaluated by an independent health professional and meets a high standard.
Adjustability
The adjustability of your chair is important to ensure maximum comfort and relaxation to relieve any and all of your pain. Recliner chairs have a range of positions and angles to straighten out your seated position and personalise your experience to your ideal level of comfort. These types of chairs are great for combating back pain as you can elevate your feet to relieve strain on the spine.
Top tip: You must ensure there is no space between your back and the chair when you recline so that your back is fully supported in a correct position.
Correct sizing and supportive transfer
Everyone is different and there is no one-size-fits-all orthopaedic chair for back pain. At HSL we offer a variety of different sizes and features, and our Exclusive Chair Fitting Service allows us to make sure that every part of your body is fully supported, so you get the best possible fit.
For the elderly or disabled, it's crucial that your seat height, depth and arm positioning are correct so that you can sit and rise on your own.
Relieve your back pain with the right furniture
Choosing the correct feel good furniture makes all the difference. You'll know that you've got the best chair for your back pain if you feel relaxed and your spine feels soothed.  With the assistance of the thick cushions and high-quality materials that are used to build every frame, an HSL chair is the perfect option for those looking to relieve back pain and prevent alignment issues from worsening.
Most chairs are available in a range of fabrics and leathers, so you can choose the one that's right for you. Just because it's an orthopaedic chair, doesn't mean it can't be elegant and stylish!
The Aysgarth Riser Recliner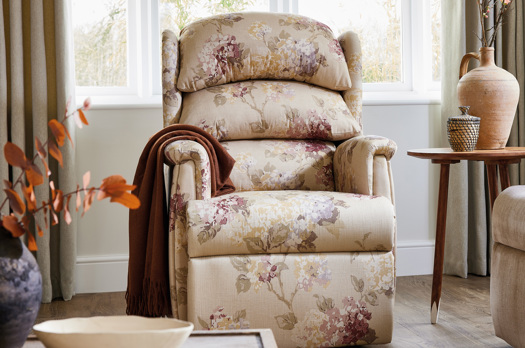 The Aysgarth Riser Recliner features a 3-tier cascading waterfall back with deeply padded cushions to follow the natural contour of your spine, making it a great option for those suffering with back pain. Crafted with comfort in mind, the backrest curve will fit perfectly to your body and distribute any pressure evenly to reduce and prevent back pain. Whilst the reclining mechanism is excellent for elevating your legs and relieving pressure on your back, the rise feature will also provide you with a gentle lift to help you get up onto your feet – making it an ideal piece for those who struggle to get in and out of a seated position.
The Burrows Relax Riser Recliner
Our Burrows Relax Riser Recliner has a two tier back and scroll arm – ideal for taking the strain off of your upper spine and shoulders. Offering maximum comfort that is exclusive to HSL, the smooth motion of this riser recliner will provide support to your arms and legs as you sit down and stand up. The Burrows Relax Collection has been carefully designed to offer customers a wide range of products- including single and dual power recliners, as well as 2 and 3-seater sofas.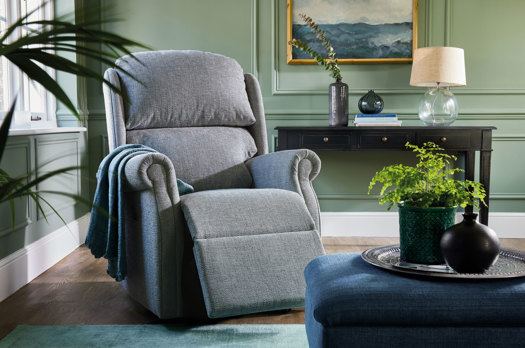 The Ripley Power Recliner
The Ripley Power Recliner features sophisticated fibre-filled back cushions to deliver unmatched levels of comfort and security with a high back and wing support. With an effortlessly stylish design, this chair has been designed to relax your muscles, and in turn relieve back pain by reducing strain and pressure. From the high back that is excellent for supporting your head, down to the reclining bottom which supports your legs and feet – it's been specifically crafted for comfort. This recliner makes for a great resting chair with the combination of leg support, head support and cushioned back support. Available in single or dual motor, the Ripley Power Recliner is also available in a range of fabrics and leathers to suit your style.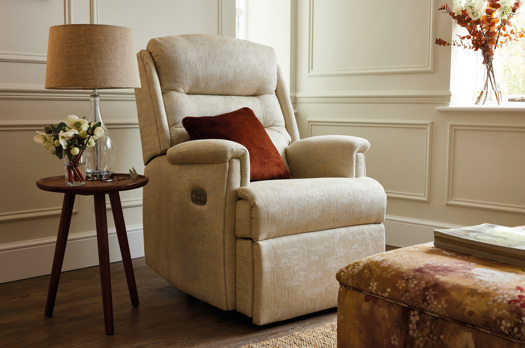 The Burrows Classic Armchair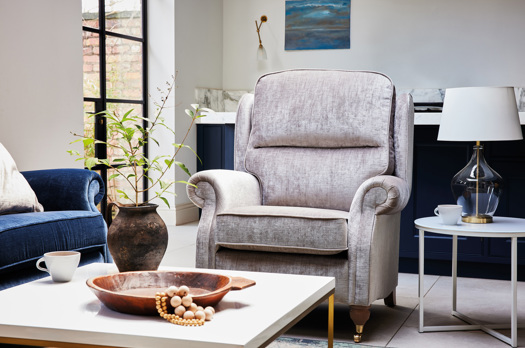 The perfect cosy addition to any room, the Burrows Classic Armchair features a top tier cushion that has been designed so that 60% of the cushioning is positioned at the top, to subtly give firmer support to the head and neck. The other 40% is at shoulder level, offering overall support for the natural curvature of the upper body. This stunning and sturdy piece features high armrests to provide you with a comfortable position and appropriate height for your arms to rest. This beautiful piece is also available as a 2, 2.5 or 3-seater sofa.
The Glenmore Fireside Chair
The elegantly stylish Glenmore Fireside Chair strikes a contemporary note with its 'modern classic' look, and features a high back with a purposefully shaped back cushion for brilliant lumbar support. Its padded wings will enable you to rest without straining your neck, back or lumbar areas. Made with a solid frame and strong legs, it also features highly dense cushioning and padded arms – which will help in supporting your posture and lumbar region.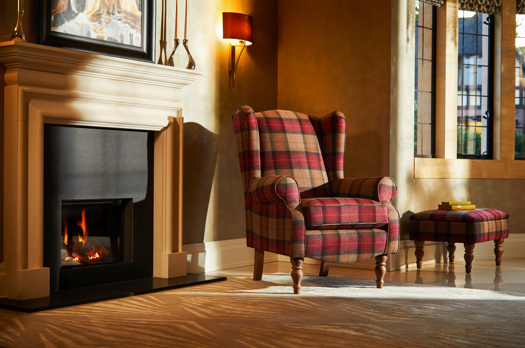 The Stressless Opal Classic Recliner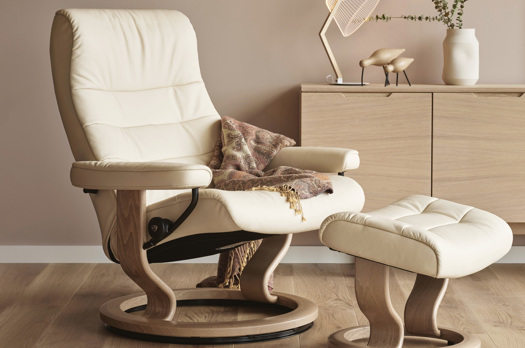 The Stressless Opal Classic Recliner is a wonderful option for helping you to sit properly, as it will prevent stress on your spine and back muscles. Our Stressless chairs have been built with comfort and style in mind, and the patented comfort system will help to support your lumbar and neck regions. Additionally, the footstool and added glide functionality means that you can elevate your feet and the chair will adjust to your weight.
And that's our guide to choosing the best chair for back pain. Take all of these aspects into account before you buy, to ensure you choose the best chair for your back pain and posture.
At HSL, it remains a priority for us to support your comfort and wellbeing. Browse our full range of practical and stylish armchairs and sofas today to find the one that's right for you. For more information about how our chairs can alleviate aches, pains and discomfort, read our back pain guide. If your backpain does not improve or causes you to struggle to cope, the NHS recommends you see your GP.