Seven Fun Hobbies to Do at Home From Your Chair or Sofa
For your health and wellbeing, we'd encourage you to get outside and exercise as much as possible – but sometimes, there's nothing better than spending some time relaxing at home. While it's tempting to sit in a riser recliner, armchair or sofa and watch TV, studies show that excessive amounts of screen watching isn't good for our health. Instead, why not put this time to better use and engage your mind by starting a hobby? Whether you're trying to learn a new skill or rekindle your love for a previous pastime, we've rounded up seven fun hobbies to do at home from the comfort of your chair or sofa.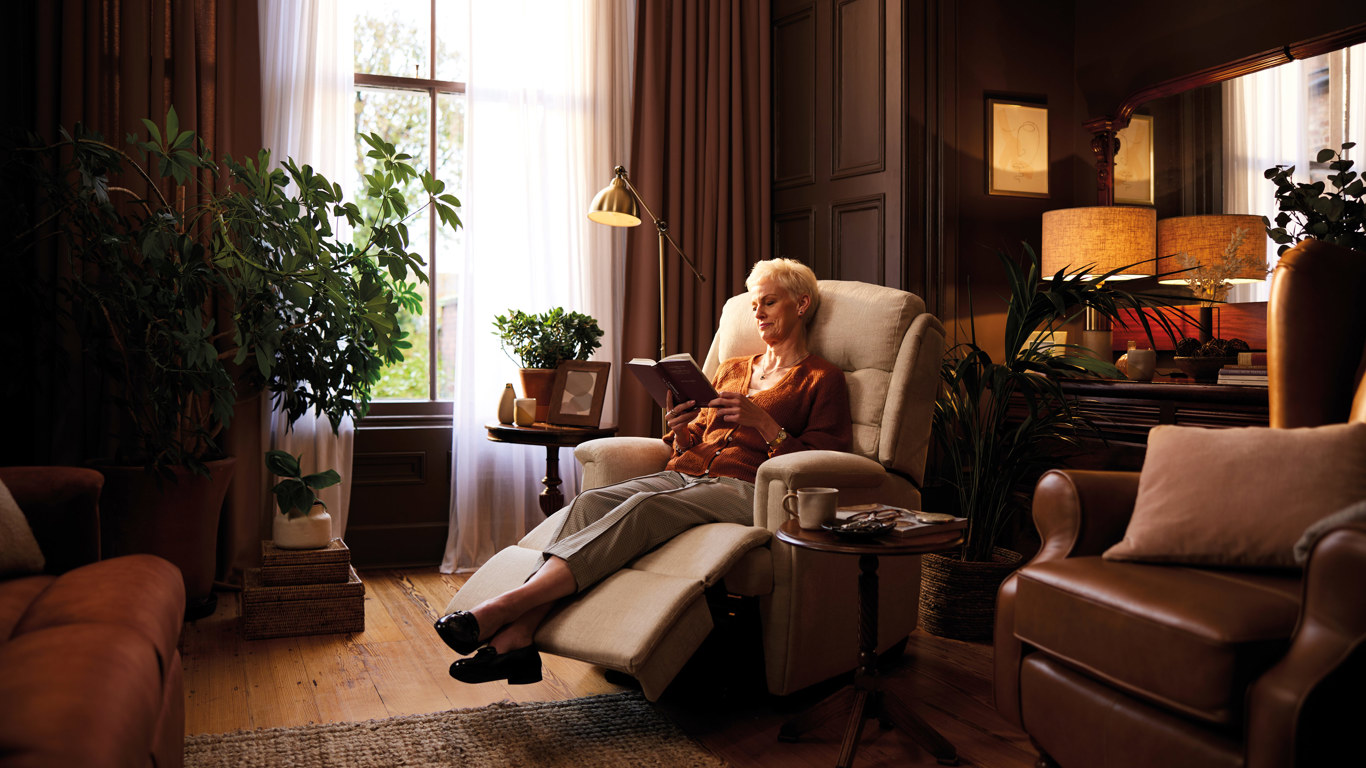 1. Express yourself with painting, colouring or drawing
For those with a creative flair, painting, colouring or drawing are great hobbies to try at home. While you may associate colouring with children, adult colouring has seen a massive resurgence in recent years – and for good reason! Studies show it's calming, can reduce stress and anxiety, improve focus and let your creative juices flow. What's not to love?
You could also try painting by purchasing a small easel for a side table and setting up a canvas to work from. With this, you might like to recreate special photographs from the past, follow an online tutorial (we especially love Bob Ross!) or copy an image from a magazine, newspaper or book. It's a great hobby to try at home from the comfort of your chair!
2. Enhance your brain power with puzzles
Keeping our brains active is vital for our mental and physical wellbeing. Simply, flicking through a newspaper and completing a Sudoku, crossword or brain teaser can boost your memory, enhance cognitive function, help to reduce the risk of dementia and improve hand-eye coordination – not to mention, it's an immensely satisfying and fun hobby to do at home!
These activities don't have to come from newspapers alone, they can also come from the internet, puzzle books, or if you're feeling adventurous, you can even have a go at creating them for yourself to share with a loved one. 
3. Be immersed in different worlds with reading
If you've lost your love for reading, then maybe it's time to dive back in! It has to be one of the most popular hobbies of all time and for good reason. As well as keeping your mind active, reading can also expand your knowledge and is a great form of escapism from our busy lives.
If you struggle with your eyesight, then you can always try audiobooks to sit back and listen to. Alternatively, if don't like to hold a physical book, you could invest in a Kindle or e-book and read it on a smart mobile device. Now all you need is a good reading chair.
4. Get into a groove with music
Music can bring pleasure for many, and studies suggest that it can boost our mood, improve memory and enhance our wellbeing. It serves to evoke certain memories, helps us relax and generally makes us feel happier.
There are various music platforms, such as Spotify, Apple Music and YouTube, which hold an unimaginably large collection of music that you can easily access on a mobile phone or tablet. Exploring new music or discovering old-time classics is just the start though! You could also learn to play an instrument or try your hand at writing music. It's a great hobby to take up at home.
5. Find enjoyment in knitting
Knitting and sewing are not only useful for when garments accidentally get torn, but they're also one of our favourite hobbies to do at home for hours of enjoyment. Knitting can keep the mind active and fingers nimble; it is one of the most satisfying feelings to go from a piece of thread/wool and needle to a finished jumper, shirt or pair of socks!
You could also give your finished items to charity, friends and family or perhaps even sell them. With starter kits available at many stores, it's an easy and enjoyable hobby for home relaxation.
6. Stay active with exercise
Exercise is important at any stage of life, but as we grow older, it does become more difficult. That's why seated exercises could be the perfect answer! 
Undertaking these exercises just twice a week will make you feel healthier, work to keep your mind active and even help you sleep better.
7. Get creative with model making
If you consider yourself to be artistic, then this is your chance to embrace it! Whatever you're interested in, whether it's football, cars, animals or celebrities, there are most likely models available. You can have hours of fun collecting miniature models; most model starter kits will include everything you need to build and paint them to your heart's content. Model making is a brilliant at-home hobby where you can channel your creative energy into something fun and immensely satisfying.
It's never too late to find more enjoyment in life with new hobbies to do at home – who knows, you could unearth a whole new talent!
So, the next time you find yourself at home with some spare time, why not put it to good use? Take up a new hobby at home like knitting, painting reading and more.
If you'd like to learn more about how to sit in style and comfort, browse our sofa and chair collections. All of our products have been specially designed with CleverComfort™ and our Exclusive Chair Fitting, developed by our Occupational Therapist, Julie Jennings Dip COT HCPC. This means that each part of your body is properly supported, giving you unrivalled comfort every time you sit.