The wellbeing benefits of a picnic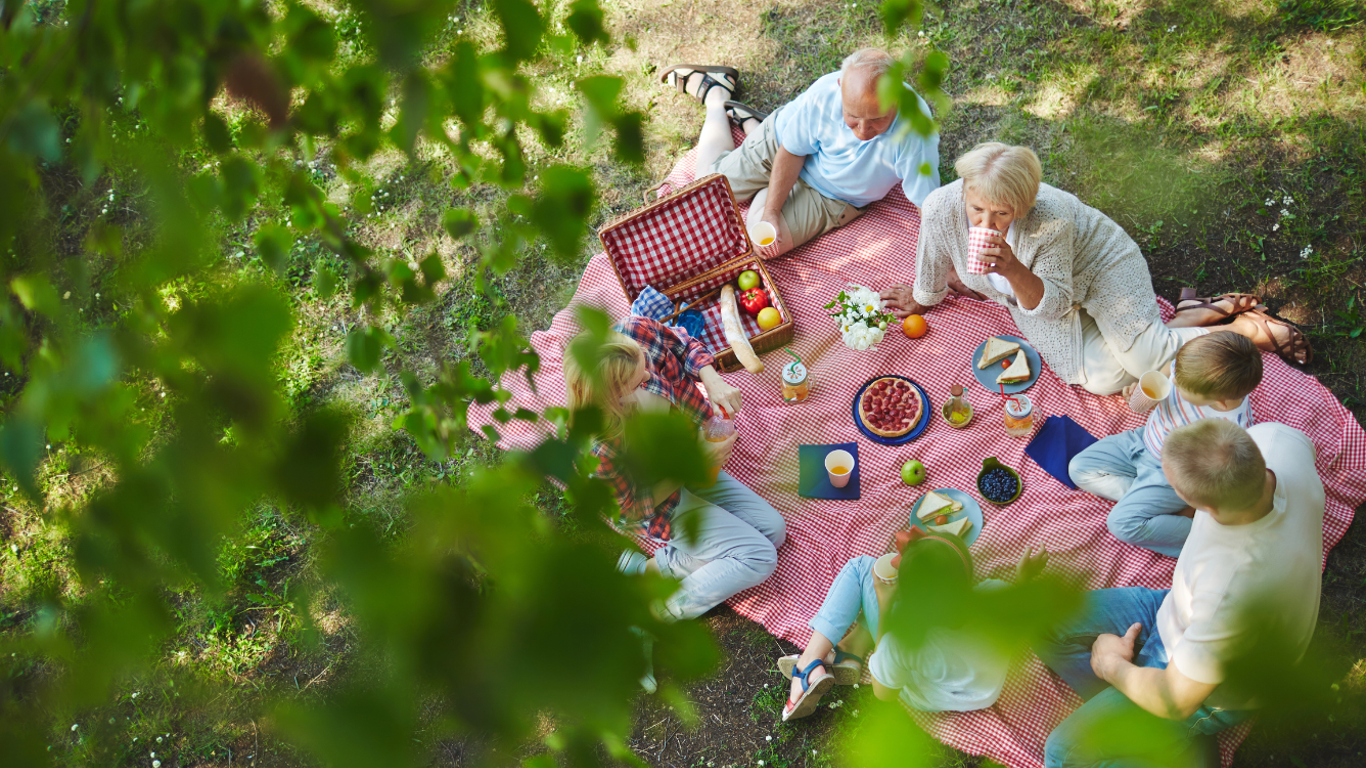 A summer alfresco dining experience with a blanket and basket is a wonderful way of soaking up the sun and enjoying some dedicated time with family or friends. We're letting you know why picnics aren't just fun, but also are great for your mental and physical wellbeing.
Fresh air
After days cooped up indoors, when the sun comes out to play, a picnic is an ideal opportunity to breathe in some gorgeous fresh air. You could stay nearby at your local park, or even take a trip to the coast and have a picnic with sea air. No matter how you choose to enjoy it, you'll be able to fill your lungs with the wonderful fresh air that only comes when surrounded by nature.
Fresh outdoor air has been shown to increase the amount of oxygen in your body which, in turn, helps to strengthen the white blood cells; boosting the immune system. And, as we all know, the immune system is crucial for fighting off any illnesses and infections. Fresh air has also been proven to help your digestive system, improve blood pressure, clean your lungs, give you more energy, and help you to feel happier overall.
Connections
Spending time with family and friends is always a wonderful opportunity to help strengthen the bonds that connect you. With life being so naturally busy and full, setting aside time to go out together for a picnic will give you some much needed time together. It'll be quality time, too, as it'll be without the usual indoor distractions of TV screens, housework waiting, or bedrooms for teenagers to wander off to.
When you help foster strong relationships, it will naturally foster feelings of security, warmth, belonging and love. You'll also be creating a network around you of people who really care and want to look after each other.
Vitamin D boost
We'd all probably agree that the UK isn't known as a particularly sunny country, as such, many of us are deficient in Vitamin D. This vitamin is naturally produced when we spend time in the sunshine. It is essential in helping to regulate calcium and phosphorus in the body, and it plays an important role in bone structure and health.
Many medical professionals would recommend that people in countries like ours take additional Vitamin D3 supplements, and we can also boost our levels by getting out into the outdoors whenever the sun peaks from behind a cloud. What better way to do this than by enjoying a picnic? Delicious food, good company and warm sunshine – it sounds delightful. Don't forget to use some high-factor sun cream to protect your skin.
Healthy eating
Yes, of course, you could bring out the chocolates, crisps and less healthy options at a picnic, but in general, you'll find that there's a beautiful array of natural colours at a picnic. From carrot and cucumber sticks to grapes and strawberries, people will usually opt for a fantastic array of fruits and veggies at their picnic.
Why not try a ploughman's lunch with your food choices? With the crunchy veg, boiled eggs, good quality ham, healthy fats from the cheeses, and wholemeal chunky bread; it's a wonderfully delicious and healthy picnic choice. Are you a keen gardener? Perhaps you could bring along some tasty homemade veg sticks for everyone to try.
For an extra personal touch, why not try our summertime sausage roll recipe, perfect for enjoying on a family picnic. 
Keep active
If you've been trying to find ways to increase activity levels in your life, then regular picnics with family or friends are ideal. Whatever your fitness levels, you can find ways of stretching them a little whilst you're out and about. Whether it's simply walking to and from your picnic location and the car or even joining in with the games that often follow the meal, there's plenty of activity to join in with.
Activities are a great way to extend family bonding time at a picnic. Set up a game of rounders or French cricket, kick a football around, bring along the traditional game of horseshoe/ring toss, or there's always the easy game of hide and seek that requires no supplies at all.
So, next time the sun peeks out from the clouds, pack yourself a picnic, gather friends or family and enjoy some outdoor eating – your health and wellbeing will thank you. If you are looking for more wellbeing inspiration then take a look at our Wellness page of our Feel Good Hub.