10 relaxing bedroom ideas to create the perfect sleeping environment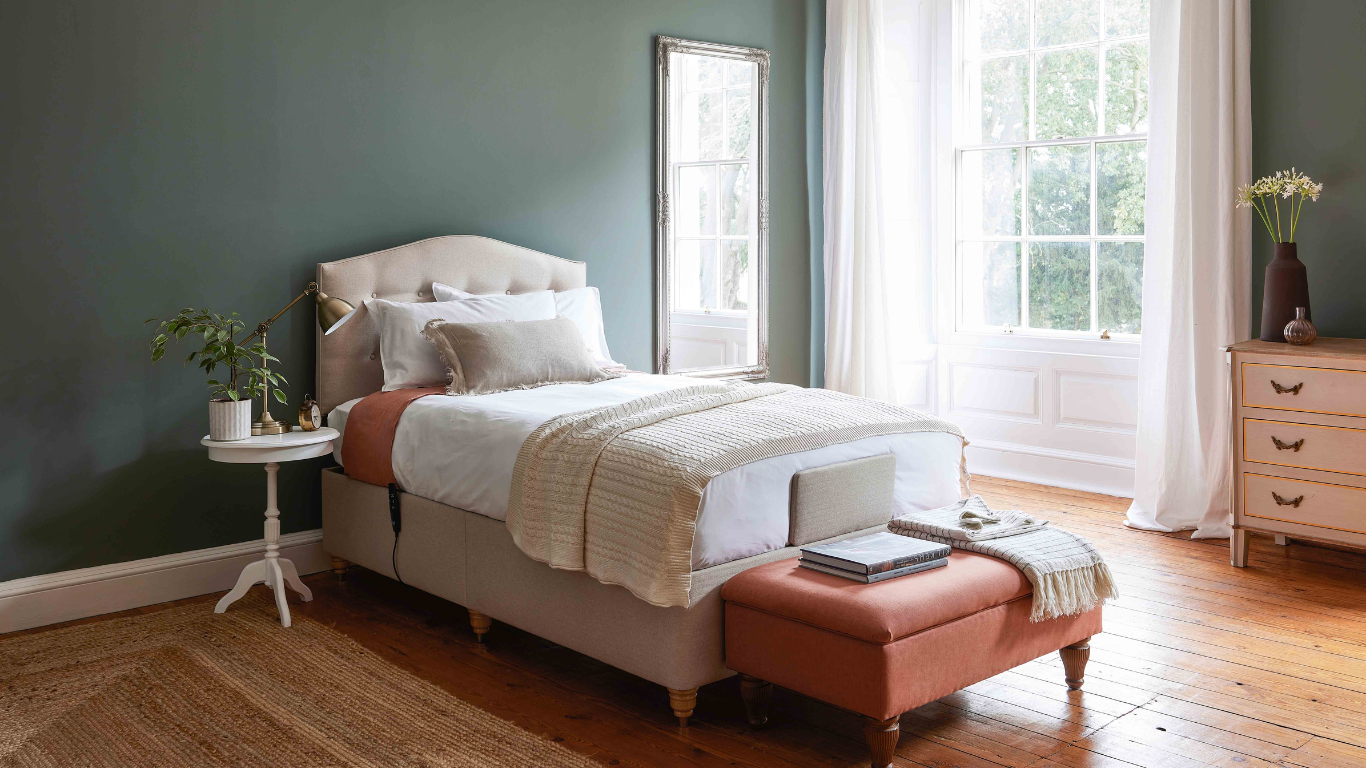 When it comes to creating the perfect sleeping environment, there are many ways you can design your bedroom to give yourself the best chance of a peaceful rest. Getting a good night's sleep is key to a healthy lifestyle, as you need to rest to allow your body to repair itself and have energy for your daily activities. As the space around you will directly affect the quality of your downtime, designing a sleep-inducing bedroom for uninterrupted relaxation and peace throughout the night can be very beneficial for you. From creating an ideal sleeping temperature to finding the best light for sleep, we've put together our top 10 ways on how to sleep better at night naturally. 
Find your ideal sleeping temperature 
The National Sleep Foundation generally recommends keeping your bedroom at 18 degrees Celsius during the night. However, the best temperature for sleep will depend on your core body temperature, as well as what you wear to bed and where you live. If you find you get too hot during the night, try to keep your bedroom cool by using a fan or opening a window, as this will enable you to wake up feeling refreshed and relaxed.  
Top tip: It may take a few attempts to find your optimum sleeping temperature, and don't forget you can always opt for some breathable pjs as well.  
Think about a new bed
If there is one thing to make an investment in, it's your bed. Bed frame, mattress, sheets, pillowcases and duvet cover included. Enjoy a restful night's sleep with one of our handcrafted adjustable beds and find the perfect mattress for you with the help of our Comfort Specialists. When it comes to bedding, there are various thread counts and materials to choose from- depending on your comfort preferences and sleep style. If you tend to get cold during the night, then pick up a fleecy bed set to keep you warm and cosy. On the other hand, if you are prone to feeling the heat, opt for high quality breathable cotton. Try to wash your bedding regularly to reduce a build-up of dust for a healthier sleeping environment. To make your life easier, make sure you have at least two sets of bedding in your collection, so they are easy to interchange. 
Top tip: Arrange a home visit or visit one of our beautiful showrooms nationwide for more information and personal support.
Paint your walls with calming colours
Something that you may overlook when it comes to calm bedroom ideas is the colour of your bedroom walls. Colour is known to affect your mood, whether positively or negatively, and therefore can influence how you feel whilst you are trying to fall asleep. If you are wondering what the best bedroom colours for sleep are, it is always best to choose soothing, neutral colours to evoke a calm feeling and prepare your mind for sleeping. Voted the best colour for sleep, blue is known for its serenity inducing effects. Choose a sky blue for a light, fresh feeling or if you prefer a more dramatic feel, a royal blue might be the best choice for you.  
Top tip: If you are not up to painting, why not try furnishing your bedroom with blue pieces of art, furniture or even a rug. 
Remove distracting noises
Sound can either be the solution to your restful sleep, or the thing that wakes you up. If you are someone who struggles with sleeping in silence, the best sounds for sleep are typically white or brown noise. Alternatively, you could fall asleep to a podcast using an application like headspace. These sounds will help to drown out any disruptive background noises for an undisturbed sleep.  
Top tip: However, sometimes you may need complete silence to enjoy your sleep. If this is this case, invest in some earplugs and close your windows. 
Reduce light exposure 
When thinking about the best lighting for sleep, there is no 'one size fits all' answer. Try to remove any white or blue lights, and make sure your bedroom lamps use yellow bulbs. When the time for sleep comes, resting in the dark is always best to induce the release of the sleep hormone melatonin - which will help you to slip into sleep naturally. Thick curtains and blinds, or blackout shades, will help you to block out any natural light or streetlights.  
Top tip: If your drapes are not enough, treat yourself to an eye mask for an interrupted, peaceful sleep. 
Avoid electronics
Similar to sound and light, electronics are a big distraction when it comes to sleep. Remove electronics – such as a tv, phone or tablet – from your sleeping space, if possible. However, if you choose to keep these, refrain from using them close to bedtime. Your phone emits blue light, which will postpone the release of melatonin (the sleep hormone) and will trick your mind into thinking you should be awake. If you need to keep your phone close, make sure to silence notifications.  
Top tip: If you are able to remove devices but usually use your phone as an alarm, you can always use a traditional alarm clock for your wake-up call instead. 
Declutter your room
One of the easiest tips you can implement from our list of sleep-inducing, calm bedroom ideas is to keep your bedroom clutter-free. Unnecessary clutter can cause anxiety and make it more difficult for you to unwind. Sometimes, taking the time to tidy before bed can help to relax your mind and body. Nightstands and underbed storage are great for tidying your belongings away – out of sight and out of mind.  
Top tip: It is tempting to get carried away if you have a big room, so try to keep your décor minimal and cosy, to keep your mind from feeling overwhelmed before bed.  
Use essential oils
We often underestimate the benefits of certain scents, but their ability to provoke emotions is great for improving your mood before bedtime. Aromatherapy diffusers, vaporisers or candles are all inexpensive solutions for creating a better sleep environment. Calming scents like vanilla and lavender are perfectly pleasant smells are known to reduce stress and anxiety – ideal for sending you into a deeper slumber. Air out your room before you release the scent to achieve the most beneficial results. 
Top tip: If you decide to use a candle, do not have lit for too long and make sure you blow it out before you doze off. 
Find your ideal pillow
When it comes to relaxing bedroom ideas for the best sleep, the pillows that you choose will make all the difference. The right pillow for you will help to protect your spine by keeping your head and neck in a comfortable position to prevent any pain. Everyone sleeps in different positions, so of course everyone will have different preferences when it comes to pillows. Take the time to find the right support for you, as you will be spending a lot of time using it. We recommend replacing your pillow every one to two years.  
Top tip: If you begin to feel any aches or discomfort whilst you are sleeping or when you wake up, then it may be time to treat yourself to a brand new fluffy (or firm) style. 
Keep your furniture symmetrical
Surprisingly, a little-known fact is that keeping your furniture symmetrical and well-arranged will help to create the perfect sleeping environment. Having your furnishings arranged in a functional way will add to the relaxing feel of your space. For example, having an easy pathway to your bed will reduce any minor stresses or chances of frustration. Symmetry is also more visually pleasing and consequently will give your brain a sense of calmness. A simple step to achieve this is by putting a nightstand each side of your bed.  
Top tip: When it comes to the positioning of your actual bed, place it as far away from the door as possible, to avoid having your head lying under the window.  
We hope that our relaxing bedroom ideas will help you to sleep better at night naturally. The perfect sleeping environment will look different for everyone, and your bedroom should be personalised to suit you. For more tips on the importance of sleep or how to get a better night's sleep, head over to our feel good hub  for some more advice or to find your own dream furniture, why not visit one of our showrooms.