Best sleeping positions: How to find the best way to sleep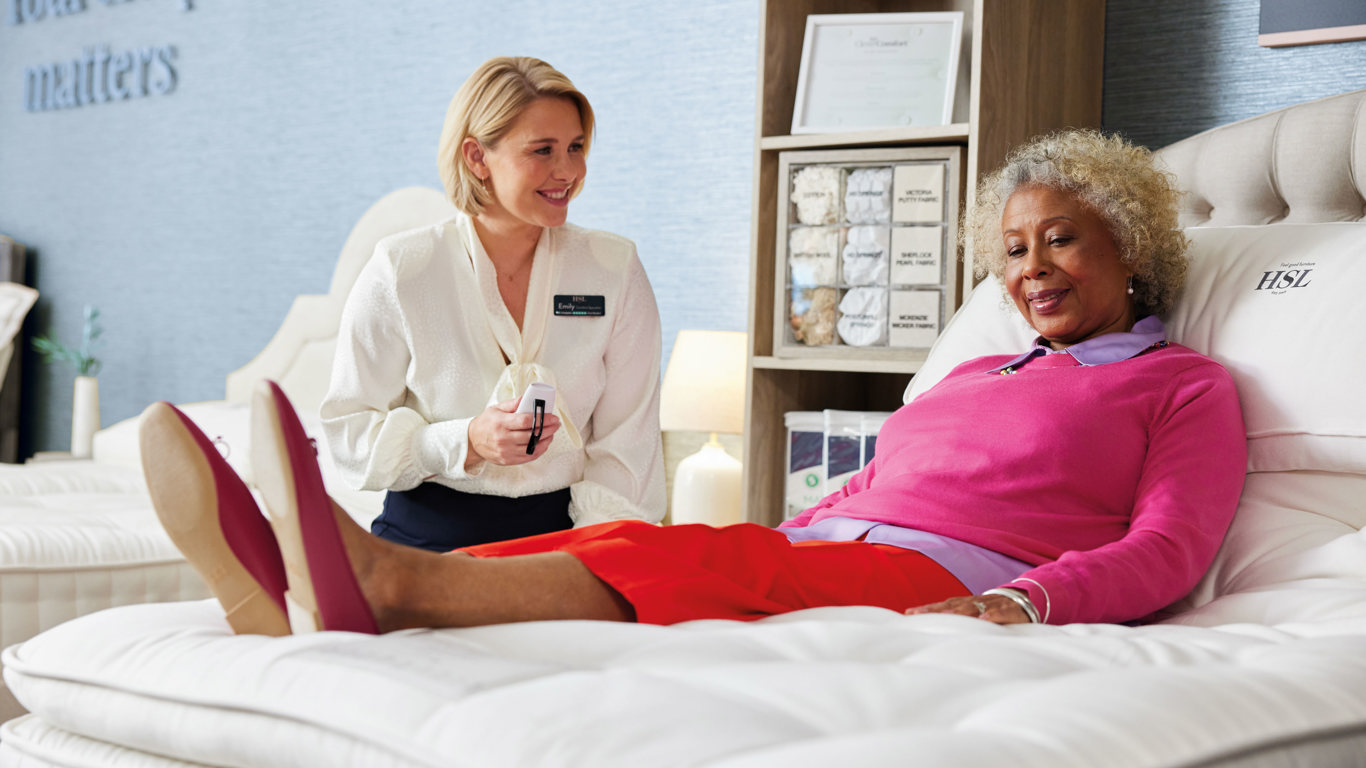 Having good quality sleep is incredibly important, as your body uses the process to restore and repair itself. An essential part of health, sleeping well enables us to carry out everyday tasks as it affects how we perform and think. Knowing the best sleeping positions for you – especially if you experience things that prevent you from sleeping such as lower back pain, neck ache and breathing problems – is the key to getting the best night's sleep possible. 
To help you achieve perfect slumber, we've consulted with our Independent Occupational Therapist, Julie Jennings Dip COT HCPC, to put together a list of the best ways to sleep and how you can improve your sleeping posture through day-to-day activities.  
What is the best sleeping position for lower back pain?
Sleeping on a comfy mattress isn't the only solution when it comes to lower back pain. Your sleeping position can also be heavily related to the causes of lower back pain. If you find that lying on your back feels uncomfortable, then try lying on your side with a pillow placed between your knees. It's best to also place a small pillow between your waist and the mattress if there is a gap – for extra support. Keeping your hips, pelvis and spine well aligned will be the key to reducing your pain.  
Top tip: Make sure that you don't feel shoulder pain while sleeping sideways. Julie Jennings states that sleeping on your back "often exacerbates snoring and obstructive sleep apnoea symptoms", so in this instance, lying on your side will likely be much more comfortable.  
What is the best sleeping position for breathing problems?
As your tongue is one of the main causes of causing breathing problems at night, elevating your head can help to keep your tongue from falling back into your throat. This is where an adjustable bed is a great solution. When they elevate your head and upper body, they help to alleviate snoring, sleep apnoea and asthma by preventing the neck from blocking the windpipe. At HSL, our trained Comfort Specialists are always on hand to provide a friendly service to find the best furniture to fit you. Pop into one of our showrooms or book a home visit to find out more about how you can get a good night's sleep.  
According to Julie Jennings, "with the right mattress, the spine can remain elongated and relatively neutral while on your side, preventing undue neck, back and shoulder pain". Although the majority of adults tend to sleep on their side, it might not be best for those with shoulder pain, as it often leads to twisting of the neck and upper back to avoid painful areas.  
What is the best sleeping position for neck pain?
Studies reveal that 70% of people with chronic neck pain experience poor quality sleep. Back sleeping with proper head and neck alignment can help to reduce pain in the neck. By keeping the head in a neutral position and using a small pillow at the base of the neck and beneath the knees or thighs to keep the spine flat, you can help to relax the muscles in the neck.  
However, this position isn't the best for those that are prone to snoring.  
What is the best sleeping position for sciatica?
Sciatica is a painful condition that occurs when the sciatic nerve becomes irritated or compressed -starting in the lower back and buttocks, travelling down the leg to the foot. People suffering from sciatica often find sleeping uncomfortable, preventing them from getting quality sleep that their body needs. Sleeping on your back or side, using pillows to support you, works best to relieve pressure on the lower back and sciatic nerve.  
What is the worst sleeping position?
Sleeping on your stomach is not recommended, as it is almost impossible to keep your spine in a neutral position. This often results in pain in the back, neck, joints and muscles. You should always try your best to sleep on your back or your side, but if you find this impossible, then try placing a pillow under your pelvis and lower abdomen if you've resorted to sleeping on your front. Do remember, this position is a worst-case scenario, and it is important to adapt quickly to back or side sleeping if you can. 
Julie Jennings suggests that "if this is your natural habit – try to change the habit gradually or at least modify it initially" as sleeping on your front can lead to "discomfort, increased pressure and restrictions on the body's natural respiratory and circulatory systems".  
Ways to promote good sleeping posture
When it comes to a good night's sleep, the best sleeping positions aren't everything. Your daytime posture will also affect the quality of your sleep. To achieve good posture when sitting, it's important to follow good seating habits. This is why it's key to have furniture that is designed to fit you, so that you can get the right level of postural support and comfort to ensure that each point of the body is looked after.  
Get your furniture fitted
At HSL, our Exclusive Chair Fitting Service can do this for you. Our experienced Comfort Specialists have been trained by our independent Occupational Therapist, Julie Jennings Dip COT HCPC, to find the perfect piece of furniture for you.  
Work on your posture during the day
Chair exercises are a great way to build up your strength and improve your posture, and they can be done even if you have mobility issues. Particularly if you spend a lot of time sitting down, they can significantly improve your posture - which in turn, will improve your quality of sleep. 
Loosen up your muscles before bed
It might sound silly, but try a gentle stretch and walk around before going to sleep. If you have been sat down for long periods of time during the day, then your muscles may have tensed up. Try to lightly rotate your shoulders while walking around to relax. Stress relief is important to get good quality sleep, and stretching is a great way to feel calm and wind down.  
Invest in good quality sleep
Having good posture and knowing the best sleeping positions will help, but you also need a quality bed and finishing touches to have the best night's sleep possible. Invest in a memory foam or pocket-sprung mattress to improve postural support. An adjustable bed is also a great idea, so you can position the mattress to suit your sleeping position. Pillows are also essential to keeping your body aligned as you sleep, preventing neck and muscle strain.  
Avoid daytime sleeping
Julie Jennings suggests that naps should be "avoided if possible as this will impact upon your overall sleep needs and could hinder your rest at night". If you feel sleepy, she suggests "taking a short walk or get up and move about where possible to re-energise your body". 
And that's our take on the best sleeping positions to improve the quality of your sleep. If you want to know how you can design your bedroom to improve your sleep, check out this handy guide. For more wellness advice, take a look at our Feel Good Hub, and don't forget to pop into one of our showrooms or book a private home visit to find out more about finding the perfect furniture to suit you.